QUINCY (MA)
BishopAccountability.org [Waltham MA]

June 2, 2022
Please join us on June 4, in person or on Zoom!
A day of discussion, fellowship, and looking ahead.
Guest interviewers: Margery Eagan and Jim Braude of 89.7 GBH's "Boston Public Radio"
SPEAKERS INCLUDE:
David Clohessy, former SNAP nat'l director
Tom Doyle, whistleblower priest
Mitchell Garabedian, Esq.
Professor Marci Hamilton, Child USA
Robert Hoatson, Road to Recovery
Ann Hagan Webb, SNAP
Kathy Dwyer, STTOP
Anne Barrett Doyle, BishopAccountability
Terry McKiernan, BishopAccountability
SCROLL DOWN TO SEE SCHEDULE AND EASY REGISTRATION INSTRUCTIONS
WHEN
Saturday – June 4, 2022 – 9:00-4:00 In-person and remote (ZOOM)
WHERE
Marriott Boston-Quincy Hotel
1000 Marriott Dr, Quincy MA
The Marriott Boston-Quincy Hotel is convenient from Logan and public transportation (Red Line).
Free parking.
Box lunches served to registered attendees.
TO REGISTER
Just email Ruth at mooreruth01@gmail.com
Zoom attendees will be emailed log-in info Thursday evening and again on Friday night
Registration required for both in-person ($20) and ZOOM (free) attendees.
Registration fee waived if requested.
Schedule for June 4 conference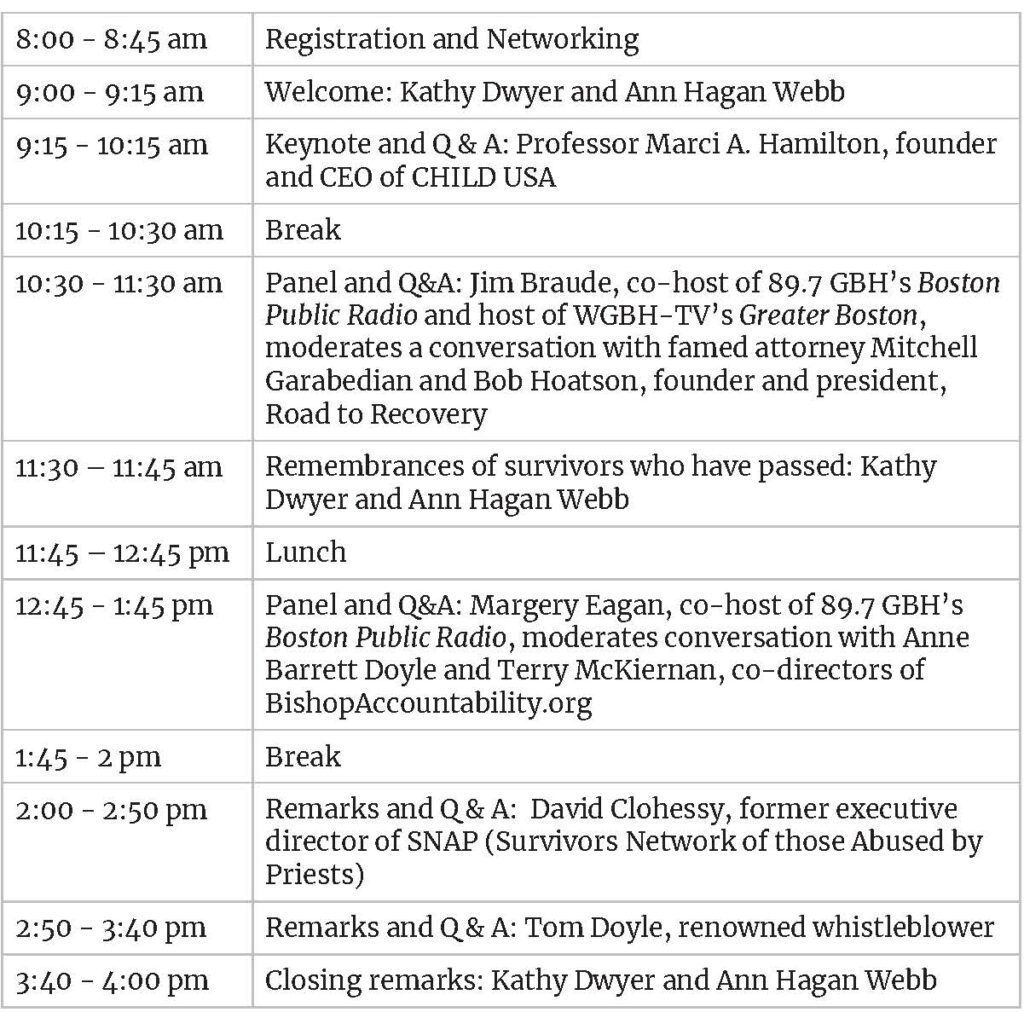 Co-sponsored by STTOP, BishopAccountability.org, Road to Recovery,
and SNAP (Survivors Network of those Abused by Priests)
This conference is dedicated in gratitude to the memory of Phil Saviano
https://www.bishop-accountability.org/2022/05/please-join-us/