REGINA (CANADA)
Edmonton Journal

September 8, 2022
By Jonny Wakefield
"The threats went from 'don't tell or you'll get in trouble' to full-blown 'you and everyone you know is going to go to hell,' which is like, the most terror-inducing threat — putting that fear, in me as a believer at the time, feeling like I was responsible for all these other people's eternal lives."
An Edmonton man has filed a $2-million lawsuit against the Catholic Archdiocese of Regina, claiming a priest sexually abused him when he was a young altar server.
Vincent LaHaye alleges in a June 23 statement of claim that he suffered 30 years of "psychological pain, suffering and anguish" after being abused at the hands of the late Alfred W. Bouchard, a priest who served at Swift Current's Sacred Heart Catholic Church in the early 1990s.
LaHaye, 41, claims the assaults began when he was 10 and continued for two years until Bouchard was moved to another church. His claim, filed in Edmonton, says the assaults happened whenever Bouchard saw him alone or had the opportunity.
Bouchard died in 2013 at age 83. Statements of claim contain allegations not proven in court.
"The Archdiocese will strive to proceed with transparency, accountability and respect and compassion for the claimant," the church said in a statement. "We are in receipt of the statement of claim. Our investigation is in its infancy, so there is little we can say at the moment."
LaHaye, an engineer in Edmonton, was raised in the church and wanted to be a priest when he grew up. In an interview, he said the first assault occurred when Bouchard asked for help in the sacristy during a 24-hour youth group event. LaHaye said Bouchard, who was in his 60s, offered to let him wear a chasuble, but said he had to remove all his clothing to do so.
LaHaye was allegedly "raped numerous times" by Bouchard over the next two years, until the church moved the priest to Gravelbourg Cathedral in 1992. He said Bouchard — who was liked and respected in the community — told him bad things would happen if he revealed the abuse to anyone.
"The threats went from 'Don't tell or you'll get in trouble,' to full-blown 'You and everyone you know is going to go to hell,' " LaHaye said. "Which is like, the most terror-inducing threat — putting that fear in me as a believer at the time, feeling like I was responsible for all these other people's eternal lives."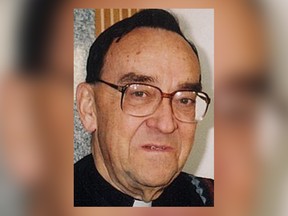 LaHaye remained in the church into young adulthood before eventually losing his faith. He did not disclose the alleged abuse until February of this year, when he began to explore the issue with a therapist.
LaHaye never saw Bouchard again after his move to Gravelbourg and did not know he had died until just before disclosing his claims to his family.
LaHaye hopes telling his story makes it easier for others to come forward. He said telling his wife and three children was especially painful.
"I just fell apart physically, mentally and emotionally. I felt the weight of all of that guilt and shame and pain that I had tried to push away come come crashing down on me.
"One of my primary fears about disclosing is because I had — good, bad or otherwise — found a way more or less to live with it for the last 30 years," he added. "But by unburdening myself and disclosing what happened to me, I was very acutely aware that I would be burdening others with that news."
LaHaye said he is seeking financial compensation to pay for the specialized, in-patient PTSD program he began earlier this year. He also claims compensation for mental suffering and loss of productivity at work, saying he sometimes has to take days off to manage his PTSD symptoms.
The claim says the church is both directly and vicariously liable for the abuse.
"The Church knew, or ought to have known, that Bouchard was a danger to the children of the congregation," the statement of claim reads. "In transferring Bouchard out of the community, the church effectively stopped the assaults. However, the harm was done."
As of Thursday, the archdiocese had not provided LaHaye with a statement of defence.
https://edmontonjournal.com/news/local-news/edmonton-man-files-lawsuit-against-regina-archdiocese-claims-priest-sexually-abused-him-repeatedly-as-a-youth