DENVER (CO)
The Coloradoan [Fort Collins CO]

January 19, 2023
By Sady Swanson
A man who says he was sexually abused more than 100 times by a former Fort Collins priest as a teen has filed a lawsuit against him, the church he was employed at when the alleged abuse occurred and the Archdiocese of Denver.
The former priest, Timothy Evans, was one of four priests from different parishes in Fort Collins and Loveland named in a special report from the Colorado Attorney General's Office released in 2019 detailing credible claims of abuse by Catholic priests and the Archdiocese of Denver's handling of the acts. Evans' was the only Larimer County case that led to criminal charges.
Evans was sentenced to 14 years to life in prison in 2007 for sexually assaulting a teen boy who worked at St. Elizabeth Ann Seton Church, where Evans was a pastor. He was also convicted of the same charge for a separate incident in Jefferson County.
Evans was granted parole in July 2020. When Scott Verti read about his release in the news, he said he realized he was ready to speak up for the first time and come forward with his own allegations against Evans.
Five victims have come forward with accusations against Timothy Evans
Verti, now 38, said Evans sexually abused him more than 100 times between 1999 and 2003, starting when Verti was 14 years old and working at St. Elizabeth Ann Seton Church as an altar boy and then a sacristan, which involved setting up for mass, supervising altar boys and assisting priests and deacons with whatever they needed during mass, according to a civil lawsuit filed Thursday. The abuse was sexual and physical, and occurred at the church and in Evans's apartment, the lawsuit claims.
Three teens were identified as victims of sexual abuse perpetrated by Evans during the 2005 criminal investigation, Verti's attorney Kurt Zaner said during a news conference Thursday, and a fourth victim was identified years later in the 2019 report from the attorney general's office. Verti is not included in either, which would make him the fifth victim to come forward with abuse accusations against Evans.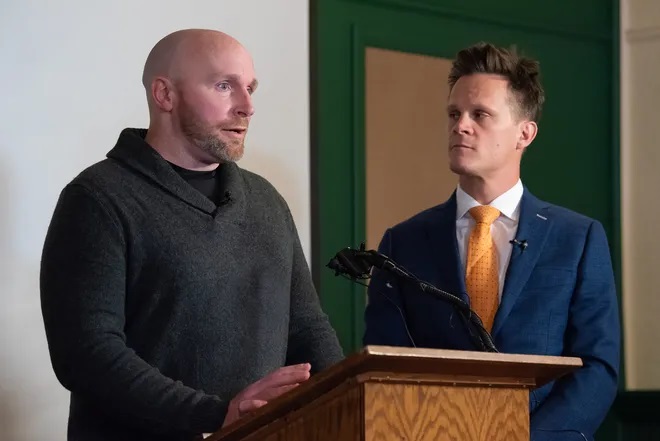 Verti told the Coloradoan in an interview Wednesday he wasn't ready to speak out about the abuse he experienced when Evans was being criminally investigated in 2005 for sexually abusing a different child at St. Elizabeth Ann Seton Church.
"When that case came and I got the call from police, that was the first time I actually realized he was an abuser, he abused my friends, he abused me," Verti said. "It took years for me to really come to terms with that."
Verti said he saw this lawsuit as "an opportunity for me to right a regret that I had over the last however many years as an adult, wishing I had come forward."
A temporary state law change that took effect in January 2021 established a three-year period allowing victims of child sexual abuse to file lawsuits against their alleged abusers in instances of abuse dating as far back as 1960. Victims have until the end of 2024 to file those lawsuits.
That law change only applies to civil lawsuits. Zaner said he's not sure if criminal charges could still be filed as a result of Verti's allegations, but its possible the statute of limitations has expired.
Verti said he has dealt with post-traumatic stress disorder and addiction, among other challenges stemming from the abuse he said he experienced as a teen. He struggled with insomnia as a teen, and has struggled to form deep relationships with anyone, he said Thursday.
"I had no ability to trust anybody," Verti said during the news conference.
He is now two years sober and said speaking up and filing this lawsuit has been part of his recovering and has "been a relief," Verti said.
"That abuse … corrupted my entire adult life," Verti told the Coloradoan.
Verti said, in coming forward, he hopes it encourages families to have conversations about what children should do if an adult makes them feel uncomfortable — something he never talked about with his parents.
"I hope that part of me coming forward encourages that discourse in families, as well as to let other victims know they have this opportunity to come forward and there is this chance to hold not only their abusers accountable, but the institutions that enabled their abuse," Verti said.
Lawsuit: Archdiocese of Denver knew about previous abuse allegations
Evans was accused of sexual harassment starting while he was in seminary, and was accused of sexually abusing two other teen boys at other parishes in Arvada and Lakewood prior to being transferred to a church in Fort Collins where he is accused of sexually abusing Verti and at least two others, according to the 2019 attorney general report and the civil lawsuit.
As early as 1987, the Archdiocese of Denver "knew about and failed to investigate serious and recurring personal relationship, boundary, and sexual issues that indicated he may engage in sexual misconduct with children," the report states.
"The archdiocese has a chance at every single step of this guy's path to stop him," one of Verti's attorneys, Kurt Zaner, told the Coloradoan.
The report stated that Evans "exhibited inappropriate behavior of a sexual nature as early as his seminary formation years (1985 to 1993), long before he was ordained as a priest," and another seminarian told the archdiocese at the time that "Evans should not be ordained because he would misuse the priesthood in the parish."
"There shouldn't have been any victims of Father Tim Evans," Verti said during the news conference. "The church had that opportunity and they obviously squandered that."
Evans was diagnosed by a priest psychologist with "boundary issues," a term the lawsuit alleges the Catholic church frequently used as code for sexual abuse or misconduct to avoid investigations, the lawsuit claims.
Evans was accused of sexually abusing a teen at his parish in Arvada and then another teen when he was transferred to Lakewood before being moved by the archdiocese again to Fort Collins, according to the attorney general's report.
"It seemed like the archdiocese transferred him to my church because of his sexual harassment issues," Verti told the Coloradoan. "That really was emotional for me to read."
Verti said he hopes the current archbishop of Denver — Samuel Aquila — takes allegations and instances of sexual misconduct more seriously than past leaders.
"He has the opportunity to protect the children in his parishes and to do something that is long, long overdue in the Catholic Church," Verti said.
Zaner said he and Verti's other attorneys reached out to the archdiocese several months ago through a program the archdiocese has to mediate and settle these kinds of claims but had not heard back at the time the lawsuit was filed.
The archdiocese said in a statement emailed to media Thursday afternoon that both programs it has been involved in related to sexual abuse claims — the Independent Reconciliation and Reparations Program that operated in 2019-2020 and the Reparations and Healing Protocol, which currently operates — are confidential and that it can't comment on whether Verti participated in either.
"The AG's report was very clear that if (the Catholic Church) doesn't implement the suggestions of the AG's office, more children will be victimized and abused, those that speak out will be silenced and abused again, and the priests that are committing these atrocious acts will continue doing so with access to children," Zaner said.
The Archdiocese of Denver said it had not been served a lawsuit by Verti or seen the complaint as of its Thursday statement and noted it does not comment on pending litigation. The Coloradoan confirmed the lawsuit was electronically filed Thursday morning.
In that statement, the archdiocese said it "cares about all survivors of sexual abuse and is fully committed to protecting the most vulnerable members of our community — children, youth, and at-risk adults."
If you think a child is being harmed
ChildSafe has compiled child abuse resources for those in Northern Colorado needing emergency help or long-term support. For more information, visit childsafecolorado.org/resources-b/ or call 970-472-4133.
The Rape, Abuse & Incest National Network, an anti-sexual violence organization, lists tips for what to do if you suspect a child is being harmed.
1. Recognize the signs
The signs of abuse aren't necessarily obvious, but they include:
Behavioral signs: Shrinking away from physical contact, thumb sucking or other regressive behaviors, changing hygiene routines, engaging in age-inappropriate sexual behaviors, or having sleep disturbances or nightmares
Verbal cues: Using words or phrases that are "too adult" for their age, unexplained silence or suddenly being less talkative
Physical signs: Bruising or swelling near the genital area, blood on sheets or undergarments or broken bones
2. Talk to the child
Pick your time and place carefully and find a place the child feels comfortable. Be aware of your tone. Try to make the conversation more casual and be non-threatening.
Talk to the child directly. Ask questions that use the child's own vocabulary but are a little vague. For example, "Has someone been touching you?" In this context "touching" can mean different things, but it is likely a word the child is familiar with. The child can respond with questions or comments to help you better gauge the situation like, "No one touches me except my mom at bath time," or "You mean like the way my cousin touches me sometimes?" Understand that sexual abuse can feel good to the child, so asking if someone is "hurting" them may not bring out the information that you are looking for.
Listen and follow up, but avoid judgment and blame.
Reassure the child, and make sure they know they're not in trouble.
Be patient. Remember this conversation may be very frightening for the child. Many perpetrators make threats about what will happen if someone finds out about the abuse.
3. Report it
Reporting a crime like sexual abuse might not be easy, and it can be emotionally draining.
Keep in mind that reporting abuse gives you the chance to protect someone who can't protect themselves.
Before you report, tell the child that you're going to talk to someone who can help. Be clear that you are not asking their permission.
Learn more at www.rainn.
https://www.coloradoan.com/story/news/2023/01/19/fort-collins-priest-timothy-evans-accused-sexual-abuse-scott-verti/69818879007/