CHICAGO (IL)
WPSD Local 6 [Paducah, KY]

May 23, 2023
By Charity Blanton
CHICAGO, IL — Illinois' attorney general Kwame Raoul released a nearly 700-page-long report Tuesday morning detailing child sexual abuse by members of the Catholic clergy in Illinois, stretching back to 1950.
According to the report, investigators found that 452 clergy members allegedly sexually abused nearly 2,000 children in those years — much more than the church named when the state began investigating in 2018.
Raoul announced the findings at a news conference in Chicago Tuesday morning.
The report contains detailed narratives of the abuse, which Raoul said were written with the help of survivors and are told from their point of view. And it contains recommendations from the office on how the dioceses should handle future investigations.
It also details how the total number of publicly disclosed "substantiated child sex abusers" across the Illinois Dioceses is much higher than what was disclosed by the church prior to the Attorney General's investigation.
According to the report, the number of alleged abusers are as follows:
Archdiocese of Chicago – 275
Diocese of Joliet – 69
Diocese of Belleville – 43
Diocese of Peoria – 51
Diocese of Rockford – 24
Diocese of Springfield – 32
"It is my hope that this nearly 700-page report will provide some closure to survivors of child sex abuse by Catholic clerics by shining a light both on those who violated their positions of power and trust, and on the individuals in church leadership who covered up that abuse," Raoul said in a statement included in the release.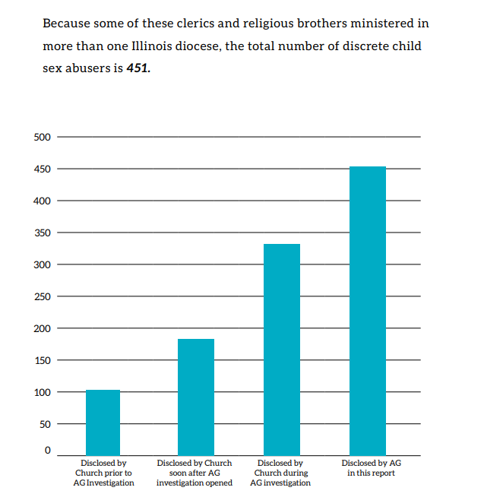 "These perpetrators may never be held accountable in a court of law, but by naming them here, the intention is to provide a public accounting and a measure of healing to survivors who have long suffered in silence."
According to the release, attorneys and investigators in Raoul's office reviewed over 100,000 documents held by the dioceses and communicated with survivors through email, letters, interviews, and phone calls over the course of their investigation.
The full report is included below.
https://www.wpsdlocal6.com/news/extensive-report-details-decade-long-child-sexual-abuse-among-illinois-catholic-clergy/article_32b88b76-f984-11ed-b693-af0eee68b6db.html