BURLINGTON (VT)
VTDigger [Montpelier VT]

May 19, 2023
By Tommy Gardner
The Catholic school in Morristown named after a bishop who oversaw the church in Vermont for 20 years is changing its name, partly because of the "unthinkable" alleged sexual abuse of children by priests under his leadership.
Bishop John A. Marshall School will change its name to All Saints Catholic Academy starting July 1. The change comes as the school prepares to mark its 25th anniversary.
"While we did not discuss this with the students, we would be remiss not to acknowledge that part of our motivation to rename the school relates to the unthinkable abuse of children by priests who were under the leadership of the school's namesake, Bishop John Marshall," head of school Carrie Wilson wrote in a May 8 letter to parents. "While our school is not responsible for what transpired — nor can we change what happened years before the school was even built — we can take steps to assure our current and future students that we are committed to the process of healing. We now know better, so we must do better."
Marshall was bishop of the Roman Catholic Diocese of Burlington, the de facto head of the church in Vermont, from 1971-1991. He died in 1994, four years before the Morrisville school that would bear his name opened its doors.
In 2019, the diocese released a report naming 40 Catholic priests who had "credible allegations" of sexual abuse filed against them by victims who were under 18.
The diocese's investigation — conducted by an independent panel of citizens separate from a special state task force also looking at allegations — found that the sexual abuse allegations span nearly 70 years, from 1950-2019.
According to the Burlington Free Press, church records revealed that Marshall knowingly transferred sexually abusive priests to other dioceses.
While Wilson told parents in her letter that the school didn't discuss the allegations of priestly abuse with the students — who are in grades K-8 — she said the school leadership "cannot ignore or sidestep such a glaring and horrific piece of our Church's history." She said it is up to parents to discuss such topics with their children.
A set of frequently asked questions on the school's website, one tailored for parents and one for kids, notes that Marshall was a respected educator and priest and "many in the community still love and respect him."
"This is clearly a sensitive topic, and we feel that it is the determination of each family what you chose to discuss with your students," the FAQ reads.
Tuesday, in response to questions from the News & Citizen, Wilson said the original school board chose Marshall as the namesake when the school opened in 1998 because he was "a supporter of Catholic education and because he was a teacher himself."
When asked if Marshall himself had any impact on the school's culture, curriculum or evolution, Wilson noted that his philosophy did.
"The motto below Bishop Marshall's personal coat of arms reads: United in the Spirit. This has been a guiding force in our culture, without a doubt," Wilson said.
Although she acknowledged Marshall still has the respect of many, the school community has expressed support for the name change. A few people who did not go on the record for this report also said they support it.
"I think families know that our school will continue its good work with students by helping them develop into moral, thoughtful, caring, Christian citizens who achieve academic excellence," Wilson said.
Church investigation
While Marshall was not one of the 40 priests named in the diocese's report, he does pop up on the list. He relieved, suspended or revoked the "priestly faculties" of four of the named priests, one of whom, Michael K. Madden, did a stint at Blessed Sacrament Catholic Church in the 1970s.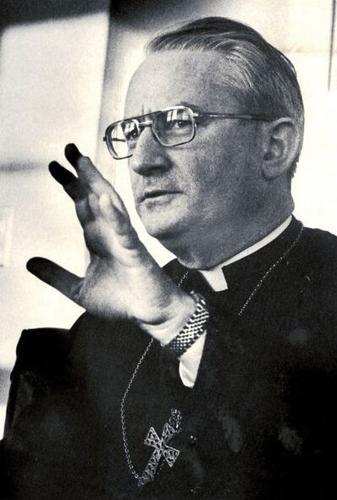 Priests who were assigned at one point to churches in Lamoille County and who are named in the diocese's 2019 report are:
John B. "Jack" Kenney was a priest at Blessed Sacrament Catholic Church in Stowe from 1996-1997, his last stop before retirement at the age of 70. He served in Vermont for a total of 12 years during his 40-year career as a priest. As of the release of the report, Kenney, who was born in 1927, was still alive.
Michael K. Madden was an assistant priest at Blessed Sacrament from 1976-1977, having served in Vermont for all 18 years of his tenure. According to the diocese report, Bishop Marshall revoked Madden's "priestly faculties" in 1988. Madden died in 2000.
Leo J. Courcy Jr. was an assistant at St. Mary's of Cambridge and Johnson for three months in 1971. The report says Courcy was also accused of sexually abusing a minor in Santa Fe, New Mexico. Courcy, who was born in 1935, was still alive as of the report's release.
Another named priest, Charles A. Towne, was born in Morrisville, but did not serve in any Lamoille County churches. Towne, who died in 1982, was the founding pastor of Christ the King, a Catholic school in Burlington.
Moving forward
The school soon to be known as All Saints Catholic Academy opened as Bishop Marshall School in 1998 and was co-located at two separate Catholic churches: Most Holy Name of Jesus in Morrisville and St. Teresa's in Hyde Park, the latter of which was torn down in 2020.
A year later, on Nov. 1, 1999 — All Saints Day — the school moved to its current spot at 680 Laporte Road, at the southern end of what is now the Morrisville bypass.
When it opened, the school had a student population of 54 in grades K-5. It now has 163 students in grades K-8 and is projected to be 170 next school year, according to Wilson.
In her letter to parents announcing the name change last week, Wilson touted the academic programming that the school has grown to offer — art, French, choral music, band, library and social-emotional learning — and its wide variety of sports — the school added rugby, lacrosse, track and field, and golf to its athletic offerings this spring.
Wilson said there will be a transition time between phasing out the old Marshall name and the new one, especially when it comes to uniforms. They will still be the same school colors — maroon and gold — and it will still retain the Eagle as its mascot. Kids will still be able to wear the old uniforms or new ones during the next school year.
"You will see changes like a new sign over the door during the summer of 2023, however we recognize that an immediate swapping of all of our uniforms and apparel could be an expensive obstacle for families," the school notes in its FAQ.
Reckoning with the past
Across the state and across the country, institutions named after people are facing a reckoning with the checkered pasts of their namesakes.
In Stowe, the Helen Day Art Center changed its name in 2021 to The Current after it was learned that the namesake, Helen Day Montanari, ran a lodging establishment that prohibited Jews as guests.
The Bailey Howe Library at the University of Vermont changed its name after student protests over its namesake's ties to the eugenics movement of the 1920s.
Asked if she had any thoughts on the wisdom or folly of naming things after people, Wilson said.
"I think organizations must do what best serves their constituents — it's difficult for me to apply my perspective elsewhere," she said. "I do believe that leaders must have honest conversations with themselves and with their boards or governing agencies about what is best and act accordingly."
https://vtdigger.org/2023/05/19/morristown-catholic-school-sheds-bishops-name/