PROVIDENCE (RI)
GoLocalProv [Providence RI]

May 15, 2023
Diocese of Providence Priest Eric Silva — who has been removed from diocesan assignments at Catholic schools and parishes in Cranston, Barrington and Narragansett — now has a new home.
Silva had been removed for asking children "inappropriate questions" about sex.
Demers, Haiti, and St. Joseph's Church
Now, Silva is assigned to St. Joseph Church on Hope Street — the parish associated with one of the most infamous Catholic priests — Priest Norman Demers.
Silva's name does not appear on the St. Joseph website, or weekly handout, nor does he introduce himself when giving mass.
Demers was assigned to St. Joseph from 1974 to 1990 — it was his longest assignment during his 42-year career in the priesthood. And it was at St. Joseph that he was involved with the parish's Haiti project and allegations of sexual abuse came to light.
"The complaints about Father Demers were raised in 1989 by boys at an orphanage in Haiti. The boys complained that Father Demers, who had founded the orphanage, would touch them inappropriately, according to the orphanage and its director at the time. They complained that he would require them to come to his bedroom alone, strip in front of him and try on clothing that he was giving out, according to the orphanage and the former director," according to one press report.
Others came forward with claims of abuse about Demers. In 2020, Robert Houllahan, 51, of Providence, claimed in a lawsuit he filed that he was sexually abused by the late Demers, who received the "protection and affirmative assistance" of the leaders of the Diocese of Providence.
Houllahan said that he witnessed children from Central America when he was brought to Demers' private quarters in the rectory of St. Joseph in Providence in 1976, where he was molested by Demers and another man, according to the allegations in Houllahan's lawsuit
Demers died in 2018 and has been designated by the Diocese and law enforcement on the "List of Credibly Accused Clergy."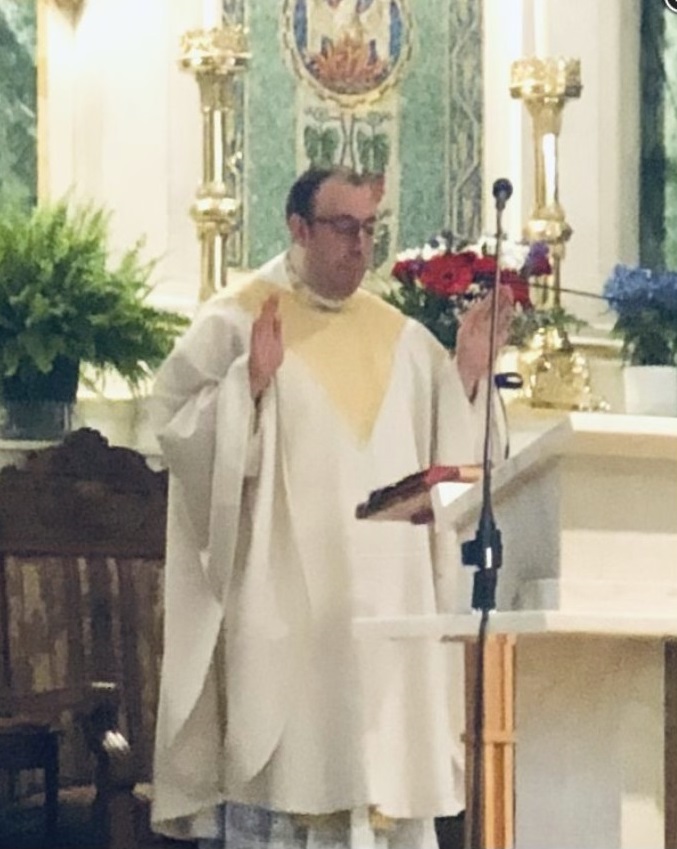 Silva's Travels and Removals
When GoLocal unveiled that Silva had been assigned to Narragansett's St. Veronica's Chapel in 2022, after being removed from St. Luke's in Barrington and Immaculate Conception Catholic Regional School in Cranston, prominent parishioners in Narragansett were reportedly livid.
Silva asked male children if they were gay and accused them of lying if they said no.
And, Silva asked females were asked if they were sexually active and, according to the report, similarly accused of lying if they answered in the negative. He made the comments when he was offering confession.
Silva made the comments to children while he was a visiting priest at Immaculate Conception Catholic Regional School in Cranston. But, there were also complaints at St. Luke's too.
During the controversy, Reverend Edward J. Wilson Jr., of Immaculate Conception Parish in Cranston, announced that Silva was barred from offering mass or returning to the school due to his behavior.
Ultimately, then-Bishop of the Diocese of Providence Thomas Tobin flipped and removed Silva from Narragansett. Tobin left the Diocese of Providence in May of 2023.
After GoLocal's series of stories on Silva, a top lawyer for clergy sexual abuse victims worldwide for decades, Mitchell Garabedian, said Bishop Thomas Tobin needed to have an investigation conducted into Silva's actions before any permanent reassignment.
Garabedian — who was portrayed by Stanley Tucci in the movie "Spotlight" — released the following statement after the GoLocal series:
"Before re-assigning Fr. Eric Silva, Bishop Thomas Tobin should request a police investigation to determine if any crimes were committed by Fr. Silva against children.
The investigation by the police would then objectively obtain facts and the truth. The truth which Thomas Tobin obviously wants to hide through a cloak of secrecy.
The premature re-assignment by Bishop Tobin is just another example of how the Catholic Church continues to place the welfare of the Catholic Church above the safety of children.
Based on my decades of experience, the sexually based conversations with children by Fr. Silva are a red flag moment if there ever was on."
Call for Neronha to Investigate Silva
In addition to Garabedian's call for an investigation, Terence McKiernan, President and Co-Director, BishopAccountability wrote in a Guest MINDSETTER™ column in GoLocal that Rhode Island Attorney General Peter Neronha should initiate an investigation.
McKiernan wrote:
"We welcome the decision by Bishop Thomas J. Tobin to backtrack on his ill-considered appointment and remove Fr. Eric Silva from St. Thomas More Parish in Narragansett. But Bishop Tobin has ducked responsibility for this fiasco by issuing an unsigned statement that does not admit that the appointment was a mistake.
We are very concerned that Bishop Tobin has chosen to keep Fr. Eric Silva's priestly faculties in place. Those faculties should be immediately suspended, pending a full and open investigation of the allegations against Silva. Sexual interrogation of children in confession is closely associated with sexual abuse in the Catholic church, and for this reason is not allowed. Bishop Tobin is well aware of this. His responsibility to the children of the Diocese of Providence requires that he investigate the Silva case properly, keep Silva out of ministry during the investigation, and send a message to Rhode Island survivors and Catholics that the confessional will never be used as a tool for the abuse of children.
We urge Rhode Island Attorney General Peter F. Neronha to take note of this important case. When considered in light of Bishop Tobin's egregious mishandling of the case of Fr. Francis C. Santilli, the botching of the Silva case suggests a pattern of ongoing reckless decisions by Bishop Tobin."
Despite the pleas for an investigation, non were conducted. Silva is now at St. Joseph's.
The Diocese of Providence's director of communications Michael F. Kieloch did not respond to requests for comment on Silva's new assignment.
https://www.golocalprov.com/news/priest-removed-from-assignments-in-3-communities-now-giving-mass-at-notorio