SOMERVILLE (MA)
JasonBerryAuthor.com [New Orleans LA]

June 17, 2023
By Jason Berry
A Film by Jason Berry – Upcoming Screenings & Discussions with Esteemed New Orleans-Based Filmmaker, Author & Journalist
Tuesday | June 20 | 7:30 PM – SOMERVILLE THEATRE 55 Davis Square | Somerville | MA 02144
Book Signing After The Talk with Harvard Book Store in the theatre lobby
AND
Friday | June 23 | 7:30 PM – MARTHA'S VINEYARD FILM SOCIETY 79 Beach Road | Vineyard Haven | MA 02568 Book Signing After The Talk with Edgartown Books in the theatre lobby
"New Orleans people have a compulsive drive to do everything the opposite of everywhere else. Maybe dancing when someone diesis the most brilliant thing you can do." – Deborah "Big Red" Cotton
Boston and Vineyard Haven, MA–Distinguished author, journalist and filmmaker Jason Berry is flying into Boston this June to present his new documentary film and give talks after two showings of "City of A Million Dreams." The first will be at The Somerville Theatre and the second will be at Martha's Vineyard Film Society on Tuesday, June 20 and Friday, June 23. Both events will occur at 7:30 pm.
Both showings will be followed by an in-depth discussion with audience participation followed by a book signing of his acclaimed history of New Orleans, City of A Million Dreams.
Harvard Square Books has partnered with the event in Somerville while Edgartown Books will partner with the Vineyard showing and talk.
The Somerville Theatre is located at 55 Davis Square in Somerville, MA 02144. Tickets are $14.00 and $10.00 for Seniors. They can be purchased here. This venue has a full liquor license and the theatre plans to offer some neat and tasty New Orleans cocktails for purchase by attendees.
The Martha's Vineyard Film Society is located at 79 Beach Road in Vineyard Haven, MA 02568. Tickets to that showing and talk are $15 General Admission, $12 for Members and $10 for children 14 and younger. Vineyard tickets can be purchased here.
The film "City of A Million Dream – Parading for The Dead In New Orleans" explores the origins and creation of the New Orleans jazz funeral — a passionate and fiery display at once of grief and joy, sadness and elation, weeping and dancing, feathers and sequins with hope for the living and so much more.
The film follows two compelling navigational figures. Deb "Big Red Cotton," a blogger and videographer, leaves "hard hearted Hollywood" and plunges into the world of New Orleans funerals and street parades. Dr. Michael White, a professor, clarinetist and esteemed jazz composer searching for the story of an ancestor at the birth of jazz, loses everything in Hurricane Katrina. As Deb and Michael meet, their intertwined quest takes this film deep into the soul of New Orleans and its history.
The film is a sequel to the book City of A Million Dreams – A History of New Orleans at Year 300, which is being taught at courses at University of California Berkeley, Georgetown, Tulane, Loyola New Orleans and several other schools.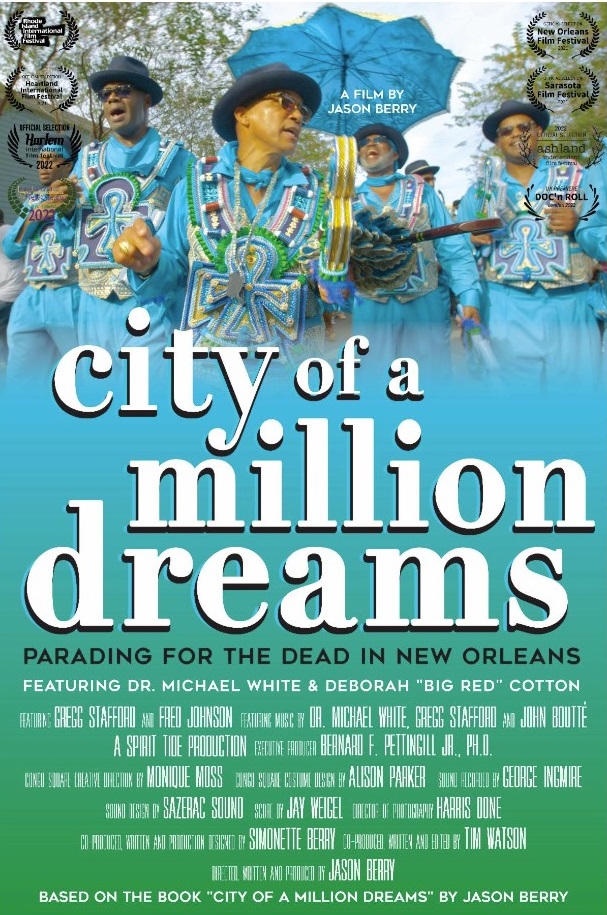 https://myemail.constantcontact.com/Film--Talks---Signings---Somerville-June-20-----Vineyard-Haven-June-23---City-Of-A-Million-Dreams--A-Jazz-Documentary.html?soid=1110583724679&aid=R8jBUPt0XaQ