MIAMI (FL)
WTVJ - NBC 6 [Miami FL]

June 1, 2023
By Amanda Plasencia and Brian Hamacher
Deacon Carlos Humberto Ramirez, of Miami Gardens, had worked as a teacher and deacon at Holy Family Catholic School on Northeast 12th Avenue in North Miami
A deacon and teacher at a Catholic school in North Miami was arrested after he was accused of molesting two students, police said.
Deacon Carlos Humberto Ramirez, 51, was arrested Wednesday on two counts of lewd and lascivious molestation of a child, an arrest report said.
Ramirez, of Miami Gardens, had worked as a teacher and deacon at Holy Family Catholic School on Northeast 12th Avenue in North Miami.
According to the arrest report, the alleged incidents happened back in March during a Spanish class.
An 11-year-old student was turning in her classwork when Ramirez grabbed her by the waist and then squeezed her rear end, the report said.
She was able to leave class without any issues but another student who witnessed the first student get grabbed experienced a similar situation, the report said.
The second student, a 12-year-old, said Ramirez moved her in front of him and she felt him aroused over his clothes while he grabbed her behind and squeezed two times under her skirt, the report said.
Ramirez is then accused of kissing her on the cheek, according to the report.
When questioned by police, Ramirez denied the allegations, the report said. He was arrested and booked into jail.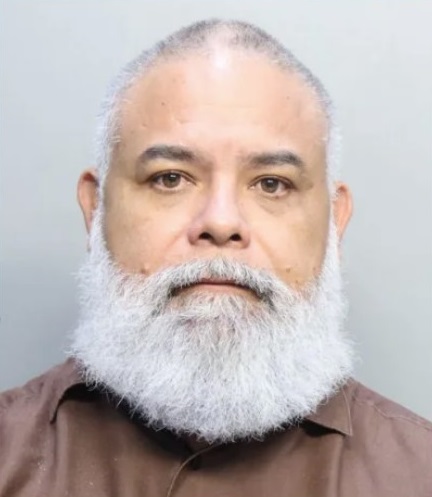 In court Thursday, a judge found probable cause and ordered Ramirez held without bond. He was also ordered to stay away from the alleged victims.
In a statement Thursday, the Archdiocese of Miami said Ramirez had been immediately placed on administrative leave when the allegations surfaced in March.
"During these many weeks Holy Family School officials and the Archdiocese of Miami administrators fully cooperated with the police investigation," the statement read. "It has been a difficult time for students, teachers, and administrators of Holy Family School and Parish, and prayers are offered for all those involved."
Police said they're still investigating.
"At this time we're only aware of the two victims in this case, but if there is anybody else affected in this situation, please contact the North Miami Police Department at 305-891-8111," Det. Brian Bohne said.

https://www.nbcmiami.com/news/local/deacon-at-north-miami-catholic-school-arrested-accused-of-molesting-students/3045435/