DETROIT (MI)
America [New York NY]

November 16, 2023
By Benjamin Ivry
Because of his lifetime of progressive activism, Bishop Thomas John Gumbleton, auxiliary bishop emeritus of the Archdiocese of Detroit, is often listed among what might be termed the "advance guard" of interpreting church ideals and goals. A meticulous new study of his life and accomplishments by Frank Fromherz and Suzanne Sattler, I.H.M., No Guilty Bystander,follows a more concise, journalistic explication from 2019 by the America contributor and National Catholic Reporter mainstay Peter Feuerherd.
by Frank Fromherz, Ph.D. and Suzanne Sattler, I.H.M.
Orbis Books
336p $30
The term "advance guard" is more suitable than avant-garde for the Detroit-born Gumbleton, a down-to-earth, no-frills personality who celebrated his 93rd birthday in January 2023. On subjects from pacifism to capital punishment to inclusive church outreach for gender minorities, Gumbleton may have prefigured current Vatican policy by a generation or more.
We learn early on in the book that Gumbleton has had a passion since childhood for playing and, as an adult, watching ice hockey. So devoted was Gumbleton to the sport that when he was informed in 1968 that Pope Paul VI would appoint him an auxiliary bishop of the Archdiocese of Detroit, he asked Archbishop John Dearden before his consecration that year whether he might continue playing hockey.
The archbishop advised him, "Be yourself," and Gumbleton has clung to these words in more ways than one, including as a gradualist who evolved his societal and individual viewpoints slowly despite a reputation for pioneering attitudes.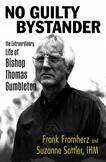 Decades spent living in poor neighborhoods would educate him about social injustices in American society. And although he later became known for advocating church inclusivity towards L.G.B.T.Q. parishioners, he admits that his early advice to gay churchgoers was effectively useless, telling them to try to avoid places of temptation. When his own brother wrote his family a coming-out letter, Gumbleton's first response was to set the missive aside and not respond, fretting about how it would look for a bishop to have an openly gay brother.
Eventually, his mother asked if her gay son faced eternal damnation. After consideration, Gumbleton reassured his mother that no, his brother would not go to hell for being gay. (Gumbleton told the story during a PBS interview in 1997.)
On an equally fraught subject, the church's sexual abuse cases and subsequent legal penalties, the 75-year-old Gumbleton spoke out in 2006 on the side of the plaintiffs, recalling an incident when, as a 15-year-old seminarian, he was groped by a priest, a teacher at Detroit's Sacred Heart Seminary High School.
Gumbleton's experiences at international sites of suffering were essential in developing his voice as an activist. In a preface to No Guilty Bystander, Fromherz and Sattler quote Gumbleton about a trip to Cairo in the early 1960s where he witnessed the destitution of impoverished residents. This assault on the senses fostered empathy in Gumbleton during his decades of travel to Haiti, Kazakhstan, Guatemala and Peru, inspiring multiple charitable projects.
A quasi-visceral response was likewise produced by a tour of the Hiroshima Peace Memorial in Japan. Gumbleton would later quote Pope Paul VI's 1976 description of the bombing of Hiroshima as a "butchery of untold magnitude." At a 1989 symposium at The Catholic University of America on "The Challenge of Peace: The Catholic Church in Public Debate," Gumbleton added that "if there is any way [the Hiroshima bombing] is compatible with being a Christian, I would reject Christianity. If Jesus could bless followers who do this, I would have nothing to do with Jesus."
While sometimes associated with extreme views, Gumbleton more often appears in No Guilty Bystander to be an institutional "lifer," resolved to remain part of a gradually evolving system but reserving the right to dissent when he sees fit. Still, Gumbleton frequently cautions that his notions on policy in no way contradict essential church teachings.
Gumbleton has long been described as a compulsive reader, and in his preface to No Guilty Bystander hestates that he would prefer to devour a book about one of the valiant souls who influenced him rather than one about himself. He mentions Thomas Merton, St. Óscar Romero, Franz Jägerstätter, O.F.S., Dorothy Day, Cardinal John Dearden and Archbishop Raymond Hunthausen of Seattle among his people of interest.
Gumbleton is also depicted in No Guilty Bystander as devoted to periodicals like The New York Times and The New York Review of Books. As a youth, his sole interest was the sports pages, and while Gumbleton's curiosity has expanded since then to involve the wider world, church precedent is apparently not his only guide for finding answers to contemporary questions. Instead, a more confrontational hockey-player mindset has better suited Gumbleton temperamentally.
A case in point is "On the Pastoral Care of Homosexual Persons," a pastoral letter by the Congregation for the Doctrine of the Faith delivered in Rome in 1986 by Cardinal Joseph Ratzinger (later Pope Benedict XVI) and Archbishop Alberto Bovone. Then-Cardinal Ratzinger's assertion that the homosexual "inclination itself must be seen as an objective disorder" was termed by Gumbleton as "cruel words and unjustified words."
Gumbleton regularly showed a willingness to confront what he deemed injustice, even when purported offenders were representatives of the church. And so in 1989, when dozens of inner-city churches were closed by the Archdiocese of Detroit, Gumbleton joined the picket lines as an auxiliary bishop, protesting the decision.
He paid the price for such initiatives, remaining an auxiliary bishop for decades instead of being elevated to head a diocese. Yet as his biographers note, freedom from administrative and budgeting chores has allowed him time to address a wider scope of issues. An example of this can be found in 2006, after he testified in front of the Ohio General Assembly in Columbus on the occasion of a bill to create a legal window for victims of sexual abuse to sue perpetrators. The bishops of Ohio were offended by his testimony. According to Gumbleton's account, he soon received a letter from the Roman Curia accusing him of violating the solidarity of communio episcoporum (communion of bishops) by not seeking permission from the local bishop before testifying. Gumbleton was ordered to resign as auxiliary bishop and pastor of St. Leo's Church, his longtime base.
Nevertheless, a difficult-to-quantify likeability factor is also part of Gumbleton's extraordinary longevity as a public activist. In 2009, the New Oxford Review admitted that "despite his bizarre theology, [Gumbleton] has not been ambitious, and you've gotta respect that. For Gumbleton, the Gospel boils down to the Social Gospel, but he does appear to practice what he preaches."
This article also appeared in print, under the headline "Contemplating Eternity," in the December 2023, issue.
Benjamin Ivry has written biographies of Francis Poulenc, Maurice Ravel and Arthur Rimbaud and has translated many books from French.
https://www.americamagazine.org/arts-culture/2023/11/16/review-gumbleton-no-guilty-bystander-246493