Fr. Bruce E. Ball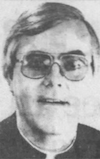 Abused in MD and WI. Investigated in 1984 by WI law enforcement, La Crosse Bishop John Paul informed. Sheriff did not charge Ball but told the bishop he should not have contact with children. Ball allegedly had made sexual comments to children and invited them to his cabin to sleepover. Reassigned to another parish, had contact with children. Pleaded no contest in 1993 to criminal charge of sexual contact with a 12-year-old boy during a therapy session. Four known victims. Sentenced to five years prison; released in 3/1996. On parole through 12/1997. Laicized at his own request as of 8/11/1997. Settlement of $100K. In 1993, the La Crosse diocese told Baltimore of two claims against Ball during the time he was a seminarian for La Crosse in Baltimore in the mid-1970s. Per the La Crosse diocese's list in 1/2020, Ball died 9/15/2002. Included on Baltimore's list of accused. Included in the 4/5/2023 MD Attorney General's Report. 
---
Return to main database page. See abbreviations and posting policy. Send corrections.
Our Database of Publicly Accused does not state or imply that individuals facing allegations are guilty of a crime or liable for civil claims. The reports contained in the database are merely allegations. The U.S. legal system presumes that a person accused of or charged with a crime is innocent until proven guilty. Similarly, individuals who may be defendants in civil actions are presumed not to be liable for such claims unless a plaintiff proves otherwise. Admissions of guilt or liability are not typically a part of civil or private settlements. For more information, see our posting policy.