Fr. Harry J. Byrne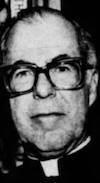 Monsignor. Archdiocesan chancellor 1968-70, canon lawyer, longtime parish pastor. Known for activism around affordable housing and outspokenness regarding church and other issues. Living at St. John Vianney Center for Retired Priests in the Bronx when arrested in 10/17, at age 96, on child porn possession charges. Per the D.A., there were "dozens of photographs on his computer of girls 8 to 14 years old performing sex acts with men or posing naked." Reportedly a judge determined that Byrne was unable to participate in his own defense, and the case could not continue. Byrne died in 5/20.
---
Return to main database page. See abbreviations and posting policy. Send corrections.
Our Database of Publicly Accused does not state or imply that individuals facing allegations are guilty of a crime or liable for civil claims. The reports contained in the database are merely allegations. The U.S. legal system presumes that a person accused of or charged with a crime is innocent until proven guilty. Similarly, individuals who may be defendants in civil actions are presumed not to be liable for such claims unless a plaintiff proves otherwise. Admissions of guilt or liability are not typically a part of civil or private settlements. For more information, see our posting policy.