Fr. James B. Hay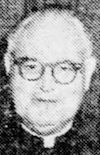 Monsignor. Ordained for El Paso, incardinated into Las Cruces Diocese when it was formed in 1982. Died in 1974. A man filed suit 2006 alleging that Hay raped him and another youth in 1964 while assigned to Our Lady of the Light. The suit named El Paso diocese and Hay's supervising priest, who the accuser said ignored his requests for help. Case dismissed on SOL 1/09; plaintiff filed motion to recuse judge since he contributed to Church during the pendency of the case. Judge withdrew 4/28/09. New judge was to reopen the case 5/09. On Las Cruces diocese's list 6/24/19. In 11/18 a Catholic Elementary school named after Hay changed its name to St. Frances Cabrini Catholic School.
---
Return to main database page. See abbreviations and posting policy. Send corrections.
Our Database of Publicly Accused does not state or imply that individuals facing allegations are guilty of a crime or liable for civil claims. The reports contained in the database are merely allegations. The U.S. legal system presumes that a person accused of or charged with a crime is innocent until proven guilty. Similarly, individuals who may be defendants in civil actions are presumed not to be liable for such claims unless a plaintiff proves otherwise. Admissions of guilt or liability are not typically a part of civil or private settlements. For more information, see our posting policy.