Fr. Mansour Labaky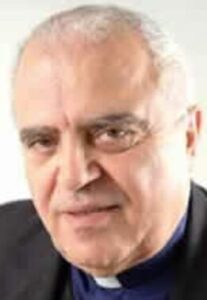 Lebanese Catholic Maronite priest. Musician, composer. Established and directed a children's choir in Lebanon. Worked in the U.S. in the early 1970s. Established homes for children in Lebanon and France. In 2011 a woman alleged sexual abuse by Labaky in France as a child. Others then came forward. At least 27 alleged victims known, including his niece. Labacky is said to have likely abused many more. The abuse occurred 1976-97, and his victims were girls as young as age 7. On 4/23/12 the Vatican decreed that Labaky live a life of prayer and penance with restricted ministry for sexually abusing three minors and committing the crime of solicitation on one. On 2/12/12, while the case was being considered first in Paris, Labaky presided at a mass at St. Garabad Armenian Church in Baton Rouge, LA. He was living in Lebanon in 2016 when Interpol issued an arrest warrant; Lebanon refused extradition. In 11/21 Lebasky was convicted in absentia in Caen, Normandy France, of the rape and sexual assault of three children at an orphanage that he opened in 1990.  He was sentenced to 15 years in prison. He reportedly continued to remain free in Lebanon.
---
Return to main database page. See abbreviations and posting policy. Send corrections.
Our Database of Publicly Accused does not state or imply that individuals facing allegations are guilty of a crime or liable for civil claims. The reports contained in the database are merely allegations. The U.S. legal system presumes that a person accused of or charged with a crime is innocent until proven guilty. Similarly, individuals who may be defendants in civil actions are presumed not to be liable for such claims unless a plaintiff proves otherwise. Admissions of guilt or liability are not typically a part of civil or private settlements. For more information, see our posting policy.