Fr. John L. Murray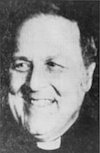 First reports in 1967 to diocese of sex abuse of a young boy in 1966. Pleaded no contest in 1985 to charges of fondling a 12-year-old altar boy the same year, at St. Matthew-in-Woods. Sentenced to one year probation. Faculties removed. Sent to two treatment facilities. Retired in 1987, moved to family home in Philadelphia. Another allegation in 2016, of a 12-year-old boy in 1973 at Our Lady of the Americas in Conneaut Lake. Murray died in 3/18. Included in the 8/14/18 PA Grand Jury Report. Accused in a lawsuit of abusing a 12-year-old boy in 1959, while assigned to St. Paul's in Erie. Settled in 12/19 in the low five figures.
---
Return to main database page. See abbreviations and posting policy. Send corrections.
Our Database of Publicly Accused does not state or imply that individuals facing allegations are guilty of a crime or liable for civil claims. The reports contained in the database are merely allegations. The U.S. legal system presumes that a person accused of or charged with a crime is innocent until proven guilty. Similarly, individuals who may be defendants in civil actions are presumed not to be liable for such claims unless a plaintiff proves otherwise. Admissions of guilt or liability are not typically a part of civil or private settlements. For more information, see our posting policy.