Fr. Giles L. Nealen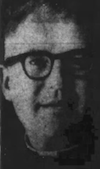 Monk of St. Vincent Archabbey in Latrobe. On Erie diocese's list 4/6/18. Retired in 1992. Died 12/29/96. Included in the 8/14/18 PA Grand Jury Report, which noted Nealen's "long history of sexually abusing numerous young boys." Order and Diocese of Greensburg in 1972 knew Nealen was "involved in an inappropriate incident" when pastor of St. Bruno in South Greensburg PA. Moved in 1972 to St. James in Waynesburg OH, Youngstown diocese. In Brazil 1964-67. Letter to diocese in 1/93 from a man alleging abuse at age 13 by Nealen 23 years prior at Queen of the World parish in St. Mary's PA. The man said Nealen also abused his two friends. In 2/02 a woman told the diocese she knew of at least three men molested as boys by Giles, one of whom had just been arrested for molesting young boys. Another woman alleged in 2004 that her 11-year-old son was molested 30 years prior by Nealen at Queen of the World. On Youngstown diocese's list 10/29/18. Suit in 8/20 claimed abuse in 1968 of his nephew, age 11.
---
Return to main database page. See abbreviations and posting policy. Send corrections.
Our Database of Publicly Accused does not state or imply that individuals facing allegations are guilty of a crime or liable for civil claims. The reports contained in the database are merely allegations. The U.S. legal system presumes that a person accused of or charged with a crime is innocent until proven guilty. Similarly, individuals who may be defendants in civil actions are presumed not to be liable for such claims unless a plaintiff proves otherwise. Admissions of guilt or liability are not typically a part of civil or private settlements. For more information, see our posting policy.