Bishop James S. Rausch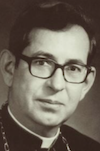 Former Secretary General of the NCCB. Bishop of the Phoenix diocese from 1977 until his death in 1981. In 11/01 a man gave a deposition in a case involving the Tucson diocese and Msgr. Robert Trupia, in which he stated that he was 17 when he began a sexual relationship with Rausch and over 18 when he was involved with Trupia and William T. Byrne. Trupia attempted to blackmail the diocese in 1992 by saying that he would release info on Bishop Rausch and the young man.
---
Return to main database page. See abbreviations and posting policy. Send corrections.
Our Database of Publicly Accused does not state or imply that individuals facing allegations are guilty of a crime or liable for civil claims. The reports contained in the database are merely allegations. The U.S. legal system presumes that a person accused of or charged with a crime is innocent until proven guilty. Similarly, individuals who may be defendants in civil actions are presumed not to be liable for such claims unless a plaintiff proves otherwise. Admissions of guilt or liability are not typically a part of civil or private settlements. For more information, see our posting policy.