Fr. John W. Rudy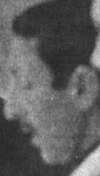 Parochial Vicar at St. Joseph's in Winsted, CT 1993-98. Removed from ministry by his order in 1998. Arrested in 7/98, accused of improperly touching an 18-year-old male. Arrested again in 9/98, accused of improperly touching a 9-year-old boy two years before, when the boy was age 7. Pleaded no contest to charges of fourth-degree sexual assault and disorderly conduct in 11/99; the plea kept him out of jail and off sex offender registry. Sentenced to one year suspended prison term, two years probation. Sent to treatment. On the Hartford archdiocese's list 1/22/19. Included in 10/21 on the Holy Name Province Franciscans' list of those against whom there are substantiated allegations.
---
Return to main database page. See abbreviations and posting policy. Send corrections.
Our Database of Publicly Accused does not state or imply that individuals facing allegations are guilty of a crime or liable for civil claims. The reports contained in the database are merely allegations. The U.S. legal system presumes that a person accused of or charged with a crime is innocent until proven guilty. Similarly, individuals who may be defendants in civil actions are presumed not to be liable for such claims unless a plaintiff proves otherwise. Admissions of guilt or liability are not typically a part of civil or private settlements. For more information, see our posting policy.