Fr. Joseph J. Seminatore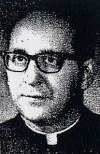 Placed on leave in 2002 from Parmadale Family Services home after a man alleged sexual abuse there as a minor. Parmadale offered treatment to children with emotional problems. Seminatore denied the allegations. Three accusers filed suit in 07/02. In 8/02 Seminatore filed a countersuit, alleging conspiracy. Plaintiffs' case dismissed on SOL; dismissal upheld by Appeals Court in 2006. Seminatore's claim dismissed by trial court; upheld by Appeals Court 12/04. In 10/15 the diocese announced Seminatore's administrative leave had ended, and he was granted retirement. This was after a tribunal of three canonists determined the charges were not confirmed. Included on the diocese's list 6/21/19 of clergy with substantiated allegations against them of child sexual abuse. Permanently removed from ministry.
---
Return to main database page. See abbreviations and posting policy. Send corrections.
Our Database of Publicly Accused does not state or imply that individuals facing allegations are guilty of a crime or liable for civil claims. The reports contained in the database are merely allegations. The U.S. legal system presumes that a person accused of or charged with a crime is innocent until proven guilty. Similarly, individuals who may be defendants in civil actions are presumed not to be liable for such claims unless a plaintiff proves otherwise. Admissions of guilt or liability are not typically a part of civil or private settlements. For more information, see our posting policy.