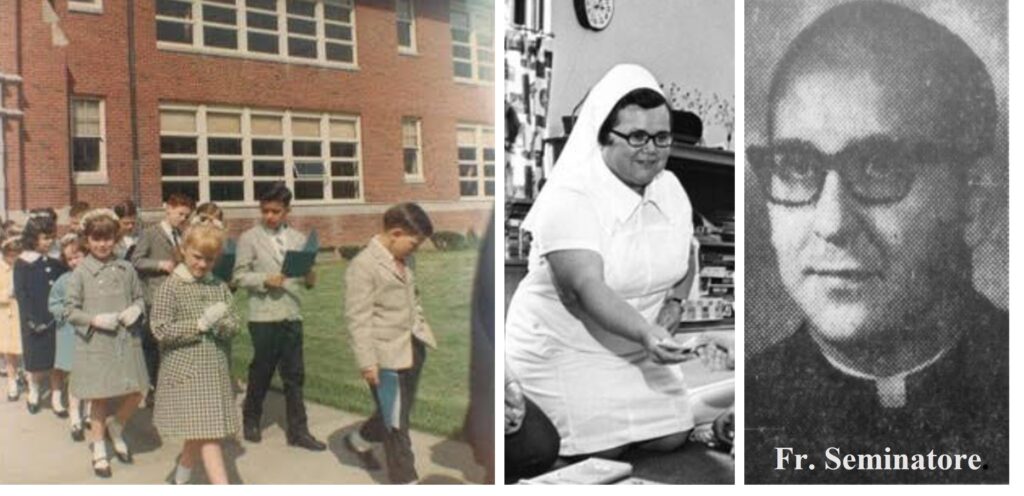 On January 11, 2022, Cleveland's WEWS-TV aired accounts by three women of the brutal physical abuse they suffered or witnessed as young children at Parmadale Children's Village, a residential institution for orphans and children from troubled homes in Parma, Ohio. Carolyn Folyn Mason and another woman described being viciously beaten by a Sister Myra Wasikowski, CSA.
The report was merely the latest in two decades' worth of abuse revelations at the now-closed facility.
When the Cleveland diocese opened Parmadale Children's Village of St. Vincent de Paul in 1925, it was promoted as the nation's first residential cottage plan in Catholic children's homes. Parmadale was staffed for decades by the Sisters of Charity of St. Augustine, based in Richfield OH, and eventually came under the auspices of the Catholic Charities of Cleveland.
In 2002, former residents began going public with allegations of sexual and physical abuse by the nuns, priests and lay counselors who worked at the home.
Parmadale closed as a residential facility in 2014, in the wake of the 2013 criminal conviction of a Parmadale counselor for sexually assaulting minors there.
We present this timeline to raise awareness of the still largely untold story of the scope of child abuse at Parmadale. This aggregates the public Parmadale allegations to date and is a work in progress. If you know of other public reports, please forward them to us at staff@bishop-accountability.org.
Timeline of Parmadale Abuse Reports
2002, April – Cuyahoga County prosecutor William Mason subpoenas the Cleveland diocese for its abuse files as he launches a criminal investigation into child sexual abuse by Cleveland clergy. Within two or three days, the diocese publicly names 22 accused priests – 12 priests previously removed because of alleged child sexual abuse and ten additional priests just suspended by Bishop Anthony Pilla. The ten newly suspended priests include Father Russell Banner, who in 2004 would be accused of sexually abusing a boy at Parmadale in the mid-1960s. (The allegation that prompted Banner's suspension in April 2002 appears not to have been connected to Parmadale.)
Also in April 2002, Michael Brown, a 47-year-old former lay counselor at Parmadale, is indicted on 57 counts of gross sexual imposition involving three teenage boys at Parmadale. He eventually is prosecuted in both Cuyahoga and Summit Counties.
2002, May – Bishop Pilla announces the suspension of Rev. Joseph J. Seminatore after a man reports being sexually abused by Seminatore at Parmadale in the mid-1980s. Seminatore was Parmadale chaplain from 1980 to 2002.
2002, July – Three victims sue the diocese and Parmadale for negligence, alleging that as children at Parmadale in the mid-1980s, they were molested by Fr. Joseph Seminatore. One of the three appears to be the victim whose allegation was made public in May 2002. The victims' suit is eventually dismissed on the grounds of Ohio's civil statute of limitations, which remains one of the most restrictive such statutes in the nation.
(Note: Although a diocesan tribunal of three priests ruled in 2015 that the allegations against Seminatore could not be confirmed, the diocese included him in its list of priests who have faced substantiated allegations. The list, which first posted in June 2019, says that Seminatore is "permanently removed from ministry.")
2002, August – Rev. Seminatore countersues his accusers and their lawyers, alleging defamation. The priest's suit is eventually dismissed.

2002, December – Cuyahoga County prosecutor William Mason announces the indictment of six former Parmadale employees for kidnapping, gross sexual imposition and rape. The indictments are an outcome of Mason's seven-month-long grand jury investigation into child sexual abuse in the Cleveland diocese.
The grand jury's other major findings include: allegations of child sexual abuse against 496 people in the Cleveland diocese, of whom 145 are priests; and 1,019 victims of alleged child sexual abuse in diocesan entities. Nearly 600 of the victims' cases are barred, mostly due to the state's criminal statute of limitations, which at that time requires victims to report abuse within six years of reaching age 18.
Mason had presented the grand jury with 92 cases with strong evidence and within statute, but the grand jury levies charges against only 11 people, including the six former Parmadale staffers. Of the 145 accused priests, only one, Rev. Daniel McBride, is indicted. McBride and the allegations against him are not related to Parmadale.
2003, April – One of the six former Parmadale employees indicted in December 2002 pleads guilty to gross sexual imposition after admitting to trying to have sexual contact with a 15-year-old resident.
2003, September – A third former Parmadale employee "is sentenced to eight years in prison after admitting he gave gifts and special treatment to boys there in exchange for sexual favors." See: Ohio Mental Health Department puts Parmadale on probation after sexual abuse and other allegations surface, Cleveland Plain Dealer, October 22, 2013.

2004, March – A former Parmadale staffer pleads guilty to charges that he gave drugs to three teens and had sexual contact with one of them, a 13-year-old girl. (He presumably also is one of the six former Parmadale employees who were indicted in December 2002 as a result of the county's grand jury investigation.)
2004, April – Former Parmadale resident Wolfgang Fifer files a lawsuit against the diocese, Catholic Charities of Cleveland, and Parmadale, stating that he was sexually abused at Parmadale "more than 100 times" from the ages of 12 to 14 by then-Deacon Russell Banner. The abuses occurred in the mid-1960s, shortly before Banner's 1967 ordination as a Cleveland diocesan priest. Banner went on to serve as official chaplain of Parmadale from 1970 to 1974. The diocese had suspended him for an unrelated abuse allegation in 2002 and would announce his laicization in 2015.
2008, December – Faith Finley, a 17-year-old girl residing at Parmadale, dies after being physically restrained by staff members. The coroner rules a month later that she suffocated and choked.
2009, September – Three former Parmadale employees are indicted for involuntary manslaughter and child-endangering charges in the death of Faith Finley, age 17, at Parmadale. They had restrained Faith face down, causing her to choke on her vomit and suffocate.
2010, February – A jury acquits the three former Parmadale employees of involuntary manslaughter in the death of Faith Finley. After the verdict, a lawyer for one of the accused says that while the girl's death was "not a happy day," it was an "accident."

2013, October – The Ohio Department of Mental Health and Addiction Services, which licenses facilities like Parmadale, places it on probation after sexual abuse and other allegations surface.
2014, January – Parmadale ends its 89-year run as a residential facility for children and troubled youth.
2014, July – Parmadale counselor Cassondra Goodson is sentenced to 44 years in prison for repeated sexual assaults of two girls at the facility. Cuyahoga County Common Pleas Judge Michael Astrab said she personified the term "sexual predator." Goodson had pled guilty the previous month to six counts of sexual battery, five counts of unlawful sexual conduct with a minor, and one count of interference with a child's custody. [See Victims' letters detail pain of ex-Parmadale aide's abuse; judge sends Cassondra Goodson to prison for 44 years, cleveland.com, July 28, 2014]
2019, June – Bishop Nelson Perez releases a list of Cleveland diocesan clergy with substantiated allegations of child sexual abuse. His list includes former priest Russell Banner, Parmadale chaplain from 1970 to 1974, and Fr. Joseph Seminatore, Parmadale chaplain from 1980 to 2002. See the list as it appeared on June 21, 2019 and as it appears today.
2022, January – WEWS-TV, Cleveland's Channel 5, airs an exposé of physical abuse of children at Parmadale. See: 'I was scared' — Women say they were beaten, mistreated by nuns at Parma children's home in 1960s, WEWS-TV, by Jonathan Walsh, January 11, 2022. (If link above does not work, see our cached copy here.)