Fr. Charles Townsend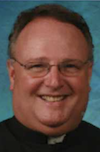 Named publicly as accused by the diocese on its list 4/2/19. Accused of misconduct/grooming, including supplying a 19-year-old male with alcohol in 2017. He was placed on leave in 2018. Pleaded no contest to criminal charges in 3/19.  Per the NE A.G. report released in 11/21, Townsend favored a small group of altar servers at his parish. He would have teenage boys at the rectory late into the evening, allow them to drive his car, and he took a few of them on a long trip. In early 2017 church officials gave Townsend a canonical warning, concerned that his behavior would cause scandal. 
---
Return to main database page. See abbreviations and posting policy. Send corrections.
Our Database of Publicly Accused does not state or imply that individuals facing allegations are guilty of a crime or liable for civil claims. The reports contained in the database are merely allegations. The U.S. legal system presumes that a person accused of or charged with a crime is innocent until proven guilty. Similarly, individuals who may be defendants in civil actions are presumed not to be liable for such claims unless a plaintiff proves otherwise. Admissions of guilt or liability are not typically a part of civil or private settlements. For more information, see our posting policy.