How the Church Hid the Sins of Father Cooley
For 15 years, priest was left to prey on boys

By Dan Horn, dhorn@enquirer.com and Richelle Thompson, rthompson@enquirer.com
The Cincinnati Enquirer
April 14, 2002

http://www.enquirer.com/editions/2002/04/14/loc_1how_church_hid_sins.html

[See also Richelle Thompson, Abuse Robbed Family of Faith and Cooley Regrets Turning Victims 'against God'.]

Father George Cooley surrounded himself with children.

He went to their birthday parties and family dinners. He took them on camping trips, played guitar with them and invited them to sleep-overs at his apartment.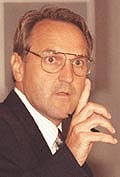 George Cooley
For more than 15 years, Father Cooley's bosses at the Archdiocese of Cincinnati knew of his keen interest in young people, especially boys.
They also knew that almost everywhere the priest went, allegations of sexual misconduct followed.
And yet, time and again, they failed to keep him away from children.
The case of Father Cooley, more than any other in Cincinnati, reveals in painful detail how the Catholic church has for years been unable or unwilling to rein in abusive priests.
Although the Cooley case first came to light a decade ago, details about the church's handling of the priest have emerged more recently in lawsuits against the archdiocese.
Court records filed with those lawsuits show that the archdiocese repeatedly failed to stop — or even to adequately supervise — one of the most notorious sex offenders in its history.
"What he did angers me," said Guy Guckenberger Jr., who was 10 years old when he told church officials in 1978 that Father Cooley had abused him. "But what angers me more is the way the church handles this stuff.
"They know they have a problem, and they are trying to protect themselves."
Records show that high-ranking church officials — including the current and former archbishop — were aware of allegations against Mr. Cooley as early as 1971, when he was accused of fondling a fellow seminary student.
More complaints would follow. One boy said he was molested at summer camp, another at the church rectory, another on a camping trip.
The archdiocese responded by moving the priest to new jobs, usually with no warning to his supervisor, his parish or the parents who would trust him with their children.
"At the time, we thought it could be cured," said archdiocese spokesman Dan Andriacco. "It's always very, very difficult to look back in light of current knowledge and say, "How could we do such a dumb thing?'
"There's a real depth of sorrow about the things George Cooley was able to do."
Mr. Cooley, now a customer-service representative at a Cincinnati-area business, contends that the archdiocese responded quickly to the allegations.
"When the church became aware of my problem, (action) was swift," Mr. Cooley said in an interview last week with The Cincinnati Enquirer. "Granted, I didn't tell everything because I didn't want it known. I didn't want something to kick me out of the priesthood."
According to court records, the church's action typically consisted of an order to get counseling and reassignment to another parish. After one transfer, he was allowed to work with altar boys. After another, he counseled youths through a Catholic services agency.
Mr. Cooley was arrested, convicted and jailed on molestation charges in 1991. Church officials threw him out of the priesthood, rewrote their policies on sex offenders and vowed to protect children.
Last month, however, they admitted the archdiocese still employs "fewer than five" priests with a history of sexual misconduct.
And that, some victims say, proves the church has learned little from its experience with George Cooley.

Early warning signs
Mr. Cooley claimed to be a changed man when he applied to enter St. Mary's Seminary in 1972.
The self-absorbed student who had once irritated teachers and alienated classmates was now humble, hoping for another chance at the priesthood.
He had gotten help, he promised. He had overcome the sexual urges that led him to fondle a fellow student at St. Gregory Seminary in 1971.
Archbishop Daniel Pilarczyk, who then was rector at St. Gregory, had forced Mr. Cooley to take a leave of absence. A year later, he declared Mr. Cooley a good candidate for the priesthood.
"When it became obvious that he needed professional help with his psychological problems, he faced the situation in a mature and manly fashion," the Rev. Pilarczyk wrote in a letter of recommendation to St. Mary's Seminary.
Mr. Cooley was allowed to resume studying for the priesthood. Four years later, he was ordained a priest and sent to Sacred Heart parish in Fairfield.
His supervisors put him in charge of altar boys and made him a chaplain at Fort Scott, a summer camp for children.
"His reputation was very good," said Father John Porter, Mr. Cooley's supervisor at Fort Scott. "He entertained children. He had a great rapport."
Mr. Cooley discussed his dealings with children in a sworn statement taken in 2000.
The statement is part of the court record created by a 1999 lawsuit that an alleged victim filed against the archdiocese. The lawsuit includes more than 1,000 pages of sworn statements from Mr. Cooley, his supervisors and Archbishop Pilarczyk.
In his statement, Mr. Cooley said kids were "jumping all over me all the time" at the summer camp. But only rarely, he said, did he feel an urge to touch them in a sexual way.
"It was specific times," he said. "I just felt in a particular mood or felt particularly close to somebody."
Mr. Guckenberger said one of those times was the summer of 1978, when he was alone in his cabin at Fort Scott. He said Father Cooley climbed on top of him while he was trying to sleep.
The next day, the 10-year-old boy reported the incident to his counselor, who reported it to Father Porter. "I told them exactly what happened," said Mr. Guckenberger, whose father, Guy Sr., was then a member of Cincinnati City Council.
"Do you want us to tell your parents?" one of the counselors asked.
Mr. Guckenberger said no. He says now that he was too embarrassed.
In a sworn statement in 2000, Father Porter said he did not call police, notify the boy's parents or put a notation about the incident in Father Cooley's file. Father Cooley denied the allegation.
"It was so vague and untimely that it just wasn't thought to be of any seriousness," Father Porter said in an interview.

Priest admits misconduct
The next summer, another camper complained about sexual misconduct by Father Cooley. This time, the father of the boy went to then-Archbishop Joseph Bernardin.
The archbishop referred the matter to then-Bishop Pilarczyk, the auxiliary bishop. He passed it on to the personnel director, Father Philip Seher.
Father Seher did not respond to an interview request, but in a sworn statement taken in 2000 he said he was not told about Father Cooley's problem at the seminary or about the Guckenberger complaint.
But when Father Seher confronted Father Cooley, he knew there was a problem.
"I told him that there was a complaint that he had been sexually involved with a young child, and he immediately said that was true," Father Seher said in his statement.
He then spoke to the boy's father, who said he wanted Father Cooley to get help and to be kept away from children. No one called police.
Father Cooley was ordered into counseling and the archdiocese was to receive reports on his progress. Archbishop Bernardin, who died in 1996, was told of the arrangement.
"He would have been kept informed every step of the way," Father Seher said. At one point, according to Father Cooley, Archbishop Bernardin met with the troubled priest and assured him church officials would "do what we can" to get him help.
Years later, court records show, a lawyer asked Mr. Cooley if the counseling he received in 1979 helped him.
"Not really," he answered.
But Father Seher said the counselor reported significant progress: "He was responding well, dealing with issues ... no red flags."
In 1981, Father Cooley was transferred to Guardian Angels parish on Beechmont Avenue in Mount Washington.
"I wish to thank you ... for the good work you have done at Sacred Heart Parish," Archbishop Bernardin wrote to Father Cooley. "Your ministry there has been productive of much good." The letter did not mention the complaints at Fort Scott or any restrictions on contact with children.
Shortly after he arrived at Guardian Angels, Father Cooley was put in charge of altar boys.
A betrayal of trust
The archdiocese never told parents at Guardian Angels about the allegations against Father Cooley at Fort Scott.
So when the friendly, outgoing priest took an interest in their children, parents welcomed him into their homes. He stopped by for dinner, took the boys on camping trips and counseled the children after traumatic events, such as the death of a relative.
At least six boys at Guardian Angels would eventually complain, sometimes years later, of sexual contact with Father Cooley.
One of the boys, Steve Dasenbrock, was considering becoming a priest. So when Father Cooley started spending time with the family, he was thrilled.
"We would have so much fun," Mr. Dasenbrock, now 32, said in an interview.
They went on camping trips with the priest, and "we did the things boys like to do — run in the woods, explore the caves."
During one of these trips, Father Cooley fondled Mr. Dasenbrock, then 12. Father Cooley also molested Steve's younger brother, Billy, when the boy was 9.
"In a moment, everything I'd been taught to believe in, the trust in the person closest to God, just vanished," Bill Dasenbrock, now 28, said last week.
Another boy accused Father Cooley after a sleep-over at the rectory in 1983. In the middle of the night, court records state, the 15-year-old began screaming that the priest had molested him.
"(The boy) was sleeping," Father Cooley recalled in his statement two years ago. "I reached over and grabbed him."
The incident occurred at the church rectory, where other priests also lived. The boy called his mother, and she picked him up that night. Neither the parents nor church officials called police.
A year later, another boy told his parents that Father Cooley had molested him. The boy's father contacted Father Cooley's supervisor, Father Raymond Favret.
"He was yelling and screaming," Father Favret recalled in a sworn statement he gave in 2000. "He said that George Cooley had abused his son."
Father Favret, who declined an interview request, said in his statement that he became convinced the allegations were true, although Father Cooley claimed he had only hugged the boy and "didn't mean to do anything to him."
The boy's father, still furious, tracked down Father Cooley at the rectory and punched him in the mouth. The priest needed stitches to close the wound.
Church officials did not call police about the attack or the allegations against Father Cooley, but they did agree to remove him from the parish.
Father Favret said he was too busy with Holy Week celebrations to ask Father Cooley if he had abused anyone else. Apparently, no one else asked the question, either.
"I don't recall that being an issue," Archbishop Pilarczyk said in a sworn statement two years ago.
The church did, however, issue a statement to the parish about Father Cooley's departure. "It just indicated that we had not known about this, that we regretted it," Father Favret said.
The police close in
Father Cooley was named chaplain at Good Samaritan Hospital in 1984. Archbishop Pilarczyk wrote a letter thanking Father Cooley for accepting the new job and "for the good work you have done at Guardian Angels."
Again, there was no mention in the letter of the misconduct allegations or of any restrictions on contact with children.
Mr. Cooley told the Enquirer he resumed his counseling sessions and was ordered by his superiors to stay away from children.
Sometime after his arrival, a man in a wheelchair complained that Father Cooley had made inappropriate advances toward him. Father Cooley denied the allegation.
The priest was not in regular contact with children at the hospital. But he did work part time at Christian Family Services, a counseling agency for parents and children.
Although the archdiocese ran the agency, church officials said they were unaware Father Cooley was a counselor there. In his sworn statement, Archbishop Pilarczyk admitted the priest's counseling job was "inappropriate."
The police caught up to Father Cooley in the early 1990s when a few young men, including the Dasenbrocks, came forward.
He went to jail for three months in 1991 after pleading guilty to molestation charges. He was subsequently defrocked, or dismissed from the priesthood.
Critics of the archdiocese's handling of Father Cooley say his dismissal should have come years earlier.
"If you know there's been a molester in your flock, you need to make it your business," said Donald Moore Jr., the lawyer for victims who sued the church and eventually reached a confidential, out-of-court settlement. "This did not happen."
The Dasenbrocks say that even when they came forward with their allegations, the archdiocese didn't tell them of Mr. Cooley's past problems.
"We didn't want to hurt the church," said Micky Dasenbrock, Steve and Bill's mother. "We had no desire for monetary compensation. We wanted to find whatever boys who had been hurt so they could get help. We didn't go to the police until it became very clear that the archdiocese was not going to do anything to limit George Cooley's behavior."
In a recent interview with the Enquirer, Archbishop Pilarcyzk said church officials did what they thought was best at the time.
"The common wisdom ... was to get the offender out of the child's life, and tell the child to forget about it. And that's what we did. That's the way you dealt with those things," the archbishop told the Enquirer.
"Was that a mistake? Well, it was a mistake in hindsight. It wasn't the right thing to do. It wasn't the adequate thing to do," Archbishop Pilarczyk said. "Would we do it that way now? Certainly not. Because we know more, and we have more experience."