Abuse Robbed Family of Faith

By Richelle Thompson, rthompson@enquirer.com
The Cincinnati Enquirer
April 14, 2002

http://www.enquirer.com/editions/2002/04/14/loc_abuse_robbed_family.html

[See also Dan Horn and Richelle Thompson, How the Church Hid the Sins of Father Cooley, and Richelle Thompson, Cooley Regrets Turning Victims 'against God'.]

Dr. Ray and Micky Dasenbrock used to set up the stations of the cross in their Mount Washington home during Lent. Their four children attended Catholic schools, and their middle son, Steve, seemed destined for the priesthood.

"It never entered our mind to be anything other than Catholic," says Mary "Micky" Dasenbrock, who was named in honor of the Virgin Mary. "The Catholic church defined who we were, socially and religiously."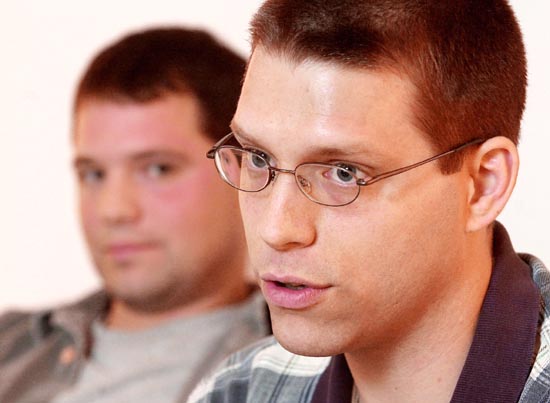 Steve Dasenbrock and his brother Bill (left) were camping with George Cooley, who was then a priest, when he molested him some 20 years ago. Steve was 12; Bill was 9. (Craig Ruttle photos)
Today, two decades after a Catholic priest molested the two youngest Dasenbrock boys, the family doesn't attend any church. Faith in God still plays an important role, but they're soured on organized religion.
"I had invested my life in the Catholic church," says Mrs. Dasenbrock, 58. "When I needed them most, they turned on me. I was treated like a pariah. My whole foundation was ripped away."
In 1989, Mrs. Dasenbrock was badgering her 19-year-old son, Steve, about not attending Mass. He would go to a Protestant church with a girlfriend, but he wouldn't participate in the faith of his family.
Finally, he told his mother about a camping trip when he was about 12 years old. Father George Cooley, the associate priest at their parish of Guardian Angels, started rubbing Steve's back, rolled him over and fondled him.
"It was like a split went on in my head," says Steve, 32, today a stay-at-home dad of two sons in Anderson Township. "I thought it had to somehow be my fault. Because priests don't do that. Priests are one step from God."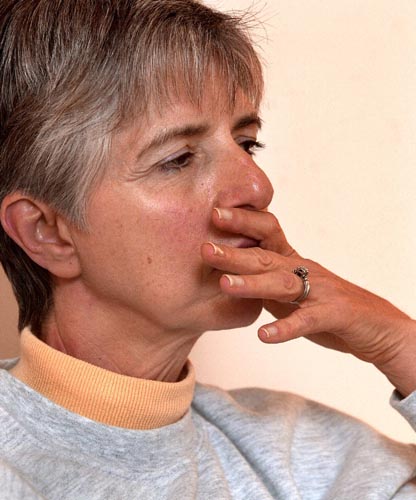 Mary Dasenbrock listens to her sons describe their encounters with Father Cooley
About the same time, his younger brother, Billy, spent the night at the rectory, where Father Cooley kept video games and often invited children for sleepovers.
Now 28, Bill Dasenbrock recalls sleeping on the couch when Father Cooley lay on top of him and fondled him.
"In a moment, everything I'd been taught to believe in, the trust in the person closest to God, just vanished," says Bill Dasenbrock, 28, of Hyde Park.
The Dasenbrocks reported the abuse to their local priest, then to archdiocesan officials. The church spent more time protecting itself and its priests than it did ministering to molestation victims, Mrs. Dasenbrock says.
By spring of 1990, frustrated at the church's lack of response, the Dasenbrocks went to the prosecutor's office.
Eventually, Father Cooley pleaded guilty to molestation charges, including the incidents with the Dasenbrocks. He initially served three months in jail, then another 15 months after violating his probation. He also was defrocked and pushed out of the priesthood.
In 1994, the Dasenbrocks settled a civil suit with the church out of court. Terms are confidential.
Archbishop Daniel Pilarczyk has declined to name the "fewer than five" priests with a history of sexual misconduct who are still serving in pastoral roles.
He told The Enquirer that the way Mr. Cooley's situation was handled wasn't adequate nor was it the right thing to do. But he said the church responded in a way advocated by child abuse experts: remove the offender from the situation and tell the child to forget about it.
"The (Cooley case) lesson is: Life is hard, and sometimes the only way to learn is through mistakes and through suffering," the archbishop said.
Archdiocesan officials contend they followed the law requiring them to report sex abuse, saying the statute of limitations may have expired.
Mrs. Dasenbrock responds: "I have such a hard time seeing Jesus Christ saying, "We don't have to deal with this person because the statute of limitations has run out.'"