Searching for Solutions
Church Struggles to Quell Crisis
Some safeguards fail to be implemented

By Michael D. Sallah and David Yonke
Toledo Blade
December 1, 2002

http://toledoblade.com/apps/pbcs.dll/article?AID=/20021201/SRSHAME/112030031

Last of a three-part series [See also Part 1: Shame, Sin and Secrets and Part 2: Believers Betrayed.]

Toledo priests have met for years behind closed doors to share ideas about consoling the dying, the addicted, and the grieving members of their flocks.

Now, they gather to console themselves.

In support groups organized by the diocese, one says he was insulted by a shopper in a department store. Another says a young mother gathered her children as he walked by.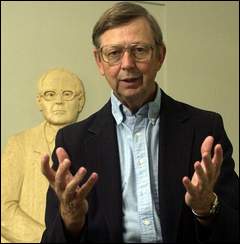 The Rev. Jim Bacik says the church needs to accept responsibility for the actions of its priests and bishops. Photo by the Blade.
The perceptions of American priests are dramatically changing, many of the clerics agree.
But what they are unable to agree on is how to fix a problem that has led to legal challenges, protests, and revelations that have stunned everyday Catholics since the child sex-abuse scandal exploded this year.
Indeed, the Toledo diocese still struggles to meet the demands of a crisis that has been brewing in the institution for decades, a Blade investigation shows.
For example:
* When victims step forward to talk about their abuse, it can take three weeks or longer to meet with the diocese's lone case worker, causing some to hire lawyers out of frustration, they say.
* While the diocese created a policy in 1995 to set up pastoral teams to work with victims, the panel was never formed - leaving the only case manager to juggle those duties for the last seven years.
* The policy also called for an investigative team to study abuse cases, but in seven years, it never met, diocese officials say.
* The diocese lacks an effective system to monitor sexual molesters removed from ministry - which led to two recent situations in which abusers were allowed to work directly with children.
"There are no cops on the beat," says Claudia Vercellotti, the coordinator of the Ohio chapter of Survivors Network of those Abused by Priests.
"You have a lot of heart beating and pontificating, but you really don't have a system, or mechanism, to respond and deal with the follow up and supervising to make sure this never happens again."
Though no known incidents of sex abuse have occurred since 1995, the diocese continues to reel from a spate of lawsuits and complaints filed in the last eight months from events between the 1950s and early 1990s.
Twice local church leaders adopted policies - in 1988 and 1995 - to cope with allegations and deal with the moral and legal challenges of a burgeoning problem. But many of the safeguards and guidelines were never carried out.
That doesn't mean the diocese doesn't talk to victims in distress.
For years, Toledo Bishop James Hoffman has met with people who say they were abused, often providing counseling at church expense.
"I just know that if we don't respond and reach out to victims, that we haven't done our job," he said in a recent interview.
But a long practice of secrecy in abuse cases - guided by diocesan lawyers - continues to pose problems for the local church.
Consider the case of Herbert Richey, Jr.
When the former priest was accused of sexually abusing young boys in the 1980s, the diocese resorted to a familiar practice: It settled the cases confidentially for undisclosed amounts of money.
The Crestline, Ohio, native took a leave of absence starting in 1992, records show.
A few years later, he quietly returned to the diocese as an organist and musical director at Toledo's St. Michael the Archangel Church, where he worked from 1994 to 1996 - in some cases with children at a nearby school.
The flock was never told of his troubled past.
He later left the parish and eventually turned up as an organist at a Trenton, Mich., church as recently as this summer.
He is now a substitute organist with the Detroit archdiocese, traveling to churches where he is needed, said a representative. When reached by The Blade, he refused to comment.
Bishop Hoffman says the diocese settled out-of-court cases on behalf of Mr. Richey, 52, but declined to elaborate, saying the agreements were confidential.
After Father Robert Thomas was arrested for having sex with a teenage boy in 1984, he eventually transferred to Arizona in 1986.
Bishop Hoffman said he told the Tucson diocese about the priest's conviction at the time, but the move was approved.
For 16 more years, the cleric served as a parish priest.
When a Blade reporter called the Tucson diocese in May, a spokesman said Arizona church leaders were surprised to learn of his arrest because there were no reports in their files of the Toledo case.
The 71-year-old priest was immediately suspended and has since been pulled from ministry.
The case is an example of why the church needs a better system of checks and balances to monitor priests with troubled pasts - regardless of whether they have been "reformed," say people studying the problem.
Part of the answer is to remove the secrecy that has shrouded the church for so long and to improve communication between dioceses.
In an effort to correct such breakdowns, the American bishops in June ordered local dioceses - including Toledo's - to bring in lay members to open the process of investigating abuse cases.
Last month, the diocese appointed a six-member lay board to review sexual misconduct cases and make recommendations to the bishop.
How the panel performs its duties could determine whether the diocese prevents further crises, say experts studying the problem.
One of the first orders of business comes Thursday when it hears the case of former seminarian Jon Schoonmaker, who claims he was abused by a Toledo priest when he was a teenager.
While the Dallas charter imposed tougher national guidelines on U.S. church leaders, each diocese has a great deal of autonomy in interpreting and enforcing those rules.
For instance:
* The Boston archdiocese is setting up a special panel to supervise clergy removed from the ministry.
* In Baltimore, the archdiocese published the names of 56 accused priests on the Internet to help ensure they do not end up in schools or parishes outside their areas.
"Exposure sometimes does more to prevent abuse than anything else," says David Clohessy, president of the Survivors Network of those Abused by Priests.
* In Dallas, a panel was created consisting of professionals in psychology and law enforcement to investigate sex abuse.
A major problem is that priests accused of sexual abuse are often forced from ministry without being investigated by police, thus their names do not appear on any sexual-offender lists to alert police or the public to their whereabouts.
In the Toledo diocese, which covers 19 counties, one priest is responsible for keeping an eye on clerics removed from ministry.
But since the 1960s, at least 12 priests have been stripped of their collars because of sexual-misconduct accusations - and eight still live in the diocese. Two live in southeast Michigan.
"Some of them could be ticking time bombs," says Bill Crosby, a Cleveland lawyer who represents several abuse cases in Toledo. "And ultimately, who is watching these guys?"
At the 577 Foundation in Perrysburg, the victims gather - some never giving their names, but always their stories.
Those who turn out for the support sessions run the gamut: from middle-age housewives to 30-something businessmen.
Their concerns vary, but the big issue that riles them: getting the attention of the Toledo diocese.
For those people who want to step forward, the diocese enacted a 1995 policy that calls for pastoral care committees to respond in 48 hours to victims. But seven years later, the teams are just now being formed.
George Keller recalls the frustration of wanting to talk to someone, but no one was there for weeks.
"I know for a fact I left three phone messages, and almost gave up. It took me three weeks to talk to someone," says the 53-year-old factory supervisor, who decided to voice his anger in March after years of living in silence.
He says he eventually met in April with the lone diocesan case worker assigned to the sex-abuse crisis: Frank DiLallo.
During the meeting, Mr. Keller says he talked about being repeatedly raped by former priest Leo Welch and expected the diocese to investigate his claims. He even met with Bishop James Hoffman.
The case manager called back, saying the diocese thought Mr. Welch was dead, and his files showed no abuse allegations.
But within hours, The Blade found the opposite: Mr. Welch was still alive and living an hour north of Toledo.
He was also willing to talk and made a startling confession: He sexually abused altar boys from Bellevue's Immaculate Conception Church in the 1960s, saying he was an alcoholic who lost control of himself.
Worse, he said he was caught in 1961, but the diocese never alerted police and quietly ordered him to undergo psychiatric evaluation.
After Mr. Welch's confessions were published in The Blade, Mr. Keller says he immediately went to a lawyer.
"I was stunned," he says. "At that point, I felt I had been lied to. I never wanted to see a lawyer. I don't like lawyers. But I wasn't going to be made into a fool, either."
He said he believes if the diocese had abided by their own 1995 policy and appointed an investigative team, "there's a chance they could have gotten to the truth, or at least took my concerns seriously."
Local SNAP leaders say Mr. Keller's experience "is typical of what victims have gone through," says Ms. Vercellotti. "We have several who never intended on filing lawsuits, but just got fed up.
"These are people who are already embarrassed about what happened to them. It's not like they're that crazy about coming forward in the first place. And the sad thing is, it wasn't about money."
Even Mr. Welch said he was surprised the diocese never called him.
"I ended up taking the liberty to call them," he said, and eventually, drove to Toledo to meet with Bishop Hoffman.
The diocese does not ignore victims, its leaders say, and it is now putting the pastoral and investigative teams in place.
Church leaders insist they were not needed until this year. "Our case manager took care of those concerns," says the Rev. Michael Billian, diocese chancellor.
Bishop Hoffman says he will continue to meet with victims, allowing them to talk publicly about their cases, even if confidential settlements are struck.
"We always ask whether we can help them with counseling or help them with pastoral care," says the bishop.
The national SNAP chapter praised the diocese for allowing its Toledo chapter to pay for a $200 advertisement to be published in the local church newspaper, the Catholic Chronicle.
The diocese is also gearing up - with its lawyers - to fight 13 abuse lawsuits filed this year in Lucas County Common Pleas Court.
While the legal challenges are being waged, other agencies outside the church are investigating ways to help prevent abuse by clergy.
For example, many prosecutors, police, and legislators are looking to close loopholes that have long benefited child abusers.
In Ohio, where the statute of limitations is six years, most crimes against children were not prosecuted because victims did not step forward until decades later.
But prosecutors in other areas of the country are now rethinking their tactics.
In Detroit, for example, four priests were indicted Aug. 27 for abuses that stem as far back as the 1960s. Wayne County prosecutors say they found an exception in the law that allows charges to be brought if a priest fled the state before the six-year statute ran out.
The Lucas County prosecutor's office has been reviewing the Toledo diocese's sex-abuse archives since Oct. 15 but has not made a decision to pursue any cases, which date back to the 1950s.
Toledo's SNAP chapter is lobbying for changes in Ohio law that would extend the timelines for filing charges in abuse cases.
They want laws modeled after California's, which has set up a one-year "window" starting Jan. 1 that lifts time restrictions - allowing prosecution of any past cases.
The success of the Toledo diocese's newly formed pastoral response and investigative teams will not be known for years, Toledo priests and lay leaders say.
Many disagree over key issues, including whether there should be full disclosure of abuse cases.
Almost all agree it is the greatest crisis in the 92-year history of the diocese, and with lawsuits pending, the full extent of past abuses has yet to be revealed.
In an important development, Lucas County Common Pleas Judge Frederick McDonald last month opened the way for sensitive testimony in an April lawsuit against former Toledo priest Chet Warren.
The judge refused to dismiss the case and said attorneys could interview church officials under oath.
The case - the first of 13 in the local sex-abuse crisis this year - accuses the defrocked cleric of sexually abusing Teresa Bombrys, now 41, starting when she was in the fourth grade.
Besides the legal challenges, the diocese still faces other issues.
Since the "zero-tolerance" policy was adopted in June, the Vatican and U.S. bishops last month approved giving church leaders discretionary power to keep repentant abusers in ministry - instead of expulsion.
The leadership of Toledo's longest-reigning bishop, James Hoffman, is in crisis since the 70-year-old cleric revealed two weeks ago that he has cancer.
The church has hired a leading public relations firm, Hart Associates, to help guide it through the current turmoil.
Many say the church has gone through crises before and will emerge stronger. But first it must rid itself of its own disease.
"We're undergoing this scrutiny because of the sexual abuse of priests and the bishops who have covered it up and not dealt with it properly in the past," said the Rev. Jim Bacik, theologian and pastor of Toledo's Corpus Christi University Parish.
"It's our fault, not the media's, and we need to accept the responsibility."