Shame, Sin and Secrets

By Michael D. Sallah and David Yonke
Toledo Blade
December 1, 2002

http://toledoblade.com/apps/pbcs.dll/article?AID=/20021201/SRSHAME/112010122

[See also Part 2: Believers Betrayed and Part 3: Church Struggles to Quell Crisis.]

On a wintry Sunday afternoon, Toledo policeman William Gray barged into a men's room in Southwyck Shopping Center, surprising a 53-year-old man and a 16-year-old boy engaged in sex.

After frisking the man and slapping handcuffs on him, the veteran policeman realized he had crossed a sacred line: He was arresting a priest.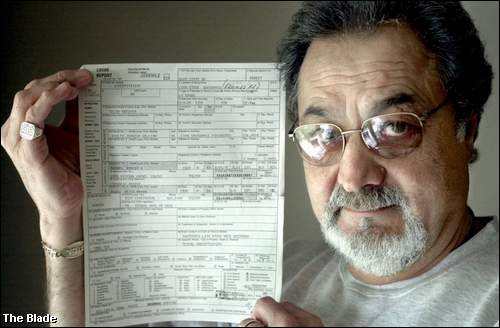 Former Toledo Police Detective Bill Gray shows the report he filed against the Rev. Robert Thomas in 1984 for molesting a teen boy in the Southwyck Shopping Center. ( The Blade )
The year was 1984, and the man escorted to jail in white jeans and a muscle shirt had just celebrated Mass that morning as pastor at Our Lady of Perpetual Help Church in Toledo.
But the career of the Rev. Robert Thomas was far from over.
In the following years, his arrest reports disappeared, his record was expunged, and he was sent by the diocese to four more parishes, including three in Arizona. It wasn't until this spring that the Tucson diocese says it learned of his arrest from a Blade reporter, prompting the priest's immediate suspension from the ministry 17 1/2 years after his crime.
Of all the accusations of sexual abuse in the Toledo diocese, the case stands out for one reason: It wasn't kept secret.
Indeed, for generations, the diocese engaged in a practice of covering up the rapes and sexual abuse of children by those sworn to guide them: priests and teachers, a Blade investigation shows.
In every decade since the 1950s, there have been at least two examples of priests or others entrusted with the care of minors accused of forcing the youngsters into sex acts, but the diocese failed to notify police.
Instead, the abusers were moved to new churches or schools sometimes after therapy and in some cases, only to rape and abuse again.
In a rare look at the diocese's inner workings, The Blade reviewed more than 2,000 court and church records of 24 child-abuse cases involving priests and church workers from 1960 to 1994.
More than 30 victims were interviewed, and in some cases, provided reporters with secret archives of their cases given to them by the diocese.
The investigation found:
Only three priests were ever criminally charged though at least 12 admitted to sexually abusing children. In the three arrests, the police not the church initiated the investigations.
Some youngsters were forced to perform oral sex, others were raped, and still others were disrobed and fondled sometimes repeatedly in the sanctuary of schools, churches, and rectories.
In many cases, not only were police kept in the dark, but so were parishioners. At least 12 times the diocese moved accused abusers to other parishes without telling the new flocks of the priests' past abuses. In two cases this year, congregations were misled about their priests' abuses until their actions were revealed by the media.
In at least eight cases, diocesan lawyers struck confidential out-of-court settlements with accusers silencing victims for years.
"The children were betrayed," said Judy Laddaga, a former Waterville mother who tried to warn the diocese about a troubled priest in 1985. "Where was the heart of the shepherd? The church is supposed to protect its flock, especially the ones who need protection the most."
Toledo diocesan leaders admit that when priests were accused of sex crimes, the transgressions were rarely if ever reported.
Those who abused often were considered fallen clerics instead of criminals and were sent to treatment centers or monasteries, said Bishop James Hoffman, leader of the diocese since 1981.
But he and others insist that no known incidents have occurred since the diocese adopted a sex-abuse policy in 1995 and that any future accusations will be reported to law enforcement officials.
"If I knew then what I know today, I'm sure I would have handled some things differently," said Bishop Hoffman in a recent interview, adding that the church has gained a greater understanding of abuse during the last two decades.
But even after the 1995 policy was enacted, the diocese has failed in some instances to uphold its own guidelines.
In one case, an accused abuser was allowed to participate in two youth events as recently as last year including an overnight trip with teens.
In another incident, the diocese failed to remove a molester from ministry until his role on a church tribunal was revealed in August.
Though church leaders rejected The Blade's requests to open sex-abuse records, they agreed in August to allow the Lucas County prosecutor's office to review the archives.
CRISIS in TOLEDO
As the abuse by clerics scandal unfolds nationally - first in Boston and now in 116 dioceses across America the Toledo diocese has undergone its own crisis, with its own disturbing cases surfacing after being buried in the archives of the institution for decades.
It is a story of victims who had lived in silence in some cases for five decades until the church scandal broke this year.
It is about priests who often denied the accusations - and in a half-dozen cases, threatened victims not to talk.
It is about years of special treatment for clerics, and in at least two cases, law enforcement turning a blind eye to abuse.
The crisis unfolds as the diocese reaches its 92nd year, growing from a group of rural churches and neighborhood parishes to a social powerhouse that has built hospitals, schools, and soup kitchens more than any other denomination.
Of all the priests who have served the diocese, only a fraction ever have been accused of sexual misconduct.
But those who have crossed the line and church leaders who covered up their crimes have created a new legacy that has shaken the institution's foundation.
"We're in a genuine crisis," said Toledo priest Jim Bacik, one of the diocese's leading theologians. "I don't think we knew the depth and the complexity of the problem until now."
To this day, few people beside church leaders know the extent of abuse against children by clerics in the diocese a sprawling 19-county area with 162 parishes ministering to 322,938 Catholics.
Even less is known about cases of Toledo priests who are members of religious orders like the Jesuits and the Oblates of St. Francis de Sales who answer to their own superiors, while requiring diocesan approval to work here.
Two of the worst offenders, Chet Warren and James Rapp, were Oblates, whose regional headquarters is in Toledo.
While The Blade reviewed the cases of 18 priests and six diocesan workers accused of sexually abusing children since 1960, a local support group Survivors Network of those Abused by Priests counts 36 local priests accused of sex crimes against youngsters since 1947 the number based on its own interviews with victims.
And those are only the ones that are known.
The case of Richard Trepinski shows how a church employee preyed on children and managed to get away with his crimes for years.
When the longtime choir director was arrested in Florida a decade ago on 99 child sex abuse charges, he confessed he had been molesting children for decades, going back to his days in Toledo, where he served 21 years at Christ the King. But Toledo diocesan officials say they never knew.
Studies of clerical sex crimes show fewer than 15 percent of victims ever step forward to talk about their pain citing fear and embarrassment as the overriding reasons.
Emboldened by other victims stepping forward, William Claar said it took 28 years for him to speak publicly about his anguish.
"I thought I was the only one. I was so alone," said Mr. Claar, 43, who claims in a lawsuit that the Rev. Bernard Kokocinski raped him in a Fremont rectory in 1975. "I lived with the guilt and the shame for so long. I'll never be anonymous about this again."
SEX SCANDAL EXPLODED
As the Catholic sex scandal exploded in other cities across the nation, Toledo was quiet.
In the first four months of this year, 176 priests were removed from ministry for sexual misconduct with children, but none in northwest Ohio.
Then came the case of Leo Welch.
The former Toledo priest dropped what one lawyer called a "bomb" on the local diocese this summer that exposed patterns of cover-up and secrecy from the 1960s that rivaled the most chilling stories of priestly abuse.
His stark admissions to The Blade in June of sexually abusing boys from Immaculate Conception Church in Bellevue marked the first time a former Toledo priest talked to a reporter about such crimes. But there was more.
He confessed that after he was caught in 1961, church leaders never called police, instead ordering him to pack his bags and leave immediately.
"I was told to go stay with my parents in Oregon [Ohio]," the former priest said.
Within days, the parents of a victim went to Bellevue prosecutor Charles Sliter a parish member who failed to notify police, according to law enforcement officials in Bellevue and Lucas County.
Within three months, Father Welch was quietly reassigned to Toledo's Christ the King parish, 57 miles away - and the new congregation was never told of his problems.
Two of his victims eventually came forward. George Keller, 53, and Harold Lee, 51, drew national attention to the diocese with a lawsuit filed by two of the nation's most recognized practitioners of law dealing with clergy abuse: Jeff Anderson and Bill Crosby.
The victims talked about the four dozen altar boys taken to Father Welch's cottage near Toledo between 1956 and 1961 a children's fantasy world, with a pond, a go-cart track, and a boat.
"We would all be coaxed into his bedroom, one by one," says Mr. Keller, a married father of four.
After some playful wrestling with the boys ages 9 through 13 some were penetrated and forced into oral sex, they said.
Like other victims across the nation, people ranging in age from 28 to 67 began to step forward in the Toledo area to talk about their own childhood stories of abuse by priests and other church leaders.
It was like the floodgates opened," said Claudia Vercellotti, local coordinator of SNAP. "People felt they could now talk without being afraid."
In six of the 24 cases reviewed by The Blade, priests intimidated their victims from ever talking, keeping them in silence, records and interviews show.
A 55-year-old Michigan woman said it took her 38 years before she raised the courage to call the diocese this summer.
In the darkness of an office at Toledo's Central Catholic High School in 1964, she said she was warned by the Rev. Thomas Beauregard that she would "go to hell" if she ever divulged what took place one night.
The priest, now 75, who has admitted to Bishop Hoffman that he sexually abused teenage girls, told her to disrobe before fondling her during a counseling session. She said she went to the priest because she was depressed.
"I was young. It scared me to death," she said in an interview.
Another woman, now 54, said Father Beauregard ordered her to sign a "legal agreement" saying she would never divulge their sessions in the rectory of Little Flower Church in 1965.
"He said he was writing a book and didn't want me saying anything," said the woman, who took her complaint to the bishop in 1994.
Father Beauregard did not return phone messages. He was removed from ministry in September - eight years after he admitted to his abuse.
SPECIAL TREATMENT
In years past, society gave special treatment to priests - free meals, golf, and cab fares.
Sometimes those favors extended to the justice system.
For the Rev. Alexander Pinter, a national figure in the Hungarian freedom movement in the 1950s, it was his collar that kept him out of jail in a cover-up that involved the diocese - and police.
A popular priest in East Toledo's Hungarian community in the 1950s, the pastor of St. Stephen parish was accused of raping and abusing altar boys.
But when parishioners went to police in 1960, he was never arrested.
Instead, the 41-year-old cleric was allowed to quietly leave for Canada in a case that still riles members of the close-knit parish.
During his four years as pastor starting in 1956, he was accused of driving young boys to a cottage in eastern Lucas County, where he would rape them in the privacy of his bedroom, according to two retired police officers.
Gene Fodor, 69, who grew up in the neighborhood, said his police supervisors met with then-Bishop George Rehring and gave an ultimatum: Get rid of Father Pinter, or the priest would be arrested.
A native of Hungary, the gregarious priest captured headlines when he helped refugees fleeing his country to settle safely in America.
"It was becoming a scandal, but they did not want to arrest him," said Mr. Fodor, who retired from the force in 1987. Instead the cleric was sent to a treatment facility in Canada in July, 1960.
One longtime parishioner, Irene Hornyak, said it would have been impossible for Father Pinter to come back. "Everyone in the neighborhood knew what he was doing," she said. "They needed to get him out."
He eventually left Canada and taught in several U.S. seminaries before settling in Louisiana as a parish priest in 1974. He died four years later in Westwego, La., at 59 his Toledo secrets never made public.
The official history of St Stephen parish gives a cryptic account of his exit, saying only that "there was some controversy concerning his departure."
The case typified an era of special treatment by police in Toledo and nationwide even when allegations were taken to law enforcement. But by the 1980s, that appeared to be waning.
Toledo police officer William Gray was a witness to that trend. After arresting Father Thomas of Our Lady of Perpetual Help Church and a teenage boy in a Southwyck restroom in 1984, the officer said he received calls from fellow police and diocesan officials.
"I was under a lot of pressure for arresting a priest," he said. "But I wasn't going to back down. He broke the law. They kept saying, 'Do you know who you arrested?' and 'Why did you have to do that?'''
Father Thomas was convicted before then-Municipal Court Judge William Skow, but within a year, the arrest and sentencing reports were expunged. Mr. Gray, now 58, kept a copy of the arrest records before retiring in 1996.
"I knew someday those reports would be gone," he said.
A CHILLING NOTE
In 1986, a sex-disorder clinic director wrote a chilling note about Father James Rapp: Don't leave this priest alone with children.
For years, the 46-year-old priest of the Oblates of St. Francis de Sales said he tried to stop molesting teenage boys, and for years, he couldn't help himself, court records show.
After he was caught abusing two boys in Jackson, Mich. 75 miles north of Toledo he was sent to a Maryland clinic in 1986.
But the diagnosis of ephebophilia, a sexual attraction to adolescent boys, soon would be forgotten. And in early 1991, the priest's Toledo superiors sent him to a remote parish in Oklahoma.
In the following years, the cleric went on a sexual rampage, raping and molesting at least three more boys in a case that led to a lawsuit and a settlement of $5 million, the second-largest ever paid to a victim of a priest.
Lawyers for the victims laid much of the blame on his Toledo superiors for failing to follow the advice of the doctor they hired a decade earlier. The ex-priest, now 61, was sentenced to 40 years in prison in 1999.
The case has been cited by lawyers across the country as an example of church supervisors not heeding the warnings.
Decade after decade, church leaders in Toledo failed to act on strong evidence that some of their own priests were endangering children.
In nearly half of the 24 sexual misconduct cases reviewed by The Blade, diocesan officials sent accused priests to new assignments, and in some cases, new victims.
Consider the case of Dennis Gray.
The diocese was warned repeatedly in the 1980s that the charismatic priest was troubled, potentially dangerous, and was taking teenage boys to his cottage in Michigan.
In September, 1985, Maumee police investigated a report of an altar boy who said Father Gray cornered him in the sacristy of St. Joseph Church, gripped his hand in a "nerve hold," and ordered him to "submit to punishment."
In addition, the police report warned that Father Gray had "taken kids to a cottage in Michigan" with another priest who had been arrested previously for gross sexual indecency with a male.
A local psychiatrist urged the diocese to get psychiatric help for Father Gray, according to a Feb. 6, 1986, letter.
John "Archie" Thomas, Catholic school superintendent at the time and one of the diocese's highest-ranking officials, ordered an investigation, says a retired priest and retired Toledo detective who was consulted in the case. But the diocese's findings never were made public.
By the next year, Father Gray took a leave of absence from Central Catholic High School, where he taught religion. In February, 1987, he left the ministry.
He went on to work with a positive reference from Auxiliary Bishop Robert Donnelly as a Lucas County probation officer and Maumee Youth Camp counselor before joining Toledo public schools as a dean of boys in 1990.
In an interview in September, Mr. Gray denied the abuse accusations, saying they were "all hearsay," but diocesan records state he admitted to past child abuse in 1995, eight years after leaving the priesthood.
In his own letter to victim Matt Simon in 1996 10 years after the abuse Mr. Gray, wrote: "Please forgive me. I have been in therapy for the past year and a half, learning to deal with the demons of the past."
In the last two months, nine men have filed lawsuits saying they were raped and abused by then-Father Gray between 1975 and 1987 - with two former students saying they may have been spared had the diocese heeded earlier warnings.
"I think about this all the time. If the diocese had only listened to people," said a 32-year-old victim who claimed in a September lawsuit he was raped repeatedly by then-Father Gray between 1984 and 1987.
The victim, now a Toledo businessman, said the priest once tried to silence him by pinning him against a school wall, holding a pen to this throat, and warning him not to talk about activities at the cottage.
And then there's the case of Richard Liston, a troubled priest accused of raping a teenager from St. Paul parish in Norwalk in 1978.
The diocese transferred the cleric to St. Rose in Perrysburg, never telling that congregation about his past, and eventually to the former St. Ann parish in Toledo as an administrator, where he would not have contact with children.
It wasn't until a Toledo police investigation in 1985 into the priest's financial interest in two gay bars did his past come to light, according to a retired police officer and the Rev. Michael Billian, diocesan chancellor.
The diocese sent him to a treatment center in Virginia, but he walked away.
SNAP representatives say the secret transfer of Father Liston, who died in January, 1994, is a glaring example of how church leaders moved troubled priests around, "exposing other kids," says Ms. Vercellotti. "They were playing a dangerous game."
Another example is Herbert Richey, Jr.
After a series of confidential settlements with the families of young male victims, the priest was forced from the ministry by the Toledo diocese in 1992, records show.
Bishop Hoffman said there were settlements over sex-abuse allegations involving children but declined to talk about the former cleric, who served in parishes in Findlay, Sandusky, Mansfield, Vermilion, and Wakeman before leaving the ministry on May, 31, 1992.
Several years later, he turned up as music director and organist at St. Michael the Archangel parish in Toledo, without the congregation being made aware of his past. He is now a substitute organist in the Detroit archdiocese, records show.
HIS FINAL SERMON
In his final sermon five months ago, the Rev. John Shiffler told his flock that an "indiscretion," an "inappropriate touch" from 18 years ago was the sole reason he could no longer be their priest.
"It wasn't one of those horror stories of abuse," the 50-year-old cleric told his parishioners at Our Lady of Fatima Church, in Lyons, Ohio.
He was being pulled from ministry, and the person overseeing the priest's last sermon to his flock that July day was the second-most powerful cleric in the diocese Robert Donnelly, the auxiliary bishop.
Moved by Father Shiffler's words, the parish rallied around their priest, raising money for his living expenses and petitioning Bishop Hoffman to rescind his decision.
"Our hearts went out to him," recalls a parishioner.
Ten weeks later, parishioners were stunned to learn that their priest had lied to them.
Father Shiffler was being removed because he had sexually abused two teenage boys when he was a teacher at Central Catholic High School in the late 1980s with one of the secret sessions in a parish rectory.
Adding to the parishioners' sense of betrayal was that Bishop Donnelly sat in the church that day, never correcting his priest.
While Toledo diocesan leaders say their 1995 policy has transformed the way the local church responds to sexual-abuse, inconsistencies and oversights abound in the way it's enforced.
For example, Terry Steinbauer was forced to resign in 1996 as the diocese's director of youth ministries and banned from youth events after four women accused him of sex abuse when they were teenagers, diocesan records show.
But as recently as last year, he was still joining in church retreats for teens.
In fact, the 46-year-old man stayed overnight with teenage girls and boys on a trip to southern Ohio organized by All Saints Church in Rossford in the summer of 2001. Bishop Hoffman since has apologized for the lapse.
In another case, Father Beauregard, who admitted in 1994 to sexually abusing teenage girls, was allowed to remain in ministry eight years after the first complaint.
Not until the media reported on his case in August did the diocese remove the 75-year-old priest from ministry.
His last job: sitting on a tribunal and deciding whether couples can be granted annulments based on intimate details of their lives.
There's also the controversy of the Rev. Larry Scharf. When two men went to the diocese in March, saying they were sexually abused as teenagers by the priest in 1976 and 1981, he admitted to the accusations.
But instead of telling the priest's congregation at St. Joseph parish in Monroeville the real reasons for his sudden departure, church leaders said only he left for "health reasons."
Three months later, after the media revealed the abuse, the bishop announced the priest's sex offenses.
Despite disagreements, victims and church leaders agree on the obvious goal of preventing more abuses. But questions abound over the necessary steps that need to be taken.
Local SNAP leaders are calling for public disclosure of the church's abuse archives. So far the diocese has only agreed to open some records to local prosecutors, and that action was delayed two months.
Lawyers who have sued dioceses across the country believe the 13 sex-abuse suits filed this year against the Toledo diocese ultimately will force church leaders to surrender secret files.
Since 1981, the diocese has spent $469,584.02 to cover "settlements, pastoral care, and legal fees" in child-abuse cases, with the money coming from a self-insurance fund, Bishop Hoffman said. But with legal pressures mounting, costs are bound to rise significantly in the coming years.
Court actions and public campaigns have heightened tensions between victims' advocates and church supporters.
When SNAP founder Barbara Blaine, a Toledo native and abuse victim, was to appear Sept. 5 at the University of Toledo law school, the Rev. Thomas Quinn, diocesan communications director, told a Blade reporter: "Where do we place the bombs? And you can quote me on that."
Father Quinn's dark humor aside, Bishop Hoffman, 70, said the controversy has been the most difficult of his 21-year term.
"I don't think there's any question," he said.
A member of the bishop's nine-year-old study committee on sex abuse said the diocese was part of a culture that fell short in protecting those on whom the church's future rested: children
"There's no question our diocese could have done a better job," said Dr. Bernard Cullen, a clinical professor of pediatrics of Medical College of Ohio. "I think some of the leaders would say that if not for the lawsuits."