Runaway Priests
Hiding in Plain Sight
Convicted Sexual Abuser and Fugitive Works with Kids under His Religious Order's Wing

By Reese Dunklin
Dallas Morning News
June 20, 2004
[See also Dunklin on the human toll of Klep's alleged abuse, a description of the Salesian order, and case studies of accused Salesian priests: Peralta, Carrera, Macal, Manzo, Vásquez.
See a complete list of articles from the first days of this series.]

http://www.dallasnews.com/sharedcontent/dws/news/
longterm/stories/062004dnproklep.275b904e1.html

Apia, Samoa – Frank! Frank!
About a dozen children circle around the Rev. Frank Klep after Mass one sun-kissed Sunday. They chirp his name, trying to catch his eye as he begins handing out foil-wrapped candy. He calls them by name, too, beams and hugs some of them.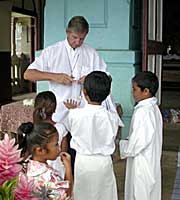 The Rev. Frank Klep, doling out candy after Mass in Samoa, said he's not a risk to children anymore. Photo by Andrew Fa'asau / Special Contributor.
Few, if any, locals are aware that the friendly priest is a convicted child molester who has admitted abusing one boy and is wanted on more charges in Australia. In 1998, his religious order placed him here in the South Pacific, where Australian police can't touch him because their country has no extradition treaty with Samoa.
Neither he nor the church feels an obligation to tell anyone about all that.
"I'd prefer to just leave it," Father Klep said recently. "If I felt I was still a risk to their children, then I'd think differently. But I don't think I am a risk anymore."
His order, the Salesians of Don Bosco, has long moved priests accused of sexual abuse from country to country, away from law enforcement and victims. Indeed, it is how many others in the Catholic Church have dealt with the problem, a yearlong Dallas Morning News investigation has found.
Rev. Frank Klep hands out candy to Samoan children after Mass. The Salesians, one of the largest Catholic religious orders, concentrate on educating and housing some of the world's most needy and vulnerable children. Yet influential Salesian officials have spoken out forcefully against cooperating with law enforcement agencies investigating sex abuse allegations.
"For me it would be a tragedy to reduce the role of a pastor to that of a cop," Salesian Cardinal Oscar Rodríguez of Honduras, a prominent candidate to succeed Pope John Paul II, said at a 2002 news conference. "I'd be prepared to go to jail rather than harm one of my priests."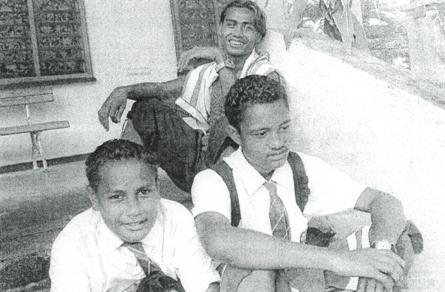 Samoan teenagers hang out at Moamoa Theological College, waiting for Father Frank Klep. The priest said that while he still enjoys "young people's company," he limits his contact mostly to adults. Photo by Andrew Fa'asau / special contributor.
Salesian officials in Costa Rica and Chile are facing criminal complaints, accused of protecting priests who were shuffled across international borders. A judge in Chile is reviewing whether there is enough evidence to try a Salesian bishop on obstruction of justice charges, which would be the first such prosecution of a Catholic leader anywhere.
In the case of one priest from Peru, his superiors have ignored a church panel's 1995 demand that he have no contact with children, as well as a subsequent request from Chicago police to question him. Salesian officials in Peru say they don't know where he is, but The News found him working in Mexico – the fourth country he's been in since he was first accused of misconduct more than a decade ago.
Even the Rev. Pascual Chávez, before he became the Salesians' worldwide leader in Rome, kept an admitted molester in ministry in Mexico. After a judge dismissed criminal charges against the priest, he was reassigned to Africa. He has returned to duty in Mexico but could not be reached for comment. Father Chávez did not respond to interview requests.
One of Father Klep's alleged victims, himself a former Salesian seminarian, draws a painful conclusion about his old order:
"This is a corporate sin that they're feasting in," he said. "It must be the attitude of the Salesians worldwide."
'Best of our ability'
Father Klep is living in exile in Samoa, "not a paradise or a tropical resort," according to his boss, the Rev. Ian Murdoch, the order's leader in Australia and the South Pacific. The priest has no active ministry or unsupervised contact with children, Father Murdoch said, and is monitored to "the best of our ability."
"The Salesians as a community have done their best to respond to the allegations," he said before refusing to answer further questions.
But Father Klep enjoys his ministry on this tiny island nation. People here still respect their elders and honor the Sabbath. He's surrounded by a colorful, exotic landscape of orchids, poinsettias, and mango, banana and coconut trees. He has picturesque views of the blue Pacific waters and Mount Vaea.
"I have found a good measure of contentment," he said. "I'd be quite happy to stay here."
Father Klep's victims in Australia have tried unsuccessfully for years to have him removed from the priesthood. A church panel that recently investigated one abuse complaint asked the Salesians to consider suspending his ministry, but not even his admission in that case led to significant discipline.
"I made a mistake," Father Klep said in an interview, acknowledging that he touched one of his Australian students in the late 1970s. Two years ago, he wrote a letter to the former student, who is now an adult, and expressed his regret.
The priest's penance was loss of his ceremonial title: "priest in charge" of the order's offices near Apia, the Samoan capital. The former student said it wasn't enough.
"Prison is the only punishment deserving of this man," he said. "All along the way he's been protected, and no one seems to think it's serious enough."
Druggings denied
The complaints against Father Klep date to the 1970s, when he worked at a boarding school north of Melbourne. At the time, Salesian College at Rupertswood was exclusively for boys, many of whom were from the farming communities in rural Victoria state.
The first boys came forward in about 1986, telling their parents that Father Klep had molested them. By then, they were young adults, and Father Klep was the school's principal.
Three former students told The News that the abuse occurred when they went to Father Klep in the infirmary for pain medication or prescriptions. He sexually assaulted them, the students said, while they lay sick or after he had given them incapacitating drugs.
"I remember being wasted out the next day," said the former seminarian. He and the other former students spoke on condition they not be named.
About a dozen parents confronted the Salesians and the Archdiocese of Melbourne in a series of meetings. One of the parents, the former seminarian's mother, said church officials were dismissive. She recalled a Salesian leader telling her: "This all happened very long ago. It has no foundation."
But when her husband threatened to sue, she said, within days Father Klep was pulled from the job.
Father Klep denied knowing about any of the complaints or drugging anyone. He said his supervisor described the departure as a routine sabbatical. "Maybe he was being charitable to me," the priest said.
The Salesians sent him overseas, first to an order facility in Rome for a few months, then to the United States. He enrolled in late 1987 at Fordham University, a private Catholic school near the Salesians' offices in New York City, and pursued a master's degree. While studying, he also helped at Masses in the area, he said.
Shortly after he graduated in early 1989, Father Klep returned to Australia. Within a few years, he was the top official at a youth center and hostel in a blue-collar suburb of Melbourne.
The mother of the former seminarian said she and the other parents were horrified. She complained in writing to the Salesians in 1992 and drew a scolding from the order's regional leader at the time, the Rev. Julian Fox. She dropped her protests.
"I just tried to do the right thing, but we never got anywhere," she said. "They absolutely had it covered like the Mafia."
Father Fox said in an interview this month that he investigated but couldn't remember what he found because the details were "history under a bridge."
Father Fox also has been accused of sexual abuse while working at the boarding school in the 1970s and 1980s. He, too, was transferred abroad – to Fiji for several years and recently to the order's Rome headquarters. The Salesians paid Father Fox's accuser a settlement.
Father Fox said a church review had exonerated him. "That's in the past. I'm not keen to be trolling through all of that again," he said, cutting off the interview.
Going to police
Starting in 1993, more young men alleged that Father Klep had abused them at the school. But these former students went to authorities.
First, two brothers complained to Victoria state police, whose area includes Melbourne. Officers filed four charges of indecent assault against Father Klep, dating to 1976 and 1979.
"He forced himself on them," said Senior Sgt. Steve Iddles, the prosecutor in the case. "Lie down and do as I tell you."
Father Klep denied touching the brothers. He accused them of fabricating much of their story to get money from the Salesians. He pleaded not guilty, and the Salesians left him on duty throughout his proceedings in 1994.
"At one stage in the trial, my defense asked them pertinent questions, and one of them shed a few tears," he said recently. "I thought they were crocodile tears."
The judge declared Father Klep guilty and sentenced him to nine months of community service. The priest worked off his sentence gardening at nursing homes.
One of the brothers said he was let down by the criminal justice system.
"When a man is charged on four counts and convicted on four counts and doesn't go to jail," he said, "you have to wonder what's behind it."
Not long after Father Klep finished his sentence in early 1996, another former student reported to Victoria police that in 1973 the priest fondled him and performed oral sex on him. Detectives questioned and fingerprinted Father Klep but did not arrest him.
Once again, Father Klep denied the allegations and accused the former student of trying to get money. The possibility of being prosecuted a second time worried him, though, he said.
So in 1998, with the investigation unresolved, he readily accepted a reassignment to Samoa. He said the move was the suggestion of his boss at the time, the Rev. John Murphy.
"I think he realized that I'd probably feel a bit more comfortable being removed from the situation there," Father Klep said. "I was happy enough to go."
Father Murphy, who's now assigned to Samoa as well, said the priest's account was "not altogether true" but wouldn't elaborate. He referred questions to Father Murdoch, who declined to comment.
Later in 1998, police sought to question Father Klep again and discovered that he had left for Samoa. They charged him with five counts of indecent assault and issued a nationwide arrest warrant.
"In hindsight, it'd been better if we charged him on the day" he was questioned in 1996, said investigator John Raglus, one of the Victoria officers now assigned to the case. He said he couldn't explain why it took authorities more than two years to file charges.
Case files show that Australian Federal Police were supposed to contact Samoan authorities on behalf of Victoria, according to Mr. Raglus. But two officials in the Samoan government said the Australians told them nothing about Father Klep.
"I had no idea," said Samoa Assistant Attorney General Raymond Schuster.
Australian Federal Police would not answer written questions about the matter.
For some, life goes on
Beyond the reach of police and church discipline, Father Klep has worked freely.
He is the top financial official at the Moamoa Theological College, a two-story colonial-style house where seminarians and lay religious teachers train and reside. He helps during Mass at St. Anthony Church, one of the area's oldest and more prestigious, and at the nearby Salesian schools.
The Rev. Frank Klep is living in exile in Samoa, "not a paradise or a tropical resort," according to his boss, the Rev. Ian Murdoch. Pictured is St. Anthony Church, where Father Klep participates in Masses. He said he'd be "quite happy to stay" on the island.
For a time, he supervised the Rev. Jack Ayers, who was accused of raping a student at the Rupertswood boarding school in the 1960s. The Salesians paid the accuser a settlement in 2000, according to documents The News obtained. Father Ayers, who refused to comment, lives a few doors from Father Klep at the college.
Samoa's top Catholic, Archbishop Alapati Mataeliga, said he was startled to learn about the abusive pasts of both priests. He said the Salesians should not have kept the details from him.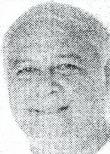 Alapati Mataeliga
"I think we have to do something about it; justice has to be served," said Archbishop Mataeliga, who became leader of the archdiocese last year. "Samoa should not be a place where they send priests like that."
But the archbishop changed his mind after speaking with the Salesians. He said Father Klep told him that what happened was an accident. And he discussed Father Ayers with Father Murphy.
"Although these incidents happened with these two priests, they have dealt with it themselves and with their congregation," the archbishop's secretary wrote in a letter. "They are valid and allowed to work in our archdiocese, and we are grateful for their services and hard work up to this point."
The company of teens
Upstairs, in the theological college's kitchen, Father Klep sat at a table and explained that when he gave candy to children after Mass the previous day, it was a spontaneous gesture. He still enjoys "young people's company," he said, but limits his contact mostly to adults.
Downstairs, a group of teenage boys lounged on concrete steps, waiting for Father Klep.
One young man said he met Father Klep this spring when the priest pulled up at a bus stop where he was standing and offered him a ride. At the end of the short drive, Father Klep gave him some cash and invited him to church.
Since then, the 19-year-old said, Father Klep has "come to where I hang out in the evenings" and offered him small jobs around the college.
Also waiting on the steps was a 14-year-old who said he has known Father Klep for about a year and a 13-year-old buddy he said the priest wanted to meet.
The 14-year-old said Father Klep has given him spending money and regularly helped him with schoolwork alone in the priest's bedroom.
"He says to me, 'Any day I want help, I come to Father Frank's home,'" said the boy, who had a thin adolescent mustache and a shy demeanor.
Father Klep has even paid his tuition to Chanel College, a Catholic school near the priest's home, he said.
"He said to me, 'You are my best friend.'"
Staff writer Brendan M. Case in Mexico City and special contributor Andrew Fa'asau in Apia contributed to this report.