Emotional Stigmata: Living As the Victim of Clergy Sexual Abuse
4. Psychological Help Fails to Erase Pain

By Melissa Wangall
Rock River Times [Rockford IL]
August 17, 2005

http://www.rockrivertimes.com/index.pl?cmd=viewstory&id=10915

Editor's note: This article contains sexually explicit material that may not be suitable for all readers. Reader discretion is advised.

[ This is a six-part series: 1 2 3 4 5 Guest Column
See also Donald Bondick's My Story, and our assignment record of Rev. Ted Feely.]

All non-clergy members' names have been changed due to the graphic nature of the alleged abuse and the age of the victim at the time of the alleged abuse.

On Sept. 29, 1991, Father Theodore "Ted" Feely died of cancer in Reno, Nev., at St. Mary's Regional Care Center. He was 60.

After bouncing around a dozen different Catholic churches throughout his career, Feely ended up at St. Thomas Aquinas Cathedral in Reno.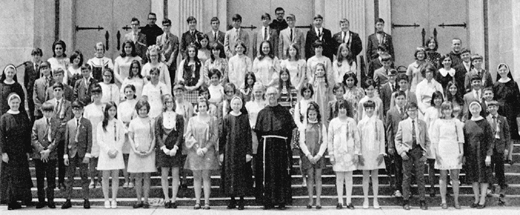 St. Anthony's of Padue class of 1969. Father Ted Feely is second from the top left in a dark robe. Photo courtesy of The Antonian, St. Anthony of Padua: A Historical Overview, October 1984.
In 1969, while serving as assistant pastor at St. Anthony's Church in Rockford, Feely, then 38, allegedly sexually abused 13-year-old Thomas White while on a trip to the Wisconsin Dells. According to White, Feely choked, sodomized and masturbated the young boy, while also feeding him drugs and alcohol. Up until this point, no one but Feely and White knew about the abuse.
When Thomas's mother told him Father Feely had passed away, he told her "I hope it [Feely's death] was long, slow, and painful." Thomas's mother did not question her son's hostility.
Feely had been moved 12 times to nine different churches in his 32 years of service, at one point being appointed chaplain for the California Youth Authority. A normal rotation for senior priests is three, six, or nine years, depending on evaluations and needs of the church. For an assistant pastor, terms may be shorter, as a provincial (who assigns missions) may move an assistant pastor as needed.
According to the Web site www.religioustolerance.org, the term "reinsertion" is used in the Roman Catholic Church when referring to alleged sex abusers being moved around. Sometimes, the alleged offender is temporarily routed through a treatment center, where the cure rate tends to be quite low. There is no record of Feely being in a treatment facility.
A baseball player's revelation hits home
After years of tumultuous relationships and emotional ups and downs, White began to settle down, and he began to trust people.
In 1995, White remarried his ex-wife in a ceremony at St. James Church, performed by Father Beauvais, a now trusted friend who recently learned of White's alleged abuse.
White seemed to have come to terms with his past. He limited his alcohol consumption to two drinks when he drank, which was less often. His father died in 1997 of pulmonary fibrosis, but life seemed to be getting smoother as the years passed.
In 2002, an article in the Chicago Sun-Times reported a priest had abused former Major League baseball player and sports announcer Tom Paciorek and his brothers when they were children.
White, who was a Chicago White Sox fan, had followed Paciorek's career and the former baseball player's revelation hit home.
Sitting across from his wife at the kitchen table, White broke down. He confessed to her the abuse he had endured over the years. After speaking with his wife, White then told his son, his mother and siblings.
Mired in the midst of a nationwide sex abuse scandal involving the church, White's revelation would lead to further emotional trauma. As the stories of abuse kept pouring in, all of the shame and guilt White had repressed for years came welling back full force.
Searching for help
White contacted Jim Dwyer, spokesman for the Conventual Franciscan Friars of St. Bonaventure in Chicago, who had no record of Father Feely.
Since the Rockford Diocese had purchased St. Anthony's property from the Franciscans of Bonaventure in Chicago, it's understandable some records were lost. Feely was a Franciscan, and St. Anthony's is still staffed by Franciscans, although it is owned by Rockford Diocese.
White didn't know what to do next. He wanted help, but wasn't sure where to find it. Then his wife heard the Rev. Monsignor David D. Kagan, a vicar general and moderator of the Curia of the Rockford Diocese, on a radio commercial mention a hotline abused people could call. The Whites set up a meeting with Kagan, where they revealed what had happened to Thomas.
White said Kagan reported he was not the first to come forward with allegations about Feely. White was then referred to the Franciscans, who set an appointment at Poor Clares on South Main Street. White had to repeat his story again. Although notes had been taken upon the first telling, White would have to go into full detail of his alleged incident each time he shared it.
White said he feels his wife has been traumatized and her faith in Catholicism shaken by having to listen to what happened to him over and over again. White had told her he had been "sexually abused by a priest as a child," but he had never gone into specifics. He believes the church uses this method to discourage already traumatized survivors from coming forward.
For a third time, White told his story, this time to Franciscan Father Anthony Labedis. Labedis gave White a list of five psychologists he could choose from to undergo an evaluation.
White's chosen psychologist determined he was sexually abused by a priest and, as a result, was suffering from Post Traumatic Stress Disorder (PTSD).
According to the Web site www.trauma-pages.com, PTSD involves, among other things, intrusions, such as flashbacks or nightmares, where the traumatic event is reexperienced (White's nightmares); avoidance, when a person tries to reduce exposure to people or things that might bring on their intrusive symptoms (White's avoidance of church); and hyperarousal, physiologic signs of increased arousal, such as hyper vigilance or increased startle response (in the past, White would elbow anyone who reached from behind him, including a cuddling lover).
An article titled "Long-Term Effects of Child Sexual Abuse," by Paul E. Mullen and Jillian Fleming, reports, "There is now established knowledge clearly linking a history of child sexual abuse with higher rates in adults of depressive symptoms, anxiety symptoms, substance abuse disorders, eating disorders and PTSDs."
The Franciscans, in cooperation with "Pathways to Hope," a non-profit public charity association whose aim is to allow people to "find hope in their lives," agreed to pay for White's psychological sessions and travel expenses.
White said that in 2003 Kagan told him, "Our goal is that you and your family are able to heal spiritually, physically, and emotionally." Two years after Kagan's remarks, White's wife and son have only met with a psychologist the last two months.
Kagan did not return phone calls for comment on this series.
Past comes screaming back
After 12 sessions with his psychologist, White hit a plateau. He felt he had a better handle on the situation, but was not sure where to go next. His wife encouraged him to take a swim at the local health club to ease his mind.
The pool was being cleaned the day in 2003 when White went for his swim, so he instead hit the steam room and then the showers.
Through the steam room door, White allegedly witnessed a clergy member sodomizing another man in one of the showers.
White felt he had better control over his life, at least until this moment. The sight of a clergy member having sex with another man in a shower brought all of the emotional trauma he had worked so hard to repress screaming back into his mind.
"I never forgot the abuse," White said. "I just kind of pushed it down."
Repression is a symptom of dissociative disorder, another side effect of PTSD.