Archdiocese to Pay Victims $5 Million
Hanus Apologizes for Priests' Sexual Abuse

By Mary Nevans-Pederson
Herald Telegraph [Dubuque IA]
February 22, 2006

http://www.snap-greatplains.org/dubuque/
[Note from BishopAccountability.org: See the Telegraph Herald's series Sins & Silence.]
"We just think for everyone concerned, this is a good resolution."
Brendan Quann, attorney for the Dubuque Archdiocese, commenting on a sexual-abuse case settlement
Dubuque -- The Archdiocese of Dubuque will pay $5 million to settle claims from 20 men and women who were molested as children by archdiocesan priests in northeast Iowa during the past 50 years.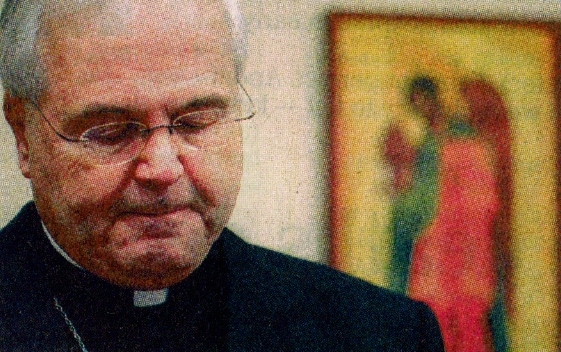 Archbishop Jerome Hanus reads a statement Tuesday Feb. 21, 2006 giving a public apology and released details reguarding [sic] a settlement for several pending sexual abuse lawsuits involving the clergy. The press conference was held at the Archdiocese of Dubuque, Iowa. Photo Credit: Dave Kettering.
The settlement was explained at two Tuesday morning press conferences—one in the Waterloo, Iowa, law offices of the victims' attorneys and one at the archdiocesan headquarters in Dubuque. Details of the agreement were finalized on Thursday and Friday in Waterloo.
Besides paying a lump sum of cash to the victims, the archdiocese also agreed to:
• Pay for therapy for the victims and their spouses (up to 12 sessions in 2006).
• List on its official Web site, www.arch.pvt.k12.ia.us, the names and assignments of church personnel who abused or have been publicly accused of abusing minors. [See the archdiocesan list of 17 priests plus 2 others, as well as Archbishop Hanus's 12/28/03 letter, in which he states that the archdiocese had received allegations against 36 priests.]
• Allow victims to speak at their home parish or in the parish where they were abused.
• Public and private apologies from Archbishop Jerome Hanus. [See the text of the public apology.]
This is the second time in the past 15 months that an Iowa diocese has agreed to a multimillion-dollar settlement to resolve sex-abuse claims against clergy. In November 2004, the Davenport Diocese paid $9 million to settle 37 separate claims against eastern Iowa priests.
Those settlements did not have a direct impact on the local negotiations, said Chad Swanson, one of two attorneys representing the victims.
"But it was one of several global settlements around the country that both sides looked at to determine fair compensation," he said.
The victims and their attorneys will determine how the settlement money will be distributed, based on the nature and extent of the abuse.
On an "average per person basis," it is the highest global settlement of clergy sexual abuse claims in Iowa," Swanson said.
Although some of the insurance companies used by the archdiocese 40 and 50 years ago are no longer in business, Hanus promised that the archdiocese's self-insurance program will cover "the bulk of the settlement."
The settlement comes two weeks before the second case was set to go to trial in Dubuque County. The first case, scheduled to begin last week, was delayed pending the outcome of settlement negotiations.
Hanus said the archdiocese offered to pay victims a settlement rather than proceed to a jury trial because, "the pain and suffering which could be involved in a public trial will be avoided."
"As a practical matter, this particular law firm had cases scheduled through September 2007," added Brendan Quann, attorney for the archdiocese. "We just think for everyone concerned, this is a good resolution,"
As a result of the settlement, 15 pending lawsuits against the archdiocese will be dismissed and another five pending claims will be released. The claimants included 12 men and 8 women. Of the 15 lawsuits, seven were filed in federal court and eight in various northeast Iowa counties.
Since the first lawsuit was filed by Dallas-based NBC News correspondent Jim Cummins in June 2004, two of the male victims have died—one of the "John Doe" plaintiffs and James Paddock, who was abused on the same night in 1962 in the same building as Cummins.
[List of Priests]
ALBERT CARMAN Accused of abusing a young teen at Loras Academy, Dubuque, in 1954. He died in 1980.
WILLIAM GOLTZ Accused of abusing young males at St. Raphael Parish, Dubuque, and at Sacred Heart Parish, Oelwein, in 1952 to 1954. He died in 2006.
PATRICK McELLIOT Accused of abusing young females at St. John Parish, Waterloo, in 1959 to 1963 and at St. Patrick Parish, Colesburg, in 1964. He died in 1987.
JULIUS OLINGER Has a claim of sexual abuse from his assignment to St. Mary Parish, New Hampton, in 1957 to 1958. He died in 1993.
JOHN PETERS Accused of abusing male minors at St. Joseph Parish, Harper's Ferry, in 1962. He died in 1997.
ROBERT REISS Accused of abusing male minors at Holy Trinity Parish, Luxemburg, in 1962 to 1964. He died in 2005.
WILLIAM ROACH Accused of abusing two male teens at Immaculate Conception Parish, Cedar Rapids, in 1962 and one male teen in Key West in 1972. He died in 1986.
JOHN SCHMITZ Accused of abusing two female minors at Sacred Heart Parish, Dubuque, in 1959. He died in 1991.
WILLIAM SCHWARTZ Accused of abusing a number of male minors at St. Joseph Parish in 1964-1966 and at Columbus High School in 1978, both in Waterloo, and at St. Jude Parish, Cedar Rapids, in 1983. He was defrocked in 2005 and is believed to be living in Arizona.
- The Associated Press contributed.