Sins & Silence
Groups Offer Support, Healing: Victims of Abuse by Clergy Find Help

By Mary Nevans-Pederson
Telegraph Herald [Dubuque IA]
March 11, 2006

http://www.snap-greatplains.org/dubuque/My_Homepage_Files/Page7.html
[See the main page of the Sins & Silence series for links to all the articles and letters to the editor.]
"Everyone has similar life problems because of the abuse."
Steve Theisen, discussing a support group for victims of clergy abuse
Victims of clerical sexual abuse can find immediate, compassionate and long-term support through local centers and organizations. In addition, many look to support groups that focus on the singular results of abuse by clergy or members of religious orders.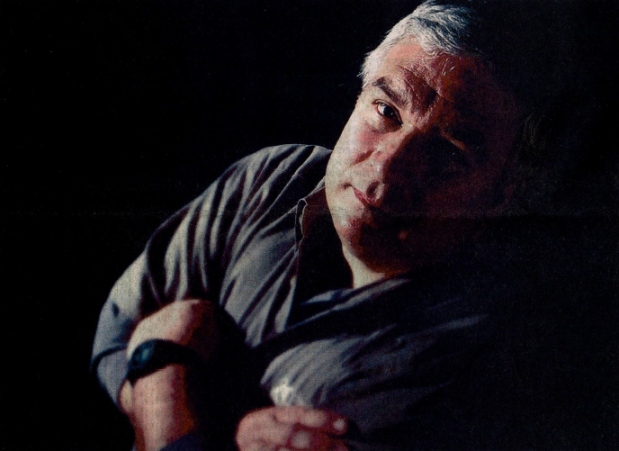 Steve Theisen of Hudson, Iowa, is the state director of Survivors Network of those Abused by Priests. TH: Jeremy Portje.
Following are some such groups that have formed in response to the clergy sexual abuse crisis, with contact information for each.
SNAP
Barbara Blaine knew there were others - others who had been abused by their parish priests.
She knew it helped for victims to listen to each other rage and cry and to offer each other succor and advice.
Blaine, of Chicago, founded the Survivors Network of those Abused by Priests - commonly known as SNAP - in 1989, two decades after the start of her years of abuse in a Catholic school in Toledo, Ohio.
SNAP was consoling and advocating for victims of clergy sexual abuse for 13 years before the church's sex-abuse scandal exploded on the national scene in 2002.
Since then, SNAP's membership has swelled to more than 6,500.
Steve Theisen, of Hudson, Iowa, was looking for help.
As the victim of a nun in a Dubuque school in the 1960s, Theisen had suffered psychological problems for years. He attended his first SNAP meeting in Minnesota in 2003.
"You don't have to explain anything. Everyone has similar life problems because of the abuse," said Theisen, 52. "It felt great to talk about it."
Two years ago, Theisen and Heather Smith, of Waterloo, Iowa, started a SNAP chapter for Northeast Iowa. Theisen now serves as SNAP's state director.
"The most important thing we do for victims is to listen. Sometimes we are the first people to hear their stories," Theisen said. Everything is kept strictly confidential.
SNAP is often in the public arena, leafleting churches to let parishioners know about former priests who abused, holding press conferences on victim advocacy issues and picketing or holding silent vigils at diocesan sites or events.
"Awareness is so important. When a survivor hears the name of the person who abused him or her, a lot of times that's the turning point for them," said Theisen, who regularly calls for dioceses to reveal the names of all credibly accused priests and nuns.
"In the end, we try to leave the survivor with a message of hope. They have a long journey, but there is hope and things will get better," he said.
Voice of the Faithful
The Voice of the Faithful works to make the Catholic Church more transparent and more accountable to its members, thereby creating a healthier church structure.
"We want the laity to have a seat at the governing table with a say in financial, personnel and non-doctrinal matters," said Mary Heins, of Indianapolis, the Voice of the Faithful representative for Illinois, Wisconsin and Indiana.
There currently is no state representative for Iowa.
"Now the clerics run everything. We need a system of checks and balances," said Heins, who describes most of the group's members as "Catholics who are outraged by the bishops' management" of the sexual abuse scandal.
Besides advocating within the church, she said, Voice of the Faithful also works to support victims of clergy sexual abuse and of "priests of integrity." The organization started in 2002 with 30 parishioners meeting in the basement of a Massachusetts church.
Healing Alliance
Victims of clergy abuse started meeting in Chicago in 1992 and eventually formed Victims of Clergy Abuse LinkUp.
LinkUp worked throughout the 1990s to raise awareness of clergy abuse and to support victims.
Last year, the group changed its focus to recovery and healing issues. It acquired a 1,300-acre farm near Louisville, Ky., and named it "The Farm." The group is now named the Healing Alliance.
Victims may attend group workshops or stay at The Farm for up to 30 days for an intensive program of counseling and alternative therapies such as yoga, art and organic gardening.
"Clergy abuse victims have had 'soul damage' because of the impact of the abuse on their spiritual lives and the shame and guilt they carry," said director Susan Archibald.
When she was in her first year at the Air Force Academy in Colorado Springs, Colo., Archibald was abused by a Catholic chaplain.
"We help them identify their own obstacles to healing and discover an identity beyond abuse," she said.
CARE
A victim of abuse by a priest of the Archdiocese of Dubuque has started an organization to protect children.
Larry Kramer, now of Byron, Minn., last year founded Child Abuse protection Requires Education, or CARE.
His mission is to "educate children and adults about sexual abuse, to take the fear and intimidation away from the children."
"CARE wants children to fully understand that no one, no matter what power he or she has or holds, has the right to violate their bodies. We want to teach all adults how to recognize all the signs and symptoms of sexual abuse," he said.
Without much of a startup budget, Kramer is beginning slowly. So far, he has produced two 30-second public service announcements that run on his community's local-access cable television channel. One spot features Kramer urging children who have been sexually abused to tell someone about it. The second features a cast of children urging the same thing - to tell anyone who will listen about what is going on.
Kramer said he was sexually assaulted by the Rev. Robert Reiss in the late 1970s at Visitation Parish in Stacyville, Iowa. He does not want other youngsters to suffer in that manner.
"We're not going to stop abusers. It's happening to children everywhere. The only thing I can do is educate children, who need to be told over and over, every day," Kramer said.