Priest Accused by Four Serves at Hospitals
Brothers Say Pastor Molested Them As Children; Monitoring of His Work As a Chaplain Is Questioned

By Mary Zahn and Tom Heinen
Journal Sentinel Online
April 21, 2002

http://www2.jsonline.com:80/news/metro/apr02/36976.asp

After being told that a priest had sexually molested four children in a large Catholic family, the Milwaukee Archdiocese assigned him to work for years as a hospital chaplain, despite an agreement that he would never be placed in a job where he had access to children.

Father David J. Hanser works 32 hours a week as a chaplain at St. Joseph's Regional Medical Center in Milwaukee. Some of those hours are spent as a chaplain at Elmbrook Memorial Hospital in Brookfield, and he is on call once a month for night assignments at St. Joseph's, Elmbrook, and two other hospitals in the Covenant Healthcare System Inc., according to a Covenant spokesman.

Archdiocesan and Covenant spokesmen say that key officials at the hospital were repeatedly informed of Hanser's background, that he was monitored over the years, and that he was restricted from unsupervised contact with children.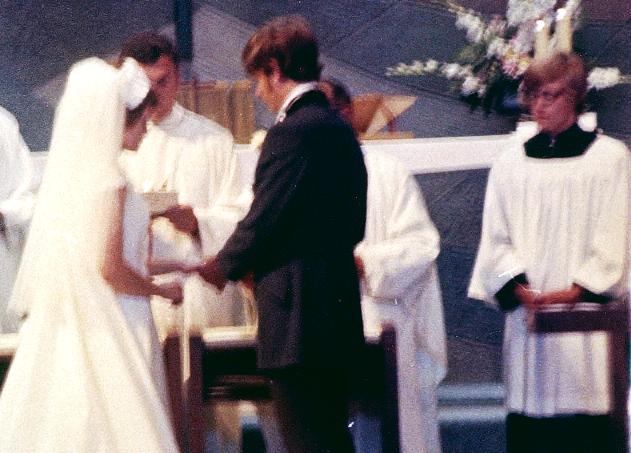 Mary Ellen and Michael Ramstack exchange vows in 1972, the Rev. David Hanser officiating. At right is John Ramstack, who now says he and three brothers were molested by Hanser.
Photo/File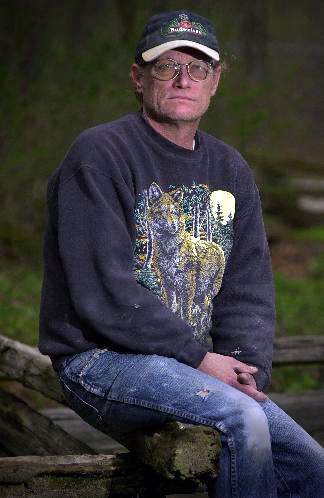 John Ramstack says he and three of his five brothers were sexually abused as a child by David Hanser, a priest, after Hanser befriended his parents and their 10 children.
Photo/Karen Sherlock



But there are serious questions about how effective the communication and monitoring have been.

A former president of St. Joseph's said he could not recall ever being informed of the priest's background or being warned of any restrictions on his ministry. And two current supervising nurses, including one in the hospital's pediatric unit, said they were unaware Hanser was restricted from contact with children.

Hanser, 70, is one of six priests with alleged or confirmed records of sexual assault who have been permitted by the archdiocese to continue in active ministry. A commission appointed by Archbishop Rembert G. Weakland is re-evaluating those decisions as its top priority - part of a larger review of the archdiocese's handling of allegations of sexual misconduct by clergy.

John Ramstack, 45, said he and three of his five brothers were molested by Hanser when they were boys after Hanser befriended his parents and their 10 children. Ramstack, who lives in Waukesha County, said much of the sexual abuse occurred at Hanser's cottage on Moose Lake in the Town of Merton, where he often invited the family.

The Milwaukee Archdiocese, he said, has known details of the abuse since 1988. In an out-of-court settlement reached the next year, the archdiocese agreed not to let Hanser work in any job where he had access to or contact with children, according to a copy of the agreement provided by Ramstack.

Reached at his Moose Lake home and asked for his reaction to the family's allegations, Hanser replied, "I don't think I can make any comment right now."

Auxiliary Bishop Richard J. Sklba, who was responsible for Hanser's monitoring, declined to be interviewed for this article and Weakland could not be reached for comment.

Archdiocesan spokesman Jerry Topczewski said Hanser went into treatment after the allegations came to light and was placed in a hospital ministry at St. Joseph's in 1991 after a therapist assured archdiocesan officials that there was no risk to children. He was not allowed to have unsupervised contact with children or to work in the pediatric areas of the hospital, Topczewski said.

The hospital's chief administrator was notified of the allegations and the restrictions placed on Hanser, he said. In a statement, Covenant Healthcare said it had followed archdiocesan guidelines for monitoring the priest.

"At the onset, and on multiple occasions, Bishop Sklba personally contacted the director of pastoral care at the hospital and reviewed the background regarding the allegation of sexual abuse, the assurances of therapists, and the ministry restrictions placed upon Father Hanser by the archdiocese," Topczewski said.

Hanser has notified the archdiocese and St. Joseph's Hospital that he plans to retire in early May, according to Topczewski.

Started when boy was 11

Ramstack said the abuse began with overnighters at the priest's cottage when Ramstack was about 11 years old. It continued until he was 16.

"He'd invite my two older brothers and myself and then he would molest me in one room while my brothers were sleeping in another room," Ramstack said.

"If you can imagine it, he did it. A lot of times I'd try to tell my parents that I didn't want to go out there and they said, 'Father Hanser has done so much for this family. He's invited us out (to the cottage), and he taught you how to water ski. He takes us out there and he treats us like gold at his cottage.' And it made it very, very hard."

In 1988, he said, the anguish of keeping the horrific secret spilled out, and he told his brothers. In an incredible instant, he realized he wasn't the only victim in the family.

Hoping to spare other boys the pain they endured, the brothers asked Sklba to come to their parents' home to hear their stories.Four of Ramstack's five brothers were present, including three who accused Hanser of abuse.

At the time, Hanser was pastor of a Waukesha County church, Ramstack said. Hanser was immediately removed from that position, he said.

Early the next year, the family was stunned to learn where Hanser had landed.

"I was an RN working at St. Luke's (Medical Center)," said Jeanne Kratzer, John's sister. "One evening I was working and had a patient who was to go into heart surgery and the wife was very emotional. I felt it would do her some good to talk to a priest. So I called down to pastoral care that evening and I asked for a priest.

"I was speaking to a nun and she said 'Oh, we have a new priest.' And I said 'Oh really, what's his name?' And she said 'Father David Hanser.' I said tell him that Jeanne Ramstack would love to see him on the floor. He never came to the floor."

Kratzer said she met the next day with the head of the hospital's pastoral care department, who had not been told of Hanser's past.

The Rev. Harvey Berg, now a retired Lutheran minister, was then director of pastoral care at St. Luke's. Berg said Hanser was enrolled with several other students in a 12-week internship program in clinical pastoral education from late February to the end of May in 1989.

Jeanne Kratzer raised her concerns near the end of the 11th week. Hanser was prohibited from further contact with patients that week. He completed the final week of group evaluations, which were routinely conducted away from the hospital, and got credit for the program, Berg said.

Asked if the allegations against Hanser came as a surprise, Berg said, "Very much so."

Berg said he did not call archdiocesan officials after learning of the allegations and did not know if hospital administrators did.

Kratzer immediately tried to call Bishop Sklba.

"I talked to a nun who was the secretary at the time, and I told her what happened. I said you need to tell him that you lied to my family, and after all of this you've allowed him to work."

Sklba, she said, never returned her phone call.

Monitoring in question

Despite assurances from the archdiocese and hospital officials, the effectiveness of Hanser's monitoring after he left St. Luke's appears to be questionable.

John Goodenow, a senior vice president with Covenant, said Hanser started working at Elmbrook within the last two years. He said individuals there knew of Hanser's background, but he did not know if that included Elmbrook's president or if nursing supervisors at the two hospitals were notified.

Jon L. Wachs, who served as St. Joseph's president from 1993 to 1997, said he was never informed about the need to monitor Hanser or that his involvement with children was restricted.

"I do not recall any information of that type being conveyed to me," said Wachs, now a senior vice president for operations with the Wheaton Franciscan System in Wheaton, Ill.

He said he would assume that as president he would have received "information of that type."

However, Topczewski said that Sklba's daily log shows that the archdiocese contacted the hospital's head of pastoral care and reviewed the allegations, the therapist's assurances, and the restrictions on Hanser several times from 1990 through 1992, and that another contact was made in March of 1996 when a new pastoral care director was hired.

Sklba's log shows that the therapist treating Hanser met with the hospital's president in May 1996.

Patricia Kaldor, the current president of St. Joseph's, could not be reached for comment Saturday.

A nurse in charge of the pediatric unit at St. Joseph's Medical Center said she knew Hanser, but he seldom visited the unit.

"We don't see him too often," she said, adding that she was unaware of any restrictions on him.

Chris Dobratz, an on-call administrator Saturday at St. Joseph's, said she also knew Hanser because he served on the hospital's ethics committee with her. But she knew of no provisions limiting his contact with youths.

Acknowledging the sensitivity of the issues and the potential impact of publicity, Covenant's Goodenow said there were no known incidents involving Hanser since he began working as a chaplain in 1991.

"There's no winners in this situation, that's for sure," Goodenow said. "We believe we've provided a positive environment where he has been of service, but we'll see who comes forward, and hopefully no one will."

Kratzer said that her family did not know that Hanser was working again as a hospital chaplain until they heard it from a reporter earlier this month.

Several months ago, her 81-year-old father went to Mass at the chapel at Elmbrook, which is near his home. He was stunned, she said, to see Hanser conducting Mass in lieu of the regular priest. No words were exchanged, she said, but their eyes met when Hanser hurriedly walked down the aisle after the service was over.

"My dad was upset and wondered how he could have been allowed to say Mass," Kratzer said. Her father declined to be interviewed for this article and asked that his name not be used. Her mother is dead.

Part of the family

Kratzer recalls bitterly how Hanser was able to make himself part of her family.

"He is such a great con artist," she said. "I mean that he could actually manipulate and pull the wool over my parents' eyes. That hurts more than anything. He would make my parents laugh and made us feel like we were an incredible, wonderful, Catholic family.

"He just wormed his way into our lives. He married my eldest brother, Mike, and he was molesting John. John was the altar boy at their wedding. This had been going on for years."

Michael Ramstack, 52, the oldest of the brothers, recalled that he was sleeping at Hanser's cottage in the late 1960s when Hanser grabbed his genitals. He said he rolled over and Hanser never touched him again. He said he didn't think about it much, until years later when John told him what Hanser had done to him.

"Reading about all these cases with pedophiles, I think we were probably a textbook case," Michael Ramstack said. "We had a large family, and he had got to know us. He had all these toys at that lake. My mother thought this was really great to have this relationship with a priest, but she didn't know anything was going on. When John finally told, I just felt terrible. I felt partially responsible because I was the first contact."

Bill Ramstack, 48, said he, too, had been asked many times to go to Hanser's cottage to help out with things like putting rocks by the pier. One night, he said, while his siblings were sleeping in another room at the cottage, Hanser grabbed his genitals and then unsuccessfully tried to force Bill to perform oral sex on Hanser.

"He was my driver's ed instructor, and after that, he got me out in the country and pulled over somewhere," Bill Ramstack recalled. "He said he was very strong. The implication with that, if I ever said anything he would hurt me."

Tom Ramstack, 49, said he was 15 or 16 when Hanser first sexually molested him at the Moose Lake cottage. He said he was molested four or five times over a period of several years.

"Hanser would stop at my folks' home and ask for me to work out at the cottage and do maintenance or rake on fall weekends," Tom Ramstack said Friday. "And I would tell my folks, 'No I don't want to.' He had already done something with me but I couldn't tell my parents the truth. I think my family had gone out there for a picnic and he asked me to stay and that was the first time."

John Ramstack said he was about 11 or 12 years old when Hanser started sexually abusing him at the cottage. He said Hanser would never say anything before or after the molestation and that he would never do anything if any adult family members were around. At the time, he said, Hanser was the boy's guidance counselor at Catholic Memorial High School in Waukesha.

Because John Ramstack wasn't well behaved as a boy, his parents welcomed Hanser's invitations to stay overnight at his cottage, he said.

"No one was going to believe me, because I was a trouble maker," John Ramstack said. "I didn't know what to think because my family was very religious. I knew it was wrong, but, then again, I thought it can't be wrong because he's a priest."

Finally, at age 16, he said, he had had enough.

"One of the last nights that I ended up out there, I left (the house) and went out on the pier. I sat on the pier all night until the sun came out."

Then, he went to talk to his parish priest.

"I said, 'I can't tell my parents about this, and I just don't know how to go about it.' And he said he would talk to my parents," John said. "One of the things (the parish priest) said was, 'I don't want to know his name.' "

The aftermath

After that, John Ramstack "just went on with my life until I was about 33 or 34 years old. Finally I just couldn't take it anymore. I needed resolution. I went ahead and got a lawyer."

Ramstack was referred to Project Benjamin - then newly set up by the archdiocese to help victims of clergy sexual assault. For a while, he said, he attended group therapy sessions with other people who had been victimized by priests.

"All these other people that were molested met in a room," he said. "There were about eight or 10 of us. All molested by different priests, and we just sat around and talked about it. It helped. I also went to a psychiatrist. (The archdiocese) paid for some of it."

Meanwhile, the archdiocese agreed to settle his civil lawsuit before it went to court.

According to the Dec. 22, 1989, agreement, John Ramstack was to receive $65,000, but had to agree not to discuss the allegations unless the settlement agreement was broken. Hanser was also required to present a written letter of apology.

The agreement also required that Hanser "not engage or accept employment, enroll in any training courses, or perform volunteer work which involves access to or contact with children."

Sklba was named in the agreement as having responsibility for enforcing the provisions.

John Ramstack said he felt comfortable talking publicly about his story now, because he believes Hanser and Sklba have broken the settlement agreement: He believes Hanser has been allowed to work near children.

Children and youths often visit adult family members at the hospitals, and there is a pediatrics wing at St. Joseph's. Elmbrook has no pediatrics unit, but children are treated in its emergency room and occasionally are hospitalized briefly there after surgery for such things as broken bones, according to employees at the hospitals.

Members of the Ramstack family said it was a relief to finally talk about the case, but they were still haunted by vivid memories of that time.

"I remember John running down Father Hanser's driveway at the cottage and he was crying and crying," said Jeanne Kratzer, John Ramstack's sister. "I remember him running and running and my dad just kept driving because my dad felt John was being disobedient. I remember my dad saying,'He has to stay, he has to help him.' My parents felt they owed Father Hanser."

Joe Manning of the Journal Sentinel staff contributed to this report

Related Coverage

- Stingl: Six decades later, story of abuse is told
- Words from Rome: Pope orders bishops to investigate allegations
- Meeting: U.S. cardinals known for allegiance to pontiff

Quotable

"If you can imagine it, he did it. A lot of times I'd try to tell my parents that I didn't want to go out there and they said, 'Father Hanser has done so much for this family. . . . ' And it made it very, very hard. I didn't know what to do."

- John Ramstack, sexual abuse victim

"He just wormed his way into our lives. He married my eldest brother, Mike, and he was molesting John. John was the altar boy at their wedding. This had been going on for years."

- Jeanne Kratzer, on the molestation of her brothers