Sins & Silence
Victims Recall Abuse: Men Recount How Priests Befriended, Abused Them

By Mary Nevans-Pederson
Telegraph Herald [Dubuque IA]
March 6, 2006

http://www.thonline.com/story_news_frontpage.cfm?ID=110755&
CFID=157083&CFTOKEN=8a73426fc7dbefd1-65345BD8-983C-EDB2-246953C7E41AF0A1
[See the main page of the Sins & Silence series for links to all the articles and letters to the editor.]
"I didn't tell anybody. I thought I was the only one at the time."
Larry Kramer, recounting sexual abuse by the Rev. Robert Reiss during the 1970s
Mel Loes tried to think about something else. Father Patnode was doing it again.

As he did many mornings, Loes, then 16, walked to St. Joseph Catholic Church in Key West, Iowa, to assist at Mass for the Rev. Joseph Patnode.

And as had happened many of those mornings before Mass, Patnode molested the altar boy.

Loes had grown used to it.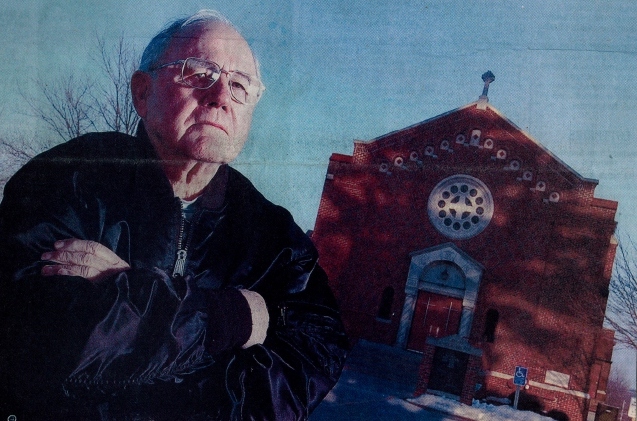 Mel Loes says he was sexually abused by the Rev. Joseph Patnode between 1939 and 1941 at St. Joseph Catholic Church in Key West, Iowa. TH: Jeremy Portje.

Shortly after Patnode came to St. Joseph's as pastor in 1939, he started abusing Loes. It usually happened before Mass.

On another occasion, Patnode had the teenager drive him to Preston, Iowa, for an overnight stay at St. Joseph Church, where Patnode previously was assigned. That night, in a rectory bedroom, he assaulted Loes.

After the first time he was abused by Patnode, Loes went home and told his mother, "He's fooling around with me."

He still remembers what his deeply devout mother said:

"Father Patnode wouldn't do that."

The teenager told no one else about the abuse. He thought he was Patnode's only victim.

"I couldn't do anything about it," said Loes, now 82. Years later, he learned that Patnode had abused other teenage boys. At least 10 men, now in their 70s and 80s, have told Loes that as teens they were molested by Patnode.

An ostensibly innocent but telling entry appears in a parish history book. It states that Patnode "helped many boys by keeping them at his rectory and giving them jobs to do."

By the time Loes graduated from Loras Academy in 1941, the pastor had lost interest in him. "He had other, younger playboys by then," he said.

Loes joined the Air Force in 1943 and served as a tail-gunner on a B-17, flying missions over Germany.

He returned home in 1945 and soon married the sweetheart who had waited for him. Mel and Georgeann Loes had three children, who gave them grandchildren and great-grandchildren.

The memories of his abuse faded in the face of war's more horrific images.

During this time, Loes received a shocking phone call from a friend.

"He told me Father Patnode was abusing his two sons and asked what he should do. I told him that (Patnode) had done it to me, too. This was a good Christian man who was so upset. He went to Archbishop (Henry) Rohlman and Patnode was gone soon after that," Loes said.

Patnode was next assigned to be chaplain of the Mercy Sister Novitiate in Marion, Iowa, where he worked until he retired in 1964.

"I thought that was great. He wouldn't bother the nuns," Loes said.

But in October 2002, at a public diocesan gathering of priests in Waterloo, a priest told Loes that although Patnode was assigned to a facility full of women, he continued to befriend young males and "take them to a cabin."

The story Mel Loes tells is similar to those told by scores of other men and women. The victims usually came from devoutly Catholic homes—homes where priests were revered and often invited to family functions.

Although Loes had a stable family situation, many of the abused youngsters came from families disrupted by illness, death, poverty or alcoholism. Struggling mothers and fathers were happy to push their sons into the circle of friendship and mentoring offered by an amiable priest who took an interest in them.

The priests often enlisted teenage boys to work as their drivers. Victims of Patnode, William Roach and William Goltz claim that the priests either abused them while en route or after driving to a destination.

The assaults took place in church sacristies, rectories and basements, in remote woods and rock quarries, in cabins and confessionals.

Priests assigned to parish schools called students into their offices or the school basement, where they abused them.

Didn't recognize abuse

Daniel Kortenkamp was just 13 when the Rev. Robert Swift began to abuse him.

Swift was an assistant pastor Sacred Heart Parish and a chaplain at Mercy Hospital, both in Oelwein, Iowa.

"He would put his hands down our pants and squeeze and rub us. He said he wanted to see if we were developing normally. He called it 'sex education,'" said Kortenkamp, 68, of Stevens Point, Wis.

Daniel Kortenkamp
This happened at the hospital and in the church before Mass, Kortenkamp said.

Kortenkamp, who went on to become a professor of psychology at the University of Wisconsin-Stevens Point, said he "never experienced any injury from my abuse."

It was 50 years before he told anyone about it.

"I was very naive. My friends and I thought at the time that he was just 'queer' and that's what queers do. Of course, Father Swift's behavior was sexual abuse," he said.

Having said that, Kortenkamp is quick to point out that his four decades of work in clinical psychology have taught him that "homosexual men are no more likely to be sexual abusers of children than are heterosexual men."

Boy befriended by priest

Larry Kramer was being raised by relatives when the Rev. Robert Reiss came into his life. Kramer's mother had died in a car accident and his father was an alcoholic.

To pay his tuition, Kramer worked at Visitation Parish School in Stacyville, Iowa.

One hot day in the 1970s, Reiss invited the teenager into the church rectory for some lemonade. They went upstairs to the priest's bedroom, where Reiss had sex with Kramer on the floor.

Larry Kramer
"I had to look at a picture to get through it," Kramer said, his voice quavering nearly 30 years later. It was the first of many such assaults by Reiss.

"I didn't tell anybody. I thought I was the only one at the time and my uncle, who I lived with, was close to Father. There were rumors around town, but people were divided about (Reiss)," said Kramer, who now lives in Byron, Minn.

A few years later, Reiss was given a one-year leave of absence and was then reassigned to other parishes.

"When he was transferred away, I was never so relieved in my life," Kramer said.

Reiss next served as pastor in Sabula and Green Island, then in North Buena Vista.

In 1990, Reiss was involved in a bizarre incident while living at Immaculate Conception Parish in North Buena Vista. He befriended an ex-convict who kidnapped a Maquoketa girl and threatened to rape her. After the girl escaped, Michael Cavins, 25, drove to the church, where Reiss hid him from authorities.

Three days later, Dubuque Archdiocesan leaders announced that Reiss had requested a leave of absence. His activities as a priest were restricted and in 1997 he was defrocked by the Vatican. He died last year in Mexico at age 75, and authorities there investigated his death as a murder/robbery.

How cases were handled

Dubuque archdiocesan officials handled each of these cases differently.

• In 2002, when Mel Loes finally told the archdiocese about his abuse, they admitted they had heard other accusations against Patnode. Loes volunteered to be a part of Dubuque's archdiocesan Review Board - a confidential, consultative body that examines all claims of sexual abuse of minors in the archdiocese.

Less than a year later, Loes quit the board, saying, "I object to the confidentiality. To me, it means cover-up." He claims the church continues to "hide priests behind Canon Law" and has turned his back on the church, which was part of his life for some 80 years.

• Daniel Kortenkamp said working with church officials has been "like pulling teeth."

Three years ago he made abuse accusations to the archdiocese about Swift and the Rev. Thomas Knox, who also worked at Sacred Heart in Oelwein. Correspondence from archdiocesan officials indicated they were already aware of abuse claims against both priests. Yet, when the archdiocese published a list of accused priests in January, neither man's name was on it.

"Then I noticed that the table only listed those with 'public accusations,'" he said.

Kortenkamp wrote a letter to the Telegraph Herald naming the priests as abusers. A few weeks later, the archdiocese added the priests' names to the list.

However, Kortenkamp did praise the archdiocese for making the list public.

• At first, Larry Kramer was bitter about his abuse and angry that his abuser was allowed to minister in parishes for years before he was removed.

Kramer is satisfied with how the current archdiocesean administration handled his case when he approached them in 2002.

"I met with the archbishop (Jerome Hanus) and the vicar general (Monsignor James Barta) and they believed me right away. They both apologized to me for what (Reiss) did," he said. The archdiocese has paid for his therapy treatments since then.

"After all, there are different people in (archdiocesan administration) today. They didn't hurt me," Kramer said.