'Tittie Twister' ™!
How the Los Angeles Archdiocese Stretched, Twisted and Contorted to Hide Bad, Bad Priests in Orange County — and How We Learned to Love It

By Gustavo Arellano
OC Weekly
October 27, 2005

http://www.ocweekly.com/news/ex-cathedra/tittie-twister/18482/
[See also other articles by Gustavo Arellano.]

The Oct. 11 release by the Catholic Archdiocese of Los Angeles of records on 176 suspected child-raping priests adds new evidence that church officials played hide-the-pedophile for decades.
[Note from BA.org: See our edition of the Los Angeles archdiocesan records.]

Instead of disclosing psychological reports and other crucial personnel information, Cardinal Roger Mahony released only one-page summaries on each priest. Even heavily redacted, the documents provide further graphic proof that Orange County Catholic Church officials accepted, tolerated and sometimes conspired to hide known pedophiles before OC split off to form its own diocese in 1976. Here are six of the worst LA/OC cases: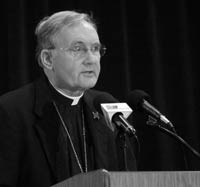 Photo by James Bunoan


MICHAEL BUCKLEY In 1959, a father of two boys complained to the Los Angeles archdiocese that Buckley -- then working at Sacred Heart Church in Los Angeles -- flashed his sons. Six years later, a parishioner sent an anonymous letter to church officials requesting that they defrock Buckley because of his "moral fitness." Then-Cardinal James McIntyre instead made Buckley a hospital chaplain in Torrance and Lynwood until 1971, when Buckley took up residence at Immaculate Heart of Mary in Santa Ana. There, Buckley is accused of molesting at least eight boys. [See the Buckley record.]

LYNN CAFFOE His report shows parents at St. Callistus in Garden Grove complained in 1975 that Caffoe committed "a boundary violation" with altar boys. Officials transferred Caffoe to Los Angeles, where fellow priests found an undated videotape of Caffoe engaging in "improper behavior with several high school boys." A complaint was also lodged with the Huntington Beach Police Department in 1994. Detectives never followed up. Caffoe's whereabouts are unknown. [See the Caffoe record.]

PETER GARCIA He spent eight months at St. Polycarp's Church in Stanton between 1975 and 1976, just after church records show he wrote a letter "regarding his friendship" with a woman's son while ministering in Monterey Park. Garcia is accused of molesting 12 boys in Los Angeles County parishes after leaving St. Polycarp's. [See the Garcia record.]

BERTRAND HORVATH Church records show Horvath was notorious at St. Kilian in Mission Viejo during the early 1970s, where he made altar boys "remove their shirts" and gave them what the document describes as "tittie twisters." Horvath is reported to have fondled himself while asking boys whether they masturbated. Horvath left St. Kilian for a Los Angeles-area parish and bounced across the country until 2000, when Orange diocesan officials finally alerted their peers at the Amarillo Diocese about Horvath's past. After that, Horvath was placed in counseling. [See the Horvath record.]

JOHN KOHNKE In 1974, Santa Ana police arrested Kohnke for "engaging in oral copulation of a minor." The one-line summary provides no further details, and church records from the time do not disclose the parish in which Kohnke served. [See the Kohnke record. The 1974 Official Catholic Directory lists Kohnke as the chaplain at St. Luke Hospital in Pasadena CA, in the LA archdiocese. In the 1975 Directory, he is listed as a parish priest at SS. Cyril and Methodius in Shiner TX, in the San Antonio archdiocese.]

JOSEPH SHARPE The much-beloved monsignor at St. John Vianney Chapel on Balboa Island, where he served from 1978 until 1998. It's probable few parishioners knew of Sharpe's past: two sisters informed the Los Angeles archdiocese in 1971 that Sharpe engaged in an "improper relationship" with them. By the time he arrived in Newport, the Los Angeles Archdiocese personnel board had forced Sharpe to resign in 1973 for "various personal problems" and undisclosed "job performance issues." This didn't stop the Diocese of Orange from accepting Sharpe upon its formation in 1976. [See the Sharpe record.]

KILL THE POOR!

After 83 years, the bells of Fullerton's St. Mary School stopped ringing in May, victims of what the Diocese of Orange described as declining enrollment and the economy. And while we can't remember whether it's a venial or a mortal sin when you lie where the lives of the poor or sex crimes are concerned, this much we know: the county's Catholic officials can't keep straight their story about St. Mary.

Last year, the Diocese of Orange paid $100 million to settle claims with 90 victims of child-molesting church employees. In a letter last month to the county's 1.2 million Catholics, Bishop Tod D. Brown announced that all but $15 million of the debt had been paid off. His Eminence promised the faithful that the monumental payout -- at the time, the largest since the time of Jesus -- "does not put our financial stability at risk and not one dollar has been taken from parish or school funds or any other restricted donation. Further, I do not envision any further reduction in diocesan staff or services beyond what has already been experienced."

But God works in mysterious ways to reveal the ways of the wicked. Sometimes his tool is the Los Angeles Times. On Sept. 20, Father Art Holquin, pastor at the Old Mission in San Juan Capistrano, told the Times that the record settlement hurt.

"It would be unfortunate if people perceived that [the settlement] caused no pain. It did cause pain," Holquin told Times reporter Roy Rivenburg. Hardest hit, Holquin said, were "struggling Catholic schools in Santa Ana and other low-income areas [that] could have benefited from the $50 million that was diverted to the sex-abuse settlement."

Rivenburg did not press Holquin for details. But a little research reveals that this year alone church leaders closed the schools at Our Lady of the Pillar in Santa Ana and St. Mary, two parishes that serve largely Latino congregations. Diocesan officials at the time claimed the settlement had nothing to do with the closures, that declining enrollment and a tough economy forced their hand.

"Enrollment in Santa Ana has been dropping because of the increasing cost of tuition," diocesan spokesman Joe Fenton told The Orange County Register on Jan. 19, about the time the church was finalizing its deal with sex-crimes victims. "Consolidating the schools will allow us to eliminate administrative positions, hold the line on tuition and provide more scholarships to needy students."

Fenton, who clearly needs some work in remedial logic and math, did not examine the possibility that the church could have spent on scholarships the millions it spent for sex crimes.

No one at the Orange diocese returned our calls. But earlier this year, a Brown confidant provided the Weekly with a list of parochial schools he -- or maybe it was she -- claimed the diocese would close in order to pay off the sex-crimes victims. St. Mary and Our Lady of the Pillar were on that list. "[Brown] and his spinmeisters will give some kind of public explanation that sounds plausible," said the source, who requested anonymity. "But the bottom line is that schools that serve the Latino community are expendable."

E-mail: GARELLANO@OCWEEKLY.COM