Coakley Made Deal in 1995 Priest Case

By Michael Rezendes
Boston Globe
November 23, 2009

http://www.boston.com/news/politics/2008/articles/2009/11/23/coakley_details_
her_role_in_1995_probation_deal_for_geoghan/

[See the 7/9/96 civil suit referenced in this article, A, B, and C Doe and Jane Roe v. Geoghan, which was filed by the three brothers whose complaints were the subject of Coakley's 1995 deal with Geoghan. For Coakley's response to this Boston Globe article, see Coakley Criticized for Not Prosecuting Geoghan Earlier, by Brad Puffer, NECN (11/23/09); Democratic Senate Forum, interview by Emily Rooney, Greater Boston, WGBH (11/23/09) [relevant excerpts]; Martha Coakley on the Father Geoghan Story, YouTube video posted by the Blue Mass Group, interview by Monica Brady-Myerov et al., (11/23/09); and Senate 'Forum' Sounds More Like Fiery Debate, by Monica Brady-Myerov, WBUR (11/24/09).]
When Martha Coakley was the Middlesex district attorney, her office prosecuted the Rev. John J. Geoghan based on an allegation that he squeezed the buttocks of a 10-year-old boy a single time at a public swimming pool. The highly publicized 2002 conviction won Coakley widespread praise for bringing the first successful criminal case against the widely accused pedophile, a priest many had called "Father Jack."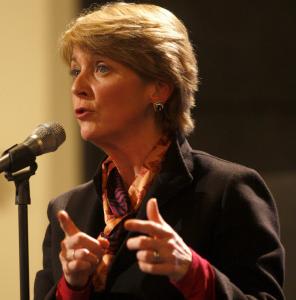 "I agonized over every one of those cases," said Martha Coakley of her work as head of the Child Abuse Prosecution Unit
Photo by Matthew J. Lee


But seven years earlier, Coakley, then the head of the Middlesex child abuse unit, had Geoghan in her sights and took a dramatically different approach. Back then, three grade-school brothers told investigators that Geoghan had inappropriately touched them during numerous visits to their Waltham home, and had made lewd telephone calls to them. Rather than prosecute, Coakley agreed to grant Geoghan a year of probation in a closed-door proceeding that received no media attention at all.

Because of the deal, Geoghan faced no formal charges and no criminal record.

In sanctioning the 1995 probation agreement, Coakley, now the front-runner in a special election for the United States Senate, never pressed the Boston Archdiocese for any prior complaints against Geoghan. It's not clear that the archdiocese would have readily obliged, but it was holding in its files thousands of pages of documents detailing abuse complaints against Geoghan made by dozens of victims dating back to the 1960s.

Coakley, in a lengthy interview last week, said she handled the case appropriately, pressing the best case possible given the specific contact described by the three young brothers. She also said she successfully negotiated specific terms of Geoghan's pretrial probation — a routine way of expediting minor criminal cases — requiring Geoghan to undergo psychiatric testing and be barred from unsupervised contact with children for a year.

"None of the boys disclosed any touching that was basically an indecent assault and battery," Coakley said. Coakley also said she did not believe she could have won a conviction in the case on anything more serious than the charge of making harassing telephone calls, a misdemeanor.

In a previously unreported 1996 letter written by Coakley to the boys' mother, a copy of which was obtained recently by the Globe, Coakley recounted details of videotaped interviews that investigators conducted with the boys. In those interviews, the boys described several instances of touching, including one where Geoghan soaped up one of the brothers in the shower.

"Father Geoghan came in and was standing and then was sitting on the toilet and looking at him through the curtains," Coakley wrote in the two-page letter. "He stated that [Geoghan] gave him a back rub while he was in the shower soaping him up."

A second brother said Geoghan asked him "if his mother slept with him and did she touch his private parts." The letter went on to say, "He stated that one day while Father Jack was on a visit he rubbed his back under his clothes and the top of his pants. He stated that he never went inside his pants."

The third brother, Coakley wrote, "indicated that he was in the fourth grade and indicated that he too found Father Jack was touching him and talking fresh to him. He was asked by Father Jack if 'his mother went down in his pants,' he stated that [Geoghan] would touch him with his hand on his back and leg near his private parts over his clothes."

Coakley, in her interview with the Globe, said the touching described by the boys did not rise to the accepted definition of indecent assault because the brothers never said that Geoghan touched the parts of their bodies that a court would consider private. The official jury instructions used in indecent assault cases say, "An assault and battery may be 'indecent' if it involves touching portions of the anatomy commonly thought private, such as a person's genital area or buttocks, or the breasts of a female."

"He put these kids at risk," Coakley said. "He put other kids at risk. But it doesn't change whether I had enough to charge him with a crime."

She said that if she had charged him with indecent assault, she almost certainly would have lost, and if she charged him with making lewd, harassing calls, it was a misdemeanor that would most probably have resulted in a sentence of probation.

By leveraging the prospect of an indecent assault charge, Coakley said, she was able to negotiate what she believed were stringent conditions of probation.

"My efforts were successful," she said.

Still, church records and legal documents detailing Geoghan's career, released six years later, suggest that the terms of probation negotiated by Coakley had little practical effect. Geoghan was already making weekly visits to a psychotherapist. And he had already left his last parish to live in a home for retired priests.

Michael Traft, a defense attorney who is also an experienced prosecutor, said Coakley might well have made the best possible decision in the case of the three Waltham brothers, given what some consider a gray area of the law and at a time when jurors had demonstrated great skepticism when hearing clergy sexual abuse cases.

"What you have here are multiple actions but what you don't have is any one of the boys saying they were clearly touched on a private part," Traft said. Traft, like many other Boston-area attorneys, is supporting Coakley in her bid for the Senate.

But a longtime advocate for victims and, separately, a noted clergy sexual abuse specialist both said that Coakley should have opted for a public court proceeding, even on a charge as minor as making harassing telephone calls, to warn parents of Geoghan's presence and generate publicity that might have encouraged more victims to come forward.

"Charging Geoghan with something and exposing him publicly might well have brought forward victims, witnesses, whistle-blowers, and evidence that could have resulted in a conviction and a tougher sentence," said David Clohessy, national director of the Survivors Network of those Abused by Priests.

"What Martha Coakley did in 1995 I would consider negligent from the point of view of the public good," said A.W. Richard Sipe, a former priest and psychotherapist who has written extensively about clergy sexual abuse. "Even if it was a misdemeanor, once you put it in the public eye, that's what starts people coming forward."

That is what happened a year later, in 1996, when the mother of the three Waltham boys filed a civil suit against Geoghan and his supervisors in the church. [See the 7/9/96 civil suit, A, B, and C Doe and Jane Roe v. Geoghan.] News stories recounting some of the details of the suit, including the allegation that Geoghan asked the boys if they had sexual contact with their mother, prompted additional victims to step forward with similar stories.

Mitchell Garabedian, the attorney who represented the mother of the Waltham boys, said news of the lawsuit was a catalyst. Within two years, he said, he found himself representing more than 50 of Geoghan's victims, and would ultimately represent 145 of them.

"She was the trigger," Garabedian said, referring to the Waltham mother.

Nevertheless, Garabedian, like Traft, was reluctant to criticize Coakley. "I do not know what the questions in the videotape of the children were or what the testimony was," he said.

At the same time, Garabedian agreed with those who said that publicity emanating from a criminal complaint against Geoghan might have spurred additional victims to step forward, and that "subsequent incidents of the sexual abuse of children might have been prevented."

Numerous attempts by the Globe to reach the mother of the Waltham boys were unsuccessful.

When Coakley negotiated Geoghan's terms of probation, she knew firsthand that persuading a jury to convict a priest on sexual abuse charges in a region filled with Catholic residents could be difficult. In 1994, she lost a case against a Woburn priest, the Rev. Paul Manning, after a trial in which Manning's parishioners supported him and cheered when he was declared not guilty of sexually assaulting an 11-year-old altar boy.

Still, at the time of Geoghan's probation, Cardinal Bernard Law, then the archbishop of Boston, and other church officials were holding thousands of pages of records documenting Geoghan's decades of sexual abuse and the ineffective treatment he had received at psychiatric facilities. The records were released to the public in 2002 after legal action taken by the Globe for a series by the paper's Spotlight Team showing that the archdiocese had concealed Geoghan's abuses, as well as those of many other priests.

In 1999, when Coakley indicted Geoghan in the case involving the boy at the swimming pool, there was far more public suspicion about priests and sexual abuse - and about Geoghan - than there was when she lost her case against Manning. By then, Garabedian had filed lawsuits on behalf of more than 50 of Geoghan's victims. And in 1998, Law had successfully moved to defrock Geoghan in a highly publicized punitive procedure approved by Pope John Paul II.

"This man can never again present himself as a priest," Law said at the time.

After winning her 2002 conviction against Geoghan, and a nine-to-10-year prison sentence, Coakley went on to successfully prosecute four more cases of priests sexually abusing minors. One of those convictions has been appealed by defrocked priest Paul R. Shanley, who has argued that his alleged victim's recovered memory is junk science. Geoghan was murdered by a fellow inmate at the Souza-Baranowski Correctional Facility in Shirley in 2003.

Although Geoghan attended weekly meetings with a psychiatrist and was evaluated by specialists, court records show that he may have violated the probationary condition that said he was to have no further unsupervised contact with minors for a year. Those records include a 2002 civil suit that said Geoghan molested a Roxbury boy, later represented by Garabedian, in "approximately 1996."

"I can't say with 100 percent certainty but I believe it more likely than not that the 1996 date is accurate," Garabedian said.

The records also include a 1999 Suffolk County criminal indictment that said Geoghan repeatedly groped a Weymouth boy during trips to Boston "in 1995 and 1996." The criminal charges stemming from the boy's abuse were dropped in 2002, after the boy decided he could not testify in open court, although he proceeded with a civil suit. However, the civil suit says the Weymouth boy was molested by Geoghan "from approximately 1992 to 1995," before Geoghan's probation began.

In each of those cases, the boys made their claims after Geoghan's probation had expired. And Coakley said she was never informed that Geoghan violated any of his probationary terms.

Now, 14 years after she first had Geoghan in her grasp, Coakley insists she made the right move in negotiating a deal that kept the allegations against him out of the public arena in exchange for an agreement that she believed would keep him away from children.

"It is the toughest job I ever had," Coakley said, speaking of her eight years as head of the Child Abuse Prosecution Unit, when her office would review hundreds of sexual and physical abuse cases annually. "I agonized over every one of those cases. In some cases there might have been things I would do differently, but this is not one of them."

Michael Rezendes can be reached at rezendes@globe.com