SHEDDING LIGHT
PROTESTORS PUSH
FOR INVESTIGATION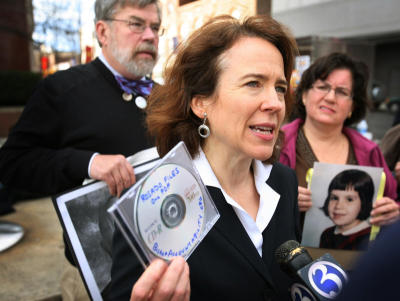 Anne Barrett Doyle, co-cirector of BishopAccountability.org, holds up a CD she planned to deliver to the state's attorney's office that contains the thousands of released files in the Roman Catholic Diocese of Bridgeport sex abuse cases into a single readable file. Barrett Doyle said she believes the information was released as thousands of PDF files as a way to prevent easy access to the material. For more on the protests, see page A2. Brian A. Pounds / Staff Photographer

Priest Abuse Victims Want Churchmen Investigated

By Daniel Tepfer
Connecticut Post
December 4, 2009

http://www.connpost.com/ci_13918529

[See also Having the Courage to Lead the Church Lawsuit, by Marian Gail Brown, Connecticut Post (12/4/09). We have begun to post selections from the Bridgeport documents.]

BRIDGEPORT -- Stephen Kali just left a Main Street store when he noticed the small group of people standing in front of Superior Court on Thursday afternoon, holding posters with photos of priests in the Roman Catholic Diocese of Bridgeport accused of abusing children.

Sidling over to where John Marshall Lee, a member of the Voice of the Faithful, a group that advocates for greater transparency in the Catholic Church, was holding a poster of the Rev. Alfred Bietighofer, he inquired what was going on.

Lee told Kali that it was a demonstration organized to call on State's Attorney John Smriga to investigate not only the allegations against diocesan clergy, but the senior church officials who covered it up. The protest came two days after the diocese, forced by court order, released thousands of previously secret records documenting allegations of sexual abuse against diocesan priests dating back more than three decades.

"You know about Father Alfred?" the 59-year-old Stamford man replied, choking up tearfully. "He abused me when I was young."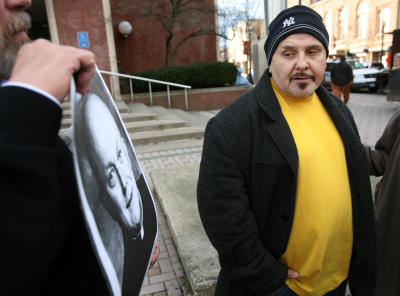 Stephen Kali, 59 of Stamford, eyes the photograph of the priest, Alfred Bietighofer, that he claims sexually abused him as a boy in the early 1960's on Bridgeport's West Side. Kali was walking past a protest outside Bridgeport Superior Court at 1061 Main Street when he noticed a protestor holding Bietighofer's picture. Kali, who said he was 13 or 14 and a freshman at Bassick High School at the time of the abuse, said that this was the first time he had spoken publicly about it. (Brian A. Pounds/Staff photographer)
Bietighofer, 64, killed himself in May 2002 after allegations became public that he had abused more than a half-dozen children in Bridgeport during the 1960s.
Neither he nor the 22 other priests in the Diocese of Bridgeport accused of sexual misconduct in civil lawsuits were ever criminally charged or prosecuted for their offenses, mostly against children.
Another reason that members of BishopAccountability.org, Voice of the Faithful and the Survivors Network of those Abused by Priests met outside the courthouse was to try to persuade more victims of clergy abuse to come forward.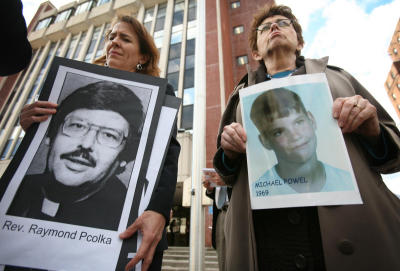 Anne Barrett Doyle, left, co-director of Bishop Accountability.org, holds a photo accused priest Raymond Pcolka, and abuse victim Gail Howard of Norwalk holds a photo of fellow victim Michael Powel, at a protest outside Bridgeport Superior Court on Thursday. (Brian A. Pounds/Staff photographer)
"Like most survivors I had no idea there were other victims until the scandal broke in 2002," said Gail Howard, of Norwalk, a representative of SNAP who was abused by a priest in Illinois in 1964. "I continued to blame myself until I was able to speak to other survivors."
Anne Barrett Doyle, of the Boston-based BishopAccountability, organized the demonstration to urge Smriga to investigate the alleged coverup of priest sexual abuse by the late Bishop Walter Curtis, recently retired Cardinal Edward Egan, who left Bridgeport to lead the Archdiocese of New York, and other senior diocese officials. She planned to hand Smriga a compact disc with more than 1,000 documents released Tuesday that detail allegations of abuse by priests in the diocese.
"Information concerning alleged sexual abuse committed by priests assigned to the Bridgeport diocese has been reviewed by this office on several occasions in the past," Smriga said. "Because of the age of these allegations, any possible criminal charges were precluded by the applicable statute of limitations. We will review the recently released documents to determine whether they contain any allegations that were not previously presented."
While Doyle acknowledged the allegations of abuse occurred beyond the state's criminal statute of limitations, she said she hopes Smriga, after reviewing the documents, would find other crimes that had not been detected yet.
"There are grounds here for a public prosecutor to investigate," Doyle said. She pointed out that prosecutors elsewhere in the nation have agreed to investigate abuse by priests, and even when they found prosecution was barred by statutes of limitation, they issued scathing reports that criticized the way church officials handled the complaints.
"That brought great transparency to the crisis," she added.
Kali said he had been abused along with other teen-age boys by Bietighofer in the early 1960s at a Bridgeport church.
"But nobody said anything, it was like the biggest secret around," he recalled. "I was scared to say anything and ended up getting involved in drugs and bad stuff. If my mom and dad were still alive they would have realized now how things worked out in my life."