Files shed light on priests' removal on child sex abuse allegations
By Christy Gutowski, Cynthia Dizikes, Todd Lighty
Chicago Tribune
November 12, 2014

http://www.chicagotribune.com/news/ct-priest-child-abuse-met-20141112-story.html#page=1


Accused Priests Who Worked in the Archdiocese of Chicago - BishopAccountability.org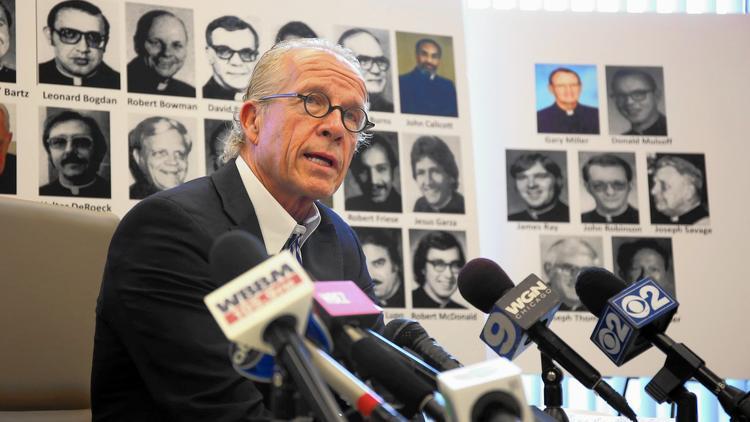 Lawyer Jeff Anderson speaks at a Chicago news conference Tuesday about the release of new church documents related to the removal of three Chicago Archdiocese priests because of child sex abuse allegations.
They were among the most popular and influential priests in the Archdiocese of Chicago.
Robert Kealy was a lawyer who handled sex abuse claims against priests, R. Peter Bowman was a former high-ranking church administrator and John Calicott was a South Side priest adored by his parishioners and who held leadership roles in the church.
All three men were abruptly pulled from ministry in 2002 by Cardinal Francis George amid accusations they sexually abused children decades earlier. Their removal, with the archdiocese providing scant information, bewildered and angered parishioners, many of whom refused to believe the allegations.
Now, more than 12 years later, a clearer understanding of what the three priests were accused of doing, and how the archdiocese responded, has emerged from internal church documents that George ordered released last week.
Kealy admitted to smoking marijuana and drinking with boys in the 1970s, and the church found he "engaged in acts of sexual misconduct with a minor," according to the files. Bowman allegedly abused at least seven children, including forcing a seventh-grade boy to perform oral sex on him. Calicott, according to his file, allegedly engaged in oral sex with two boys, ages 12 and 14.
Their once-secret files are among those the archdiocese released about 36 priests accused of sexually abusing children. They contain about one-fourth of the more than 15,000 pages of documents and provide details into how Kealy, Bowman and Calicott questioned their accusers' accounts and challenged policies the archdiocese used to remove them from ministry. None of the three was charged criminally.
While the files for the three priests contain thousands of pages, they are heavily redacted in places and do not include victims' statements, which often provide gut-wrenching accounts of the abuse they suffered.
Instead, they include sterile paragraph-long summaries of the victims' accusations, which the archdiocese said was done, in part, to protect the identities of the victims.
"Victims are free to choose to disclose information concerning their allegation; however that is not a choice the archdiocese should make on their behalf," the church said in a statement Tuesday.
By comparison, more than two dozen priest files released by victims' lawyers in January, as part of a settlement with the archdiocese, contained more complete accounts. For instance, those files included an email exchange in which an accused priest told a victim he would do whatever he could to help victims find peace because "I was part of an evil system."
Victims and their advocates told the Tribune they were frustrated and disappointed by the release of what they see as sanitized files aimed at shoring up the Roman Catholic Church's image as it tries to put the scandal behind it.
One of Bowman's victims, who was allegedly abused in the 1960s when he was an 11-year-old altar boy, said the archdiocese should have provided a more exhaustive account of the allegations against the priests. He said the archdiocese should not have blacked out details that may have cast priests and the church in a more negative light.
"I am very disappointed at the information released by the church," said the victim, who asked not to be identified by name.
Lawyer Jeff Anderson, who negotiated January's document release, said the church's release of the files without any outside scrutiny makes it impossible to determine what was withheld or if church officials were misleading the public by issuing "half truths." He said that among the files he had reviewed, Kealy's was one of the most troubling.
Under Cardinal Joseph Bernardin, Robert "Bob" Kealy was a high-ranking lawyer who served on the committee that handled sex abuse cases within the church. As chancellor in the 1980s and early 1990s, he wrote letters informing priests they were being placed on leave because of abuse allegations.
Then in 1992, "a young adult male" accused Kealy of making a sexual advance at a party. Kealy would later dispute some of the details, but Bernardin — handling the matter himself — arranged for Kealy to resign as chancellor.
"This allegation was of great concern to Cardinal Bernardin since Bob was playing a major role in dealing with priests accused of misconduct with minors," according to a memo between church officials. "It was determined that Bob needed to leave the Chancellor's Office quickly and quietly."
Bernardin moved Kealy from the chancellor's office in March 1992 to Immaculate Conception Church in Highland Park, church documents show.
In June 2001, a man accused Kealy of grabbing his crotch in the 1970s, when he was 15 or 16 years old. At the time, Kealy was pastor at St. Germaine Church in Oak Lawn. Kealy, according to church documents, admitted he used poor judgment by drinking with boys at the rectory and, on one occasion, smoking marijuana with them. But he said "nothing of a sexual nature ever occurred," according to the files.
A church board reviewed the accusations and found no "reasonable cause to suspect" Kealy of child sex abuse. The review board, however, took a second look at the accusations in March 2002 after the man told church officials another person could corroborate his story and he threatened to go to the media.
Days later, the review board reversed its earlier decision and found there was reasonable cause to believe sexual misconduct had occurred. Kealy, according to records, then admitted to "two other instances of abuse with minors," though he later said the church misunderstood his comments. He insisted he did not abuse anyone.
By then, Kealy was pastor of Sts. Faith, Hope and Charity Church, a wealthy and prominent North Shore parish. He resigned from the parish that day.
In the documents, Kealy wrote to a bishop he had resigned from the parish for the good of the church and because of an "environment of media hysteria" that would hamper his ability to effectively do his job.
George determined that Kealy could never return to parish ministry where he would be around children. Kealy asked George to reassess his findings, but the cardinal would not budge.
In April 2006, Kealy resigned from the archdiocese.
Now in his mid-60s and working as a lawyer, Kealy could not be reached for comment. His lawyer, Joseph V. Roddy, said Kealy objected to the release of his file.
"He is a wonderful man and he has consistently denied he ever abused anyone," Roddy said.
R. Peter Bowman was 73 when he was removed from ministry in May 2002 after church officials found that he had sexually abused a boy more than 45 years earlier. Although he was retired at the time, he still sometimes said Mass at a Lincoln Park church.
George said it was a difficult decision because Bowman was "someone whom I know and I respect." Bowman had served as a top deputy to both George and Bernardin.
The newly released documents for the first time detail a pattern of alleged child sex abuse over many years by Bowman. The documents also show that the church struggled to monitor Bowman, who repeatedly ignored orders restricting his activities by holding Mass at his home, leaving his residence without reporting where he was going and spending time in homes where they were children.
He even regularly urinated on his log sheets "to avoid accountability," according to the documents.
"There is no way to verify the extent of the violations ... because of his repeated deceptions and disappearances," according to the documents.
Between 2000 and 2012, at least 11 people alleged that Bowman had sexually abused them, with most of the alleged abuse occurring from the 1950s to at least the 1980s, according to the documents.
The archdiocese found seven credible accusations of child sex abuse, when the victims were between 8 and 16 years old. The alleged abuse included kissing, genital fondling and oral sex in various churches, at a rectory and during out-of-state trips.
Bowman, in the church documents, maintained his innocence.
"I have never acted with any intent, purpose, desire, lust, or motive for sexual gratification with any child," he wrote to George in December 2002.
In a July 2009 letter to George, Bowman wrote that it was his "fondest wish to remain a priest until my dying day." Bowman got his wish. In spite of all the findings, Bowman was not laicized, meaning he remained a priest until his death in April 2011.
The 15-year saga of John Calicott finally ended in 2009 when he was laicized and ousted from the priesthood. The move capped a highly publicized journey that began in 1994, when Calicott was first accused of sexually abusing two boys nearly two decades earlier when he was at St. Ailbe's Parish.
Bernardin, the cardinal at the time, placed Calicott on administrative leave from Holy Angels Church. Calicott's abrupt removal, just after Easter Sunday, sparked a backlash among parishioners, many of them black, who accused Bernardin of racism and protested outside the cardinal's residence.
A year later, after he learned church review board members opposed his return to ministry, Calicott threatened that his supporters would follow him. "All I'm gonna tell you is it's gonna blow — these people are ready," documents quote Calicott as saying. "I will rot before I kiss their white (expletive) — I tried to cooperate."
The review board and Bernardin, then battling cancer, were ultimately swayed and reinstated Calicott later in late 1995.
For the next nearly seven years, Calicott served at Holy Angels, despite complaints that he was too involved with a church Boy Scouts troop.
After the U.S. Conference of Catholic Bishops adopted a zero-tolerance policy for child abuse, Calicott was pulled from ministry for the second time, in June 2002. Still, he often returned to his parish and was even discovered teaching sex education at Holy Angels in 2004.
It was then that David Lasley went public with allegations of abuse. Lasley had kept boyhood diaries as well as letters he said Calicott had written to him decades earlier. Lasley had supported Calicott's return to ministry but he now was no longer convinced the archdiocese was fulfilling its promise to monitor the priest.
In an effort to return to his ministry, Calicott went through a church trial in 2008 and, according to archdiocese records, was found guilty of sexual abuse of minors. He was laicized the following year. Four men have accused Calicott, now 67, of abuse that dates to the mid-1970s, the files show.
The files have references to Calicott admitting misconduct, but he later insisted he never confessed. He could not be reached for comment for this story.
Lasley, on Tuesday, said he had read about one-quarter of Calicott's 2,400-page file. Lasley, a computer consultant, said the archdiocese should not have blacked out or summarized specifics of his allegations.
"In my opinion the most important thing is the truth," Lasley said. "From what I've seen so far, not all the truth is there."
Contact: cmgutowski@chicagotribune.com