COLOGNE (GERMANY)
Archdiocese of Cologne [Cologne, Germany]

March 18, 2021
[Google translation is followed by the German text.]
Cardinal Woelki releases the responsible persons named in the report
Independent study on dealing with sexualised violence in the Archdiocese of Cologne presented
At a press conference, Kerstin Stirner presented the "Independent study on dealing with sexual violence in the Archdiocese of Cologne" commissioned by Archbishop Rainer Maria Cardinal Woelki. The report covers the period from 1975 to 2018 and examines 236 file processes in detail with the aim of identifying any existing deficits and legal violations as well as those responsible as specifically as possible.
As a first reaction, Cardinal Woelki temporarily released the named persons from their duties: Auxiliary Bishop Dr. Dominikus Schwaderlapp and Official Dr. Günter Assenmacher.
As Cardinal Woelki had announced several times in advance, his main concern in coming to terms with the work was to create clarity and – as far as possible – justice for those affected by sexual abuse. Following the presentation of the report by the lawyers, Cardinal Woelki received a copy of the report. The experts handed another one over to Peter Bringmann-Henselder from the Archdiocese's Advisory Board, who said: "As those affected, we had to wait long, too long for this important step in clarification. But today I am glad that at least this first promise was kept. "
After handing over the report, Cardinal Woelki commented on the presented results as follows: "The incidents and processes mentioned by Professor Gercke affect me deeply. Clergymen are guilty of inflicting violence on people entrusted to them. And in many cases without being punished for it and – even worse – without those affected by this violence being taken seriously and protected. This is cover-up. […] A first promise has finally been honored: to discover what was and what is. To clear up cover-up and to name those responsible. "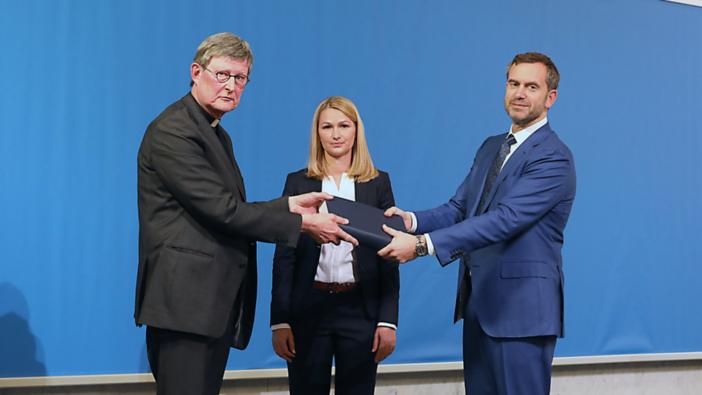 The exemptions were made on the basis of the assessments and evaluations summarized by Prof. Gercke. In the next few days, personal appraisals will follow in order to clarify the consequences of the report for the named responsible persons.
At the press conference, Professor Gercke presented the methodology and structure of the 800-page report. His assessment of the handling of cases of abuse in the Archdiocese of Cologne within this period: "We came across a system of incompetence, a lack of legal clarity, a lack of control options and a lack of transparency, which in any case favored secrecy and in which many people were involved, even outside the archdiocese Cologne. Accordingly, one should not speak of "systematic cover-up" by those responsible for the Archdiocese of Cologne, but of "systemic or systemic cover-up".
The members of the Advisory Board were the first to receive the report. From 1 p.m. today, the report will be made fully accessible to the public on the Archdiocese's website. On March 23, after reading and evaluating the report, there will be a second press conference at which further consequences will be presented, especially in the areas of further processing, intervention and prevention. Then Cardinal Woelki, who received the report today, will join his Vicar General Dr. Markus Hofmann can comment in more detail on the content and consequences of the report. This procedure was agreed upon when the contract was placed in order to prevent conflicts of interest and influence. An invitation to the press conference on March 23rd will be sent separately.
[German text.]
Kardinal Woelki stellt im Gutachten genannte Verantwortungsträger frei
Unabhängige Untersuchung zum Umgang mit sexualisierter Gewalt im Erzbistum Köln vorgestellt
Die Kölner Strafrechtsexperten Prof. Dr. Björn Gercke und Frau Dr. Kerstin Stirner haben in einer Pressekonferenz die vom Kölner Erzbischof Rainer Maria Kardinal Woelki in Auftrag gegebene "Unabhängige Untersuchung zum Umgang mit sexualisierter Gewalt im Erzbistum Köln" vorgestellt. Das Gutachten behandelt den Zeitraum von 1975 bis 2018 und untersucht 236 Aktenvorgänge im Detail mit dem Ziel, etwa bestehende Defizite und Rechtsverstöße sowie die hierfür Verantwortlichen möglichst konkret zu benennen.
Als erste Reaktion stellte Kardinal Woelki die dabei genannten Personen von ihren Aufgaben vorläufig frei: Weihbischof Dr. Dominikus Schwaderlapp und Offizial Dr. Günter Assenmacher.
Wie Kardinal Woelki im Voraus mehrfach angekündigt hatte, ging und geht es ihm bei der Aufarbeitung vor allem darum, für die Betroffenen sexuellen Missbrauchs Klarheit und – soweit das möglich ist – Gerechtigkeit zu schaffen. Im Anschluss an die Vorstellung des Gutachtens durch die Anwälte erhielt Kardinal Woelki ein Exemplar des Gutachtens. Ein weiteres übergaben die Gutachter an Peter Bringmann-Henselder vom Betroffenenbeirat des Erzbistums, der sich dazu äußerte: "Auf diesen wichtigen Schritt der Aufklärung mussten wir lange, zu lange als Betroffene warten. Aber ich bin heute froh, dass zumindest dieses erste Versprechen gehalten wurde."
Nach der Übergabe des Gutachtens nahm Kardinal Woelki zu den präsentierten Ergebnissen wie folgt Stellung: "Die von Professor Gercke genannten Vorfälle und Vorgänge treffen mich zutiefst. Geistliche haben sich schuldig gemacht, indem sie ihnen anvertrauten Menschen Gewalt zugefügt haben. Und das in vielen Fällen ohne dafür bestraft zu werden und – umso schlimmer – ohne dass die von dieser Gewalt Betroffenen ernst genommen und geschützt wurden. Das ist Vertuschung. […] Eine erste Zusage ist damit aber endlich eingelöst: Aufzudecken was war und was ist. Vertuschung aufzuklären und die Namen der Verantwortlichen zu nennen."
Die Freistellungen erfolgten auf Basis der von Prof. Gercke zusammengefassten Einschätzungen und Auswertungen. In den nächsten Tagen folgen Personalgespräche, um die sich aus dem Gutachten ergebenden Konsequenzen für die genannten Verantwortungsträger zu klären.
In der Pressekonferenz stellte Professor Gercke die Methodik und den Aufbau des über 800 Seiten langen Gutachtens vor. Seine Bilanz über den Umgang mit Missbrauchsfällen im Erzbistum Köln innerhalb dieses Zeitraums: "Wir sind auf ein System der Unzuständigkeit, der fehlenden Rechtsklarheit, der fehlenden Kontrollmöglichkeiten und der Intransparenz gestoßen, das Geheimhaltung jedenfalls begünstigte und an dem viele Beteiligte mitwirkten, auch außerhalb des Erzbistums Köln. Dementsprechend dürfte nicht von "systematischer Vertuschung" durch Verantwortungsträger des Erzbistums Köln zu sprechen sein, wohl aber von "systembedingter oder systeminhärenter Vertuschung"
Die Mitglieder des Betroffenenbeirats erhielten als erste das Gutachten. Ab heute 13 Uhr wird das Gutachten dann auf der Website des Erzbistums für die Öffentlichkeit vollständig zugänglich gemacht. Am 23. März gibt es, nach der Lektüre und Auswertung des Gutachtens, eine zweite Pressekonferenz, bei der weitere Konsequenzen vorgestellt werden, vor allem in den Bereichen weitere Aufarbeitung, Intervention und Prävention. Dann wird Kardinal Woelki, der das Gutachten heute erhalten hat, gemeinsam mit seinem Generalvikar Dr. Markus Hofmann detaillierter zu den Inhalten und Konsequenzen des Gutachtens Stellung nehmen können. Diese Vorgehensweise war schon bei der Beauftragung so vereinbart, um Interessenskonflikte und eine Einflussnahme zu verhindern. Eine Einladung zur Pressekonferenz am 23. März erfolgt gesondert.
https://www.erzbistum-koeln.de/rat_und_hilfe/sexualisierte-gewalt/studien/unabhaengige-untersuchung/