BUFFALO (NY)
Buffalo News [Buffalo NY]

February 24, 2021
By Jay Tokasz
[Photo above: Retired Buffalo Diocese Auxiliary Bishop Edward M. Grosz, left, and retired Bishop Richard J. Malone have to hire their own lawyers to defend themselves against a lawsuit filed by the New York State Attorney General's Office. -Derek Gee]
Two retired bishops from the Buffalo Diocese will have to pay for their own defense against a state Attorney General's Office lawsuit that accuses them of protecting priests accused of child sex abuse.
U.S. Bankruptcy Judge Carl L. Bucki rejected the diocese's request to retain a Buffalo law firm to represent retired Bishop Richard J. Malone and retired Auxiliary Bishop Edward M. Grosz, both of whom are individually named, along with the diocese, in a lawsuit brought by Attorney General Letitia James in November.
In a ruling late Tuesday, Bucki said the diocese has "no obligation" to retain the Lippes Mathias Wexler Friedman law firm on behalf of the two bishops, who retired prior to the diocese's Chapter 11 bankruptcy filing in 2020.
Bucki did allow the diocese to hire Jones Day, a multinational law firm that charges up to $1,250 per hour, for its services as its own special counsel for the attorney general's lawsuit.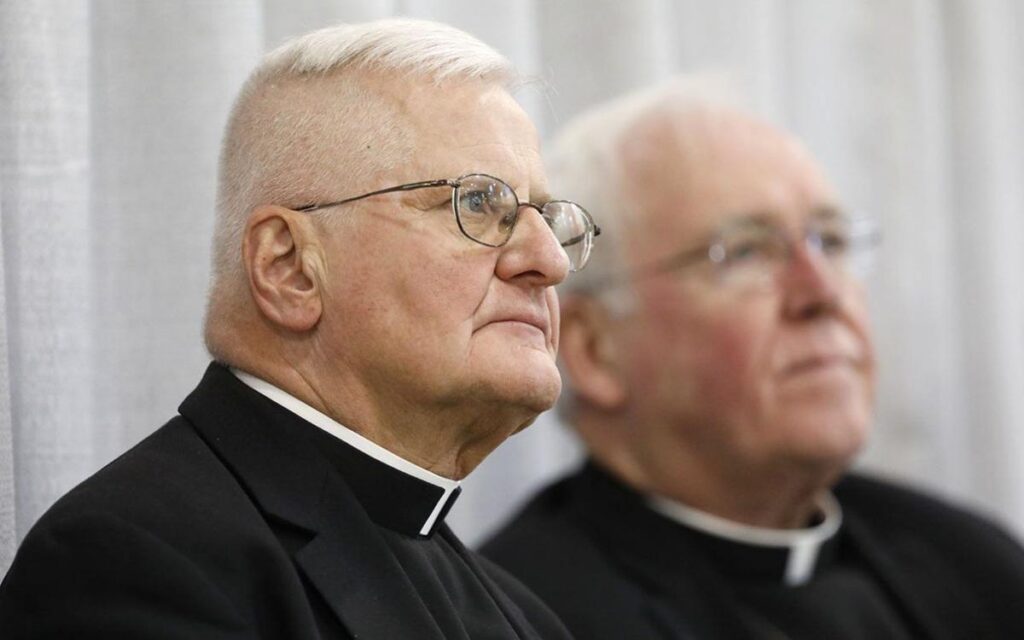 A creditor's committee that represents survivors of childhood sex abuse in the bankruptcy case opposed both diocese requests to hire additional lawyers, arguing that they would deplete assets and that the diocese shouldn't be fighting the attorney general's lawsuit.
The diocese is required under bankruptcy rules to get court approval for any new expenditures, such as the hiring of outside professionals.
James' lawsuit alleges that the diocese, as well as Malone and Grosz individually, protected more than two dozen priests accused of abuse by not referring their cases to the Vatican for potential removal from the priesthood, per the Catholic Church's policies and procedures. While not seeking monetary damages, the lawsuit asks for a court injunction that would allow for five years of outside monitoring of the diocese's efforts to investigate abuse allegations and enforce policies aimed at preventing a culture of protecting abusers.
Bucki said he found no reason to deny the diocese's request to employ Jones Day.
"Because the diocese has shown that Jones Day does not hold or represent an adverse interest, is disinterested, and is otherwise qualified to provide representation, we must defer to the debtor in its selection of counsel," the judge said in his order.
Jones Day, which has a track record of representing Catholic and other religious organizations in civil cases, began working on the diocese's defense against the attorney general's lawsuit shortly after the case was filed and immediately filed court papers to have it moved from State Supreme Court to U.S. District Court Southern District of New York. The Attorney General's Office wants the case to continue in state court.
It's not clear whether Lippes Mathias Wexler Friedman will continue to represent Malone and Grosz. The lead attorney for the retired bishops, former state Attorney General Dennis Vacco, a partner at Lippes Mathias, had been representing Malone and Grosz throughout the course of the attorney general's investigation into the diocese, which began in 2018.
The diocese had argued that it was obligated under its own bylaws to pay for the defense of the retired bishops, but Bucki said in his ruling that those bylaws "provide not for the rendering or delivery of legal representation, but for indemnification."
He said the retired bishops may still have the right to seek reimbursement from the diocese's insurers for their legal costs.
https://buffalonews.com/news/local/retired-buffalo-bishops-must-pay-for-lawyers-in-defending-against-ags-lawsuit/article_6fd7c916-76b1-11eb-97cc-032ead20c684.html