KAMLOOPS (CANADA)
Kamloops This Week [Kamloops, British Columbia, Canada]

May 28, 2021
On the front page of the April 25, 2008, edition of Kamloops This Week was a story by then-reporter (and now Vancouver Sun city editor) Cassidy Olivier, with the headline, "Burial ground — or bogus?"
The story detailed claims by Kevin Annett, spokesman for the Friends and Relatives of the Disappeared, that the land surrounding the former Kamloops Indian Residential School contained the remains of children who once walked the building's halls.
Annett told KTW that not only did he have documentation to prove his allegations, but he also had eyewitnesses who would testify to witnessing several burials in the land adjacent to the residential school and the surrounding orchard.
But Annett's claims that Tk'emlups was home to a mass grave were met with stiff opposition and severe doubt by local and regional Catholic Church officials, who in 2008 told KTW his allegations rested solely on anecdotal evidence and rumour.
(Annett is also the man behind unproven claims that Queen Elizabeth and Prince Phillip took 10 children from the Kamloops Indian Residential School on a picnic in September 1964 and that the children were never seen again. The royal couple did not visit B.C. during that time, though they were in Ontario, , Quebec and Prince Edward Island in October 1964. Annett is a former United Church minister who was removed from that position in 1997. Today, he is known for rejecting Canadian governance, has established what he calls the Republic of Kanata and is a vocal opponent of COVID-19 vaccinations and pandemic-related safety measures.)
The disocvery of the remains prove Annett's claims 13 years ago — dismissed by many as inventions of his mind — were indeed factual. There have also been stories in the Tk'emlups community about missing children and deaths going back decades.
Annett and his group said the mass grave at Tk'emlups was one of 28 such sites containing the remains of Indigenous children his group had identified across Canada. Annett said his group estimated the bodies of hundreds, perhaps thousands, of children lay in those unmarked graves.
When KTW contacted the Catholic Church in 2008 about the claims, the Church stated it had no knowledge of such mass graves.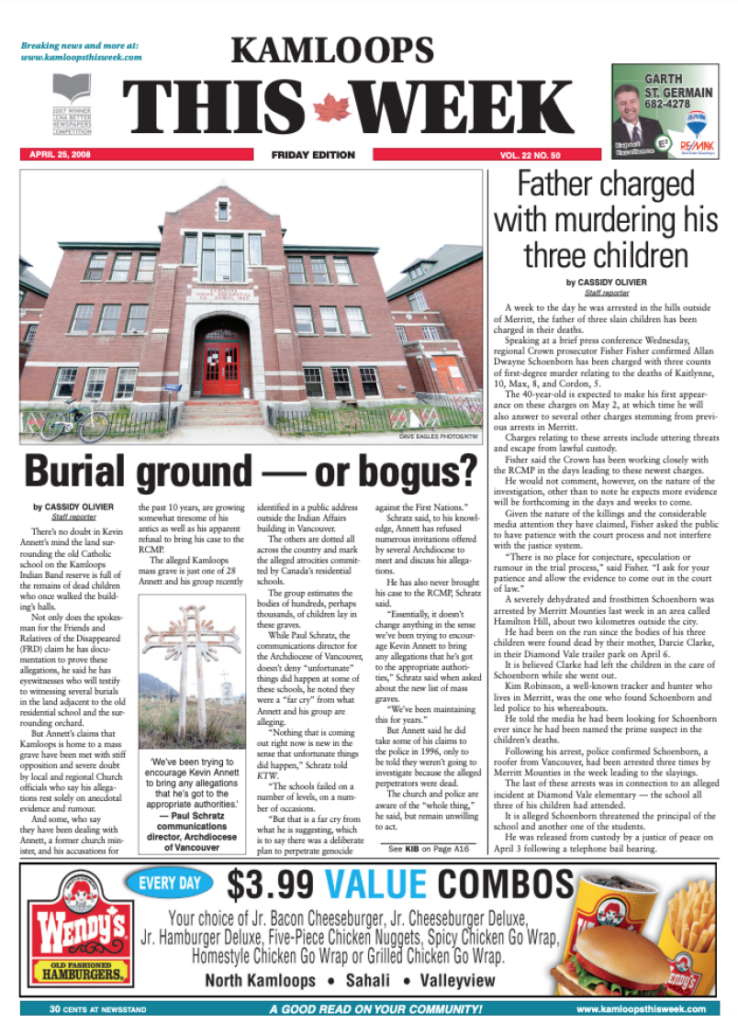 Paul Schratz, the communications director for the Archdiocese of Vancouver in 2008, told KTW the Church did not deny "unfortunate" things did happen at some of the residential schools, but he added they were a "far cry" from what Annett and his group were alleging.
"Nothing that is coming out right now is new in the sense that unfortunate things did happen," Schratz told KTW at the time. "The schools failed on a number of levels, on a number of occasions. But that is a far cry from what he is suggesting, which is to say there was a deliberate plan to perpetrate genocide against the First Nations."
While Schratz said Annett never brought his allegations to the RCMP, Annett told KTW he did take some of his claims to the police in 1996, only to be told they weren't going to investigate because the alleged perpetrators were dead.
The church and police are aware of the "whole thing," Annett said, but remained unwilling to act.
In 2008, then Tk'emlups chief Shane Gottfriedson told KTW band council would look into, while David Monroe, then-bishop of the Roman Catholic Diocese of Kamloops, said: "Until something is shown one way or the other, there is no action you can really take. I have no way of knowing [if there is a grave].
KTW has contacted the Roman Catholic Diocese of Kamloops and the Roman Catholic Archdiocese of Vancouver for comment and is awaiting responses.
https://www.kamloopsthisweek.com/news/claims-of-mass-grave-at-tk-emlups-go-back-years-1.24324160