DENVER (CO)
Colorado Politics [Denver CO]

May 12, 2021
By Michael Karlik
Senators gave preliminary approval on Wednesday to a bill that would clear the path for childhood victims of sexual abuse to sue their perpetrators or the youth-oriented organizations that supervised them, and reversed an earlier limitation on the payouts that public entities like school districts might have to provide survivors.
Senate Bill 88 would address the problem created when children who are sexually abused come forward and seek legal action years or decades after their abuse, only to find the statute of limitations has expired to pursue their claim. The proposal would create a new claim for survivors currently barred from filing lawsuits, such that they may sue their perpetrator or an institution without a deadline.
"This is one step toward survivors taking their life back, taking their personal power back," said Sen. Rhonda Fields, D-Aurora, one of the sponsors. "This bill is about survivorhood and reclaiming the years where their sexual assault may have been dismissed."
If a victim were to seek to hold an organization — such as a church or a youth program — accountable for their abuse, the institution must know or should have known there was a risk of sexual misconduct against minors and took no action.
The Senate unanimously voted to amend the bill and reverse an addition from the Appropriations Committee last week that limited damages a victim may receive for claims against a public employee or institution. The Colorado Governmental Immunity Act normally places restrictions on the ability to sue the government because of a need to prevent the disruption of government services or increase their price to taxpayers.
The amendment, from Minority Leader Chris Holbert, R-Douglas County, came after a failed attempt to limit damages survivors could seek against privately-run institutions to the lower, capped amount for public entities — under $400,000. Senate President Leroy Garcia, D-Pueblo, and Sen. Pete Lee, D-Colorado Springs, voted with all 15 Republicans to reduce the liability. Republicans charged the rest of the Democratic senators with treating victims differently based on who employed their abuser.
"I'm ashamed, I'm disappointed, that somehow because it happens in a public school, that child is less traumatized by someone who was molested in a church or in the Boy Scouts. Where is our sense of fairness?" said Sen. Don Coram, R-Montrose.
"Isn't the victim of that crime equally victimized regardless of who owned or controlled the classroom that it occurred in?" Holbert asked. "I say yes. The evil is equally evil."
Sen. Jessie Danielson, D-Wheat Ridge, the bill's other Senate sponsor, said she could not support reducing the financial responsibility for the rape of children for private organizations, and reiterated that they would not face liability if they took action to address sexual abuse.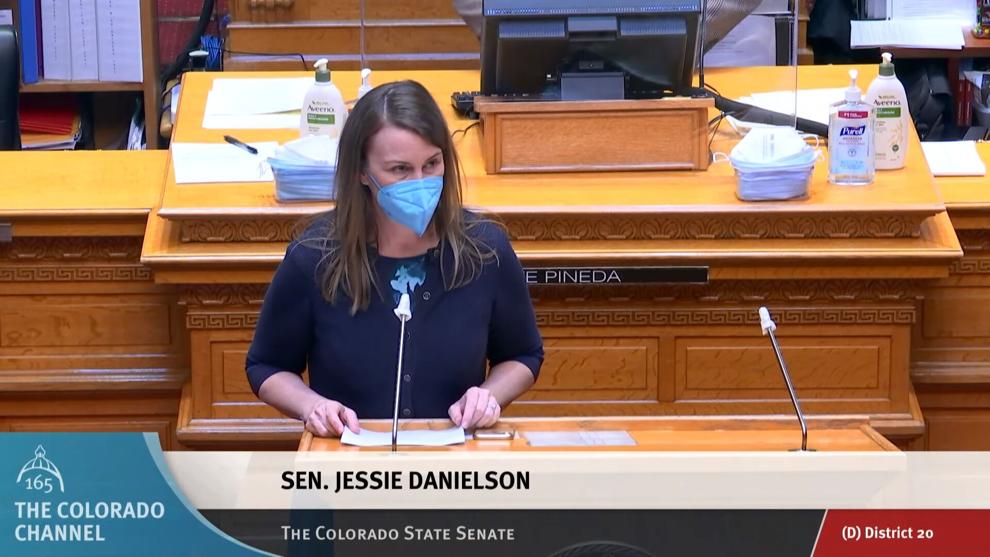 "There is a difference between public and private entities," Danielson said. "Government immunity caps exist and have existed for a very long time. It's not anything new. The reason that they are in existence is to protect public funds so that the government that provides essential and critical services to the community with no biased agenda or slant remain open."
The Senate also rejected an amendment from Sen. Paul Lundeen, R-Monument, that would have excused insurance companies from indemnifying past sex abuse claims.
SB 88 is Colorado's attempt at creating a "lookback window," a limited period of time other states have established for survivors of past abuse to file lawsuits regardless of the statute of limitations. Proponents of such revival periods note there are a variety of reasons why someone may delay the disclosure of their own sexual abuse by years or decades, including shame or a relationship to the perpetrator.
Civil lawsuits are also a means of transferring the costs of sexual assault from victims to perpetrators, and the discovery of evidence could shed light on actions to cover up systemic abuse.
The Colorado Catholic Conference, which represents the Archdiocese of Denver and the dioceses of Colorado Springs and Pueblo, is not fully behind SB 88. In a statement released on Monday, the conference cited the church's own compensation program to victims of clergy sex abuse in Colorado, and took issue with the disparate treatment of public and private institutions.
"The Colorado Catholic Conference strongly urges our elected representatives to treat all victims of childhood sexual abuse equally," read the statement. The Archdiocese did not have an immediate response to the Senate's amendments on Wednesday.
Opponents of SB 88, according to the secretary of state's lobbyist database, include the insurance industry, namely the American Property Casualty Insurance Association and the National Association of Mutual Insurance Companies. The Ute Water Conservancy District in Mesa County is also opposed due to the possible liability from its youth water festival events, as is Colorado Counties, Inc., which represents the state's county governments.
"There should ABSOLUTELY be accountability for abuse, but when it runs the risk of bankrupting a local government (and the myriad services that it provides), that could endanger the entire community," Eric Bergman, the organization's policy director, told Colorado Politics in an email.
The last time the General Assembly attempted to provide a legal remedy for past survivors was in 2006, in the wake of revelations of abuse within the Catholic Church. That proposal died in the final days of the legislative session, after the church mounted a vocal campaign similarly criticizing the bill sponsors for treating public schools differently from private institutions.
"The continuing effort of some lawmakers in the Colorado General Assembly to burden the Catholic community with retroactive civil liability for past sexual abuse cases is a textbook example of anger posing as 'justice,'" wrote then-Archbishop Charles J. Chaput.
SB 88 will now head to a final vote in the Senate. Last month, Gov. Jared Polis signed a related bill that removed the statute of limitations on civil suits for future childhood and adult victims of many types of sexual misconduct.
https://www.coloradopolitics.com/legislature/senate-gives-preliminary-approval-to-bill-for-past-sex-abuse-survivors/article_24604fa6-b362-11eb-a59b-0b2babf9def2.html