WALTHAM (MA)
Die Zeit [Hamburg, Germany]

May 28, 2021
By Doris Reisinger
When the Catholic Terence McKiernan rediscovered the church for himself in Boston in 2001, the abuse scandal was exposed there, of all places. He fights for survivors. And founds a unique archive of files
At first glance, an archivist may be an unlikely key figure in the fight against clerical child abuse. But anyone who, in a crisis in which original documents play a decisive role and are usually under lock and key, takes the trouble to bring together tangible original documents, to archive them professionally, and to make them accessible online, is undoubtedly exactly that: a key figure, without whom survivors, researchers, and media professionals in their confrontation with the crisis are nowhere near as far along as they are today.

The story of Terence McKiernan is little known. The 67-year-old, who lives in Natick, Massachusetts, in the northeastern United States, is the founder of an organization called BishopAccountability.org, and accountability is exactly what McKiernan demands from Catholic bishops: through the power of the documents that he archives. He is an unusual hero, trained as a classical philologist but uncovering scandals. I also think I have hardly ever met someone as sensitive and modest as he is.
 
I've known him for more than a year. He is part of the management team of a research project that I'm working on, initiated and financed by Notre Dame University in Indiana. The research group uses the archives of Bishop Accountability to research the history of the abuse crisis in the United States. McKiernan answered my questions about his organization in a long exchange of emails and a few video calls – open, patient, meticulous, and humble as is his style. This review was "a bittersweet experience" for him, he said. "Twenty years of my life have been about such terrible things!" But, he adds, "I've met so many wonderful people."

When the story of Bishop Accountability begins, McKiernan is in his 40s and works for a consulting firm. On the morning of September 11, 2001, he found a message in the office from his friend John, who had to go on an acquisition trip to Los Angeles that day despite his fear of flying. Only hours later, John is killed in the plane that goes into the North Tower of the World Trade Center. The shock is deep. Among other things, it moves McKiernan to quit and set up his own company within a few months. Then the next shock hits him: On January 6, 2002, the first articles in a series appear in the Boston Globe that will later be awarded the Pulitzer Prize. It's about clerical child abuse. Not somewhere far away, but on his doorstep, in Boston, in the church where he and his two children attended church services every Sunday, at St. John the Evangelist, called just St. Jean's by everyone. There, of all people, one of the worst clerical abusers in the United States, Paul Shanley, was a pastor for many years. The whole thing is not far away in time either: the perpetrators named by the Boston Globe, including Shanley, are still alive at the time, many survivors live in the area, and Cardinal Bernard Law, who was primarily responsible for the decades-long cover-up in Boston, is still the incumbent archbishop of the diocese.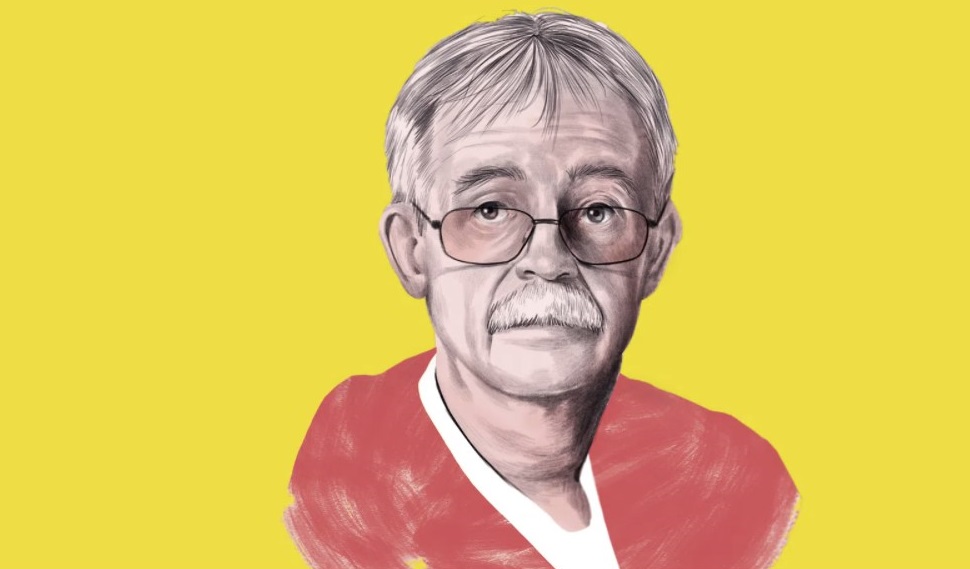 At this point, McKiernan's children are six and four years old. Because of them, he had started practicing his Catholic faith again. In the church services at St. Jean's he immersed himself in the texts and rituals of the church and rediscovered them for himself. So it happens that his faith not only had the fervor of a convert, but was also closely linked to his children. The shock of the Boston Globe's reports was correspondingly deep.
McKiernan now wears a self-made badge that says "Law Should Resign" at every Mass. He takes part in the legendary roundtables that were held weekly in Boston at the time. Troubled and committed community members invite survivors, try to find out about the state of affairs, and consider what to do next. These meetings become the origin of a movement called the Voice of the Faithful, or VOTF for short. Listening sessions are also now taking place in many parishes. At such a session, McKiernan stands up and speaks. He passionately describes what the headlines triggered in him as a father, the need he feels to protect his six-year-old daughter.

These words touch Paula and Rodney Ford. Their son Greg was six years old when Shanley began to abuse him. At the end of the event, they approach McKiernan and he immediately assists them in demanding that the archdiocese release the Shanley files. But only in an unforgettable moment on April 8, 2002 did he realize the importance of these and other files for the progress of the cases.

On that day there is a huge press conference at the Sheraton Boston Hotel, which is broadcast live. The hall is full of reporters and television cameras. The Fords and their lawyer Eric MacLeish sit by the podium. They show pictures of Greg when he was six years old, a beaming little boy romping around in the garden on a sunny day. Now the grown-up sits on the podium between his parents and has trouble controlling himself. McKiernan has taken a seat among the reporters in the room; next to him is a friend, Art Austin, who is also a victim of Shanley. Attorney MacLeish presented documents from the Shanley file. When he put up a letter that a priest named Chabot had sent to the archdiocese in 1967, the room fell silent. On three pages, Chabot describes how Shanley molested a boy in the summer of 1966. Art Austin breaks down. He stares at the letter and repeats: "They already knew, they already knew." – That moment is burned into McKiernan's memory.

That one letter, written in 1967 and presented 35 years later at a press conference, not only connects the stories of those affected who are generations apart. Abuse, powerlessness, and cover-up also come together in it, because it bears witness to the actions of the perpetrator Shanley, those of his alarmed brother Chabot, and the routine coldness of a system that filed Chabot's letter but did nothing. McKiernan is shocked and fascinated by the force, meaningfulness, and scope of a single document that had remained hidden in a personnel file for so long.

The explosive power of the archive

In an anteroom of the hotel there are CDs with copies of Shanley's files for reporters. McKiernan receives a copy from a reporter friend. He delves into every single piece of writing, from the self-indulgent circulars Shanley sent to his followers to a remarkable correspondence between Cardinal Medeiros and Cardinal Šeper in Rome that revealed a deep-seated misunderstanding of modernity and human sexuality: instead of abuse they worried about homosexuality. Instead of violence against children, they were concerned about sexual permissiveness. McKiernan is both shocked and fascinated – and something else soon becomes clear to him: As extensive as the Shanley file was, the archdiocese had withheld important documents. This was proven by other legal documents that he later got his hands on.

In the course of 2002, McKiernan is not the only one who feels estranged from VOTF. Some survivors believed that the organization was instrumentalizing the abuse issue for their own reform agenda. In addition, the organization, which was eyed nervously by the episcopal side, in the eyes of some became too diplomatic over time. Eventually there were two spin-offs from VOTF. One of them, founded by Paul Baier, was Survivors First; McKiernan joined and initially founded an organization under its umbrella whose aim was to document clerical child abuse as comprehensively as possible by collecting documents. Its name: BishopAccountability.org.

The time was ideal. Soon after Bishop Accountability was founded, McKiernan received additional documents, including from lawyers, some of whom had already fought for church documents to be handed over to the court in the 1980s. Survivors also entrusted documents to the archive. At the same time, the research of the Boston Globe had triggered another wave of reporting. Bishop Accountability collected newspaper reports and the documents leaked and published in newspapers. For example, in April 2002 the radio station KFI came into possession of an email exchange between Cardinal Mahony and his closest confidantes. The station published the emails on its site. McKiernan downloaded them. They offered a deep insight into the emotional life of a cardinal who was worried about his reputation and who discussed with his closest colleagues communication strategies about accused priests in his diocese. An annotated reader's edition of these emails was one of the first documents McKiernan published in 2003 on the newly created BishopAccountability.org site.

In addition, McKiernan began to collect Official Catholic Directories, a kind of official personnel annual, of all dioceses in the USA back to the 1950s, as well as photos of the suspects and those responsible. On the organization's homepage a number of these documents are linked to a huge and constantly growing database which is sorted and searchable by the names of priests, dioceses, and states.

Again and again, the collection helps survivors. One of the first such cases is particularly remembered by McKiernan: Bishop Accountability had received a CD from Davenport in the American Midwest with documents from the files of a priest named James Janssen. Bishop Accountability put the files online in August 2004. Survivors in Davenport accessed them and thus had more of a hand in the ongoing proceedings against Janssen and the diocese. The diocese had been warned about Janssen as early as 1948, before his first assignment. Nevertheless, he worked as a priest in 14 parishes for 42 years and was a pastor for a total of 23 years. He was a member of the staff council for 13 years, a member of the council of priests for a period, and a boy scout chaplain for 10 years. It wasn't until 2004 that he was laicized.

In McKiernan's eyes, two documents stick out from Janssen's file: a letter with a diocesan coat of arms and signature, in which a future bishop solemnly swears secrecy about Janssen's abuse, and a heartbreaking affidavit in which a survivor describes the orgies to which Janssen and the other priests present had forced him. Another outstanding document comes from the archive of the Servants of the Paraclete, an order that has treated delinquent priests for decades. It is the record of a meeting at which the order and the local archbishop agreed to allow priests in therapy to minister in the surrounding parishes. As a result of this agreement, hundreds, if not thousands, of children have been molested in Santa Fe.

Today, Bishop Accountability is the world's largest publicly available archive on clerical child abuse in the Catholic Church. Before and beyond all church reform efforts, it pursues a single goal: to get as comprehensive and precise a picture of clerical child abuse as possible by collecting and organizing documents. Behind this is not only a sober skepticism about all the common narratives of the so-called abuse crisis, but two main concerns: transparency about what happened and accountability for those who are responsible for it. Whoever shares these goals will find what they are looking for at Bishop Accountability and are welcome there: survivors and their relatives, researchers from all disciplines, media professionals, whistleblowers, lawyers, conservatives and reformists alike.

Only part of the collection has been digitized and can be found on the Internet. The greater part of the archive is in paper form: tens of thousands of folders, millions of paper pages. Sorting all of this and constantly updating it is a lot of work. Today, Bishop Accountability has three other employees besides McKiernan: Anne Barrett Doyle, Suzy Nauman, and Steve Sheehan. They work in Waltham, Massachusetts, not far from McKiernan's home. The NGO is financed through donations. It is important to McKiernan that his organization works ethically and legally. At the same time, he is aware of the explosive power of the archive. He speaks of "religiously coming to terms with the past" [Vergangenheitsbewältigung] and makes an analogy to the German Stasi files. Like them, "the church records are the remnants of a totalitarian system of control and surveillance. Although owned by the men who committed the crimes, they actually belong to the victims of those crimes."
DORIS REISINGER,
37 years old, researches in the department of Catholic theology at the Goethe University in Frankfurt am Main. She is a Fellow of the Gender, Sex and Power research group at Notre Dame University in the USA. She has just published a book together with Christoph Röhl: Only truth saves. The abuse in the Catholic Church and the Ratzinger system.
CHRIST & WORLD SERIES
How can the process work properly?
Shining examples of coming to terms with the process – they also exist in the abuse crisis of the Catholic Church. Long before the time when sexual violence by priests came to the public in Germany. The author and scholar Doris Reisinger presents three who have done pioneering work. Part 1 dealt with the canon lawyer Thomas Doyle, who recognized the extent of the abuse scandal in the USA as early as 1984; even then he wrote a manual, which the US bishops did not use (C&W No. 20/21). Part 2 was dedicated to the Irish doctor and religious woman Maura O'Donohue, who died in 2015, and who had already drawn attention to the sexual abuse of women religious in 1994 (C&W No. 21/21). The founder of the Bishop Accountability Archive, Terence McKiernan, is the third member of the group through whom Doris Reisinger tells how the process can be moved forward.
Original German text:
Missbrauchsskandal der Kirche
Das stille Gewissen
Als der Katholik Terence McKiernan 2001 in Boston die Kirche neu für sich entdeckt, fliegt ausgerechnet dort gerade der Missbrauchsskandal auf. Er kämpft für die Betroffenen. Und gründet ein einzigartiges Aktenarchiv.
Von Doris Reisinger
28. Mai 2021, 8:00 UhrAktualisiert am 30. Mai 2021, 14:07 UhrErschienen in Christ & Welt5 Kommentare
AUS DER ZEIT NR. 22/2021
Missbrauchsskandal der Kirche: "20 Jahre meines Lebens drehten sich um solch schreckliche Dinge!", sagt Terence McKiernan. Aber: "Ich habe so viele wunderbare Menschen getroffen."
"20 Jahre meines Lebens drehten sich um solch schreckliche Dinge!", sagt Terence McKiernan. Aber: "Ich habe so viele wunderbare Menschen getroffen." © Illustration: Sören Kunz/​WILDFOXRUNNING
Auf den ersten Blick mag ein Archivar eine unwahrscheinliche Schlüsselfigur im Kampf gegen klerikalen Kindesmissbrauch sein. Aber wer sich in einer Krise, in der Originaldokumente eine entscheidende Rolle spielen und meist unter Verschluss sind, die Mühe macht, greifbare Originaldokumente zusammenzuführen, fachgemäß zu archivieren und online zugänglich zu machen, ist zweifellos genau das: eine Schlüsselfigur, ohne die Betroffene, Forschende und Medienschaffende in ihrer Auseinandersetzung mit der Krise längst nicht so weit wären, wie sie es heute sind.
Die Geschichte von Terence McKiernan ist kaum bekannt. Der 67-Jährige, der in Natick im Bundesstaat Massachusetts im Nordosten der USA lebt, ist der Gründer einer Organisation namens Bishop Accountability. Übersetzt heißt Accountability Rechenschaftspflicht – und genau diese fordert McKiernan von katholischen Bischöfen ein: durch die Kraft von Dokumenten, die er archiviert. Dabei ist er ein außergewöhnlicher Held, nicht nur weil hier ein studierter Altphilologe Skandale aufdeckt. Ich glaube, ich habe kaum je einen so sensiblen und zurückhaltenden Menschen kennengelernt wie ihn.
Ich kenne ihn seit gut einem Jahr. Er gehört dem Leitungsteam eines Forschungsprojekts an, bei dem ich mitarbeite. Initiiert und finanziert wird es von der Notre Dame University in Indiana. Die Forschungsgruppe nutzt das Archiv von Bishop Accountability, um zur Geschichte der Missbrauchskrise in den USA zu forschen. In einem langen Mail-Wechsel und einigen Videogesprächen hat McKiernan meine Fragen zu seiner Organisation beantwortet. So offen, geduldig, akribisch und bescheiden, wie es seine Art ist. Dieser Rückblick sei "eine bittersüße Erfahrung" für ihn, sagte er. "20 Jahre meines Lebens drehten sich um solch schreckliche Dinge!" Aber, fügt er hinzu, "ich habe so viele wunderbare Menschen getroffen".
Als die Geschichte von Bishop Accountability beginnt, ist McKiernan Mitte 40 und arbeitet in einem Beratungsunternehmen. Am Morgen des 11. September 2001 findet er im Büro eine Nachricht von seinem Freund John, der an diesem Tag trotz Flugangst zu einer Akquisereise nach Los Angeles aufbrechen muss. Nur Stunden später kommt John in dem Flugzeug ums Leben, das in den Nordturm des World Trade Center fliegt. Der Schock sitzt tief. Er bewegt McKiernan unter anderem dazu, zu kündigen. Binnen weniger Monate stellt er sein eigenes Unternehmen auf die Beine. Da trifft ihn der nächste Schock: Am 6. Januar 2002 erscheinen im Boston Globe die ersten Texte einer Artikelserie, die später mit dem Pulitzerpreis ausgezeichnet werden wird. Es geht um klerikalen Kindesmissbrauch. Nicht irgendwo weit weg, sondern vor seiner Haustür, in Boston, in der Kirche, in der er mit seinen beiden Kindern jeden Sonntag am Gottesdienst teilnahm, in St. John the Evangelist, von allen nur St. Jean's genannt. Dort war ausgerechnet einer der schlimmsten klerikalen Missbrauchstäter der USA, Paul Shanley, über viele Jahre lang Pfarrer. Das Ganze ist auch zeitlich nicht weit weg: Die vom Boston Globe genannten Täter, darunter Shanley, sind zu dieser Zeit noch am Leben, viele Betroffene leben vor Ort, und der Hauptverantwortliche für die jahrzehntelange Vertuschung in Boston, Kardinal Bernard Law, ist nach wie vor der amtierende Erzbischof der Diözese.
Zu diesem Zeitpunkt sind McKiernans Kinder sechs und vier Jahre alt. Ihretwegen hatte er wieder begonnen, seinen katholischen Glauben zu praktizieren. In den Gottesdiensten in St. Jean's hat er sich in die Texte und Rituale der Kirche vertieft und sie für sich neu entdeckt. So kommt es, dass sein Glaube nicht nur die Inbrunst eines Neubekehrten hatte, sondern auch eng mit seinen Kindern verknüpft war. Die Berichte des Boston Globe erschüttern ihn entsprechend nachhaltig.
McKiernan trägt jetzt zu jeder Messe einen selbst gemachten Anstecker mit der Aufschrift "Law Should Resign". Er nimmt an den legendären Gesprächsrunden teil, die damals in Boston wöchentlich stattfinden. Aufgewühlte und engagierte Gemeindemitglieder laden Betroffene ein, versuchen sich über den Stand der Dinge zu informieren, und beraten darüber, was nun zu tun sei. Diese Treffen werden zum Entstehungsort einer Bewegung namens Voice of the Faithful, kurz VOTF. Außerdem finden in vielen Pfarreien nun Anhörungen statt. Bei einer solchen Anhörung steht McKiernan auf und spricht. Leidenschaftlich schildert er, was die Schlagzeilen in ihm als Vater ausgelöst haben, welchen Drang er fühlt, seine sechsjährige Tochter zu beschützen.
Diese Worte berühren Paula und Rodney Ford. Ihr Sohn Greg war sechs Jahre alt, als Shanley begann, ihn zu missbrauchen. Am Ende der Veranstaltung kommen sie auf McKiernan zu und sofort unterstützt er sie dabei, die Freigabe der Shanley-Akten von der Erzdiözese zu fordern. Aber erst in einem unvergesslichen Moment am 8. April 2002 wird ihm klar, welche Bedeutung diese und andere Akten für die Aufarbeitung der Fälle haben.
An diesem Tag findet eine riesige Pressekonferenz im Sheraton Boston Hotel statt, die live übertragen wird. Der Saal ist voller Reporter und Fernsehkameras. Auf dem Podium sitzen die Fords und ihr Anwalt Eric MacLeish. Sie zeigen Bilder von Greg, als er sechs Jahre alt war, ein strahlender kleiner Junge, der an einem sonnigen Tag im Garten herumtobt. Nun sitzt der mittlerweile Erwachsene zwischen seinen Eltern auf dem Podium und hat Mühe, sich zu beherrschen. McKiernan hat zwischen den Reportern im Saal Platz genommen, neben ihm ein Freund, Art Austin, auch er ein Opfer Shanleys. Der Anwalt MacLeish präsentiert Dokumente aus der Shanley-Akte. Als er einen Brief auflegt, den ein Priester namens Chabot schon 1967 an die Erzdiözese geschickt hatte, wird es still im Saal. Auf drei Seiten beschreibt Chabot, wie Shanley im Sommer 1966 einen Jungen missbraucht. Da bricht Art Austin zusammen. Er starrt auf den Brief und wiederholt: "Sie wussten es längst, sie wussten es längst." – Dieser Moment brennt sich in McKiernans Gedächtnis ein.
Jener eine Brief, geschrieben 1967, 35 Jahre später auf einer Pressekonferenz präsentiert, verbindet nicht nur die Geschichten Betroffener, die Generationen voneinander entfernt sind. In ihm kommen auch Missbrauch, Ohnmacht und Vertuschung zusammen, denn er zeugt vom Handeln des Täters Shanley, von dem seines alarmierten Mitbruders Chabot und von der routinierten Kälte eines Apparates, der Chabots Brief abheftete, aber nichts unternahm. McKiernan ist erschüttert und fasziniert von der Wucht, Aussagekraft und Tragweite eines einzigen Dokuments, das so lange in einer Personalakte verborgen geblieben war.
Die Sprengkraft des Archivs
In einem Vorraum des Hotels liegen CDs mit Kopien von Shanleys Akten für Reporter aus. Von einem befreundeten Reporter erhält McKiernan eine Kopie. Er vertieft sich in jedes einzelne Schriftstück, von den selbstverliebten Rundbriefen, die Shanley an seine Anhänger schickte, bis hin zu einem bemerkenswerten Briefwechsel zwischen Kardinal Medeiros und Kardinal Šeper in Rom, der ein tief sitzendes Missverständnis der Moderne und der menschlichen Sexualität offenbarte: Anstatt um Missbrauch sorgten sie sich um Homosexualität. Anstatt der Gewalt gegen Kinder beunruhigte sie sexuelle Freizügigkeit. McKiernan ist gleichermaßen geschockt wie fasziniert – und noch etwas wird ihm bald klar: So umfangreich die Shanley-Akte auch war, die Erzdiözese hatte wichtige Dokumente zurückbehalten. Das bewiesen andere juristische Dokumente, die er später in die Finger bekam.
Im Laufe des Jahres 2002 fremdelt nicht nur McKiernan mit VOTF. Manche Betroffene glaubten, die Organisation instrumentalisiere das Missbrauchsthema für ihre eigene Reformagenda. Außerdem wurde ihnen der Verein, der von bischöflicher Seite nervös beäugt wurde, mit der Zeit zu diplomatisch. Schließlich gab es zwei Abspaltungen von VOTF. Einer von ihnen, der von Paul Baier ins Leben gerufenen Survivors First, schloss sich McKiernan an und gründete zunächst unter ihrem Dach eine Organisation, deren Ziel es sein sollte, klerikalen Kindesmissbrauch durch das Sammeln von Dokumenten so umfassend wie möglich zu dokumentieren. Ihr Name: BishopAccountability.org.
Die Zeit war ideal. Schon bald nach der Gründung von Bishop Accountability erhielt McKiernan weitere Unterlagen, unter anderem von Anwälten, die teils schon in den Achtzigern die Herausgabe kirchlicher Unterlagen vor Gericht erstritten hatten. Auch Betroffene vertrauten dem Archiv Unterlagen an. Zugleich hatten die Recherchen des Boston Globe eine weitere Welle von Berichterstattung ausgelöst. Bishop Accountability sammelte Zeitungsberichte und in Zeitungen veröffentlichte geleakte Dokumente. Beispielsweise kam der Radiosender KFI im April 2002 in den Besitz eines E-Mail-Austauschs zwischen Kardinal Mahony und seinen engsten Vertrauten. Der Sender veröffentlichte die Mails auf seiner Seite. McKiernan lud sie herunter. Sie boten einen tiefen Einblick in das Gemütsleben eines Kardinals, der Sorgen um seine Reputation hatte und mit seinen engsten Mitarbeitern die Kommunikationsstrategien über beschuldigte Priester seiner Diözese absprach. Eine kommentierte Leserausgabe dieser E-Mails war schließlich eines der ersten Dokumente, die McKiernan 2003 auf der neu geschaffenen Seite BishopAccountability.org veröffentlichte.
Außerdem begann McKiernan Schematismen, eine Art offizielles Personalverzeichnis, aller Diözesen der USA bis zurück in die 1950er-Jahre zu sammeln sowie Fotos von Beschuldigten und Verantwortlichen. Auf der Homepage der Organisation sind eine Reihe dieser Dokumente mit einer riesigen und ständig weiter wachsenden Datenbank verknüpft, die nach Namen von Priestern, Diözesen und Bundesstaaten sortiert ist und durchsucht werden kann.
Immer wieder hilft die Sammlung Betroffenen. Einer der ersten solcher Fälle ist McKiernan besonders in Erinnerung geblieben: Aus Davenport im Mittleren Westen der USA hatte Bishop Accountability eine CD mit Dokumenten aus der Akte eines Priesters namens James Janssen erhalten. Sie stellten die Dateien im August 2004 online. Betroffene in Davenport griffen darauf zu und hatten damit in laufenden Verfahren gegen Janssen und die Diözese mehr in der Hand. Die Diözese war schon 1948, noch vor seinem ersten Einsatz, vor Janssen gewarnt worden. Dennoch arbeitete er 42 Jahre lang als Priester in 14 Pfarreien und war insgesamt 23 Jahre lang Pfarrer. Er war 13 Jahre lang Mitglied des Personalrats, eine Zeit lang Mitglied des Priesterrats und 10 Jahre lang Kaplan der Pfadfinder. Erst im Jahr 2004 wurde er laisiert.
In McKiernans Augen ragen zwei Dokumente aus Janssens Akte heraus: ein Schreiben mit Diözesanwappen und Unterschrift, in dem ein zukünftiger Bischof feierlich Verschwiegenheit über Janssens Missbrauch schwört, und eine herzzerreißende eidesstattliche Erklärung, in der ein Betroffener die Orgien beschreibt, zu denen Janssen und andere Priester ihn gezwungen hatten. Ein anderes herausragendes Dokument stammt aus dem Archiv der Servants of the Paraclete, eines Ordens, der über Jahrzehnte straffällige Priester therapierte. Es ist das Protokoll eines Treffens, bei dem der Orden und der örtliche Erzbischof vereinbarten, die in Therapie befindlichen Priester in den umliegenden Pfarreien Gottesdienste halten zu lassen. Infolge dieser Vereinbarung wurden in Santa Fe Hunderte, wenn nicht Tausende Kinder missbraucht.
Heute ist Bishop Accountability das weltweit größte öffentlich zugängliche Archiv zu klerikalem Kindesmissbrauch in der katholischen Kirche. Vor und jenseits aller kirchlichen Reformbestrebungen verfolgt es ein einziges Ziel: durch das Sammeln und Sortieren von Dokumenten ein so umfassendes und präzises Bild klerikalen Kindesmissbrauchs zu bekommen wie möglich. Dahinter steht nicht nur eine nüchterne Skepsis gegenüber allen geläufigen Narrativen der sogenannten Missbrauchskrise, sondern es hat vor allem zwei Anliegen: Transparenz über das, was geschehen ist, und Rechenschaftspflicht für diejenigen, die die Verantwortung dafür tragen. Wer auch immer dieses Ziel teilt, wird bei Bishop Accountability fündig und ist dort willkommen: Betroffene und ihre Angehörigen, Forschende aus allen Disziplinen, Medienschaffende, Whistleblower, Anwältinnen und Anwälte, Konservative wie Reformbewegte.
Nur ein Teil der Sammlung ist digitalisiert und im Netz zu finden. Der größere Teil des Archivs liegt in Papierform vor: Zigtausende Ordner, Millionen papierner Seiten. Das alles zu sortieren und beständig zu aktualisieren ist viel Arbeit. Heute hat Bishop Accountability daher neben McKiernan drei weitere Angestellte: Anne Barrett Doyle, Suzy Nauman und Steve Sheehan. Sie arbeiten in Waltham, Massachusetts, nicht weit von McKiernans Wohnort. Finanziert wird die NGO durch Spenden. McKiernan legt Wert darauf, dass seine Organisation ethisch und rechtlich sauber arbeitet. Zugleich ist er sich der Sprengkraft des Archivs bewusst. Er spricht von "religiöser Vergangenheitsbewältigung" und stellt eine Analogie zu den deutschen Stasiakten her. Genau wie die seien "auch die Kirchenakten das Überbleibsel eines totalitären Systems der Kontrolle und Überwachung. Obwohl sie sich im Besitz der Männer befinden, die die Verbrechen begangen haben, gehören sie eigentlich den Opfern dieser Verbrechen."
DORIS REISINGER
37 Jahre alt, forscht im Fachbereich katholische Theologie der Goethe-Universität in Frankfurt am Main. Sie ist Fellow der Forschungsgruppe Gender, Sex and Power der Notre Dame University in den USA. Gerade hat sie gemeinsam mit Christoph Röhl ein Buch veröffentlicht: Nur die Wahrheit rettet. Der Missbrauch in der katholischen Kirche und das System Ratzinger.
CHRIST&WELT-SERIE
Wie geht Aufarbeitung richtig?
Leuchtende Vorbilder der Aufarbeitung – es gibt sie auch in der Missbrauchskrise der katholischen Kirche. Und zwar schon lange vor der Zeit, als sexualisierte Gewalt durch Priester in Deutschland an die Öffentlichkeit kam. Drei, die Pionierarbeit geleistet haben, stellt die Autorin und Wissenschaftlerin Doris Reisinger hier vor. Teil 1 handelte vom Kirchenrechtler Thomas Doyle, der in den USA bereits 1984 das Ausmaß des Missbrauchsskandals erkannte; schon damals verfasste er ein Handbuch, das die US-Bischöfe jedoch nicht einsetzten (C&W Nr. 20/21). Teil 2 war der 2015 verstorbenen irischen Ärztin und Ordensfrau Maura O'Donohue gewidmet, die schon 1994 auf sexuellen Missbrauch von Ordensfrauen aufmerksam machte (C&W Nr. 21/21). Der Begründer des Archivs Bishop Accountability, Terence McKiernan, ist der Dritte im Bunde, an dem Doris Reisinger erzählt, wie Aufarbeitung vorangetrieben werden kann.
https://www.zeit.de/2021/22/missbrauchsskandal-katholische-kirche-boston-terence-mckiernan-aufarbeitung/komplettansicht