Fr. David W. Bialkowski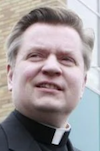 "Rumors" in 1994 by Bialkowski's former pastor of a "love affair" with two teens. Police told the diocese in 1995 they found Bialkowski with a 16-year-old boy in a car at night. Bishop Grosz was warned in the late '90s that the priest took teenage boys into his bedroom. Removed from St. John Gualbert parish in Cheektowaga in 2/11 after he was accused of touching the upper thigh of a teen and making suggestive comments to him 10 years prior. The diocese first said Bialkowski was on medical leave, then admitted in 3/11 that it was administrative leave. Two additional accusers had come forward as of 3/8/11. Included on 3/20/18 diocesan list. Found in 3/18 working as organist for a Lutheran church in Tonawanda. A lawsuit in 8/19 claims sex abuse of a boy, age 8, 1999-2000, during counseling at St. John Gualbert. Removed 5/1/20 from diocesan payroll as part of bankruptcy agreement. Per the diocese's list in 1/22 Bialkowski's case was sent to Rome.
---
Return to main database page. See abbreviations and posting policy. Send corrections.
Our Database of Publicly Accused does not state or imply that individuals facing allegations are guilty of a crime or liable for civil claims. The reports contained in the database are merely allegations. The U.S. legal system presumes that a person accused of or charged with a crime is innocent until proven guilty. Similarly, individuals who may be defendants in civil actions are presumed not to be liable for such claims unless a plaintiff proves otherwise. Admissions of guilt or liability are not typically a part of civil or private settlements. For more information, see our posting policy.