Fr. Edward R. Graff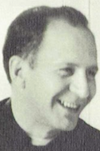 "Retired" from Allentown to TX in 1992. Sent to Paracletes in NM for treatment, allowed to minister in the Santa Fe diocese. Worked in the Amarillo diocese until 2002. Arrested in TX in 10/02; charged with abuse of a 15-year-old boy. Died in jail 11/25/02 after "an accident" while awaiting trial. At least 40 men in PA and TX alleged abuse by him. One suit settled in TX in 2003 for $275K by the Allentown diocese. One Allentown was suit in filed 7/04. In 2009 Mark Rozzi reported rape by Graff as a 13-year-old Catholic school student in 1984; he came forward after a friend said to have also been a Graff victim died by suicide. By 2016 two more friends Rozzi said Graff raped had taken their own lives. Rozzi was elected PA state rep in 2013 and went on to lead the effort to change the statute of limitations for sex crimes against children. Rozzi filed suit in 5/20. Graff was named in the 8/14/18 PA Grand Jury Report. His name was included on the Allentown diocese's 8/19/18 list. On Amarillo's list 1/31/19.
---
Return to main database page. See abbreviations and posting policy. Send corrections.
Our Database of Publicly Accused does not state or imply that individuals facing allegations are guilty of a crime or liable for civil claims. The reports contained in the database are merely allegations. The U.S. legal system presumes that a person accused of or charged with a crime is innocent until proven guilty. Similarly, individuals who may be defendants in civil actions are presumed not to be liable for such claims unless a plaintiff proves otherwise. Admissions of guilt or liability are not typically a part of civil or private settlements. For more information, see our posting policy.