"Don't Tell Anybody ... You'll Get in Trouble, and So Will I"
Lawyer Found Priest Had Abused Other Youths
Second of Three Parts
By Bob Ehlert
Star Tribune
December 12, 1988
[See also Part One and Part Three. These articles were scanned by BishopAccountability.org from a copy of the original newspapers.]
Locked up inside the stone-walled fortress of the St. Cloud Reformatory, Gregory John Riedle was more naive than frightened.
"I thought this is kind of neat. Like the movies," Greg said.
It was the summer of 1984 and he had begun serving his 21-month sentence as a result of his sexual abuse of a little girl and a burglary. He knew better than to broadcast all the reasons he was in "The Cloud," so whenever anybody asked, he played up the burglary.
What he didn't know is that there is a funny kind of communication inside prisons, and dark secrets don't live long.
"I was never scared until the first time I got pushed around," Greg said. "Somebody shoved me in the hall and they said, 'You baby raper.'"
"I said, damn, my cover's blown."
Indeed, he was right. Before the end of the summer a fellow inmate would ambush Greg in the shower, punch him in the face and break his jaw.
Outside the prison walls a Roman Catholic priest named Father Thomas Paul Adamson faced no physical dangers, but his career and reputation were now under siege. His superiors in the Archdiocese of St. Paul and Minneapolis had learned that, seven years earlier, he had begun sexually abusing Greg Riedle—a 13-year-old altar boy back in 1977.
In late June 1984 Father Tom came to visit Greg at St. Cloud. The 51-year-old priest and the 20-year-old inmate had a lot to talk about. "He wanted me to come see him, and talk to him, and give him support," Father Tom testified in his depositions.
Greg remembers it differently. To him the priest's visit was the same old theme.
"'Don't tell anybody. You'll get in trouble, and so will I.' That's what he said in a roundabout way. His eyes were going everywhere, left and right. There was hardly any eye contact. He was scared."
*
Greg had begun to think about lawsuits and compensation for the damage done to him. But he did not know where to turn.
In July 1984 his mother, Janet Riedle, went to visit one of Archbishop John Roach's closest advisers, Bishop Robert Carlson, to talk about Father Tom and what he had done to her son.
At that meeting Bishop Carlson and the Rev. Kevin McDonough—both presenting the archdiocese—asked most of the questions and offered little in the way of information, Janet said.
The Riedles brought up the medical bills they had accumulated as a result of Greg's counseling over the years.
Calling the police was mentioned, but no one took any action. And the meeting ended on sort of a philosophical note.
"Be glad you still have your son," was the way McDonough put it, according to Janet Riedle.
The comment particularly bothered Janet and made her wonder if these men dressed in black and white could really fathom what she had been through. She believed she had lost her son.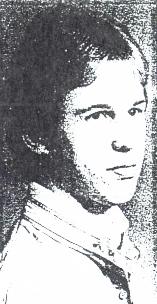 Greg Riedle in 1982 at age 18.
"I mean Greg was running (away). We didn't have Greg," she said.
"And Greg never had a life. Greg was never a happy teen-ager. Greg never had the opportunity—I would say probably from age 14 on—to do the things in the manner that healthy-minded kids can do things."
At that July 5 meeting, Carlson asked Janet to compile a list of medical expenses and arrive at a total. He offered to visit Greg in prison and to be of any help that he could.
After Carlson and McDonough met with the Riedles, they spoke with Father Tom. On July 9, 1984, Carlson mentioned the meeting in a memo to Archbishop John Roach, who heads the Archdiocese of St. Paul and Minneapolis.
In the memo, Carlson said that Father Tom had admitted his abuse of Greg and agreed with Carlson's assessment that the incident could be categorized as "first-degree criminal sexual conduct." The priest was advised that the crime might be reported to authorities in Washington County, although a "great deal will depend on what the archdiocese does with Father Adamson."
Carlson told Roach that he had instructed Father Tom to see Joseph Gendron, a Minneapolis psychiatrist who had been treating Adamson. Carlson also directed Father Tom to obtain a criminal attorney at his own expense.
"Furthermore, I told Father Adamson that I will be in contact with him after I visited with the archbishop and Bishop Watters (of the Diocese of Winona, in southern Minnesota). On Friday (July 6) I called Bishop Watters to inform him of the possible legal exposure...."
In the same memo it was disclosed that Father Tom didn't get along with the priest who then supervised him in Burnsville and that there was an archdiocese file on Father Tom that contained information about his alleged sexual involvement with another boy in 1982—an involvement Father Tom denies.
Fearing scandal, Carlson addressed the church's image in a recommendation to Roach that accompanied the July 9 memo:
"It is my recommendation, given the seriousness of our exposure, that the archdiocese posture itself in such a way that any publicity will be minimized. I would recommend that in cooperation with Bishop Watters, that Father Adamson be sent to the Paracletes in Albuquerque or to the House of Affirmation (treatment centers). It is obvious to me in dealing with Father Adamson at this time that he has little remorse other than the fact that we found something else out and completely minimizes the entire situation.

"At one point in his treatment, Dr. Gendron told me that Father Adamson will have to choose between his sexual problem and the priesthood.... I have never been convinced that Father Adamson has come to grips with his priestly responsibility."
Later in July 1984, Bishop Carlson visited Greg in prison, he said, as part of his pastoral responsibility to the youth.
Earlier Greg had sent a letter to Carlson making some financial demands, such things as a car and a college education.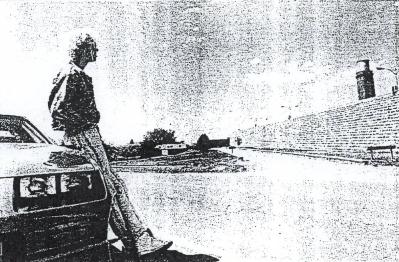 Last summer Greg revisited St. Cloud Reformatory. In the summer of 1984 he spent several months there as a result of a burglary and his sexual abuse of a little girl. Staff Photos by Joey McLeister.
Greg was reluctant to discuss the details of the abuse with Carlson during his visit, but he did talk about compensation. According to Carlson, Greg said, "Do you have an attorney? Because I have some demands."
Once again there was a discussion of the car and education. Then, according to Greg's deposition, Carlson asked how he was doing mentally and spiritually. He also made a request. "He tried to talk me out of getting involved with courts and things, which is the same thing Father Adamson tried to do," Greg said.
Carlson denies making any such request.
*
By August 1984 the archdiocese had begun consulting with one of its attorneys, Andrew Eisenzimmer. He supplied a legal opinion about the case to Carlson. A copy of the legal opinion was passed along to Bishop Watters, who at the time headed the Diocese of Winona.
Technically, Father Tom was still a priest of the Winona Diocese, which is a separate corporate entity from the archdiocese. Father Tom was serving in the archdiocese in the capacity of an "extern priest"—one who is ordained in one diocese but who ministers in another.
The archdiocese and the Diocese of Winona were in the same boat, in one sense, because Father Tom had ties to both. Nonetheless, it was the archdiocese—where Father Tom had been serving since 1975—that made pastoral appointments to the parish where the abuse took place. The legal strategy was cautious, to say the least.
"We were wary of entering into any kind of negotiations with him (Greg) where we give him what he wants and he in turn releases us from any liability, because during that time there were a number of court decisions where the finality and legal effect of releases were being challenged," said Eisenzimmer. "And we didn't feel that it would be appropriate legally to try to enter into a final negotiation with him while he was in prison. That's why the suggestion was made that he might want to consult with an attorney. Once he got out of prison, we could then deal with it in a much better situation."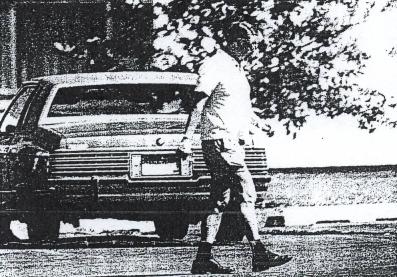 Father Thomas Adamson was living in Eau Claire, Wis., this summer. He has said that his superiors have asked him to refrain from publicly exercising his priestly function, although he still received some financial support from the Winona Diocese.
Financial issues kept coming up anyway. At the recommendation of Carlson, Father Tom had given the Riedles a check for $1,600 to cover some of the counseling expenses the Riedles had been paying for Greg.
"She (Janet) had asked for some help with some expenses that they had had. And since Father Adamson had admitted doing it, I suggested that he help out." Carlson said.
When the Riedles received the check they were afraid to cash it, fearful that accepting it might rule out any future compensation due them. They consulted a lawyer friend who, after reviewing the case, referred them to Jeffrey Anderson, a partner in the Reinhardt & Anderson law firm in St. Paul.
The Riedles showed Anderson the $1,600 check from Father Tom. Anderson advised them to "cash it, hire me, and I will look into it." They did.
By the time Anderson had begun to represent the Riedle family Greg had been transferred out of St. Cloud and into a program specifically designed for sex offenders at a prison facility in Lino Lakes.
The brash and confident Anderson became an ear to listen, a shoulder to lean on for the Riedles. The client/attorney relationship, in fact, began to replace priest/parishioner ties that Janet Riedle had relied on through the years.
Especially after December 1984.
That is when Anderson brought a lawsuit in behalf of Greg Riedle and his parents. The suit stated that the archdiocese and St. Thomas Aquinas church were negligent in their placement of Adamson, whom the Riedles alleged had "repeatedly inflicted intentional, unpermitted, harmful and offensive sexual contact" upon Greg.
What ties had remained between Janet and her church were severed by the suit
"I think we are a very litigious society, and I think the lawsuit certainly made it a very difficult situation," said Carlson, who said he was grieved because the legal matters hampered his ability to pastor to the Riedles.
*
After the suit was filed, Anderson proceeded to obtain volumes of information through the legal discovery process.
There were no criminal charges being sought against Father Tom in the case because Washington County authorities had determined that the statute of limitations had expired on his abuse of Greg.
Ground rules for civil lawsuits allow both parties to take depositions—sworn statements—in order to discover information: names, dates, documents and testimony germane to proving their case in court. Court reporters hired by the parties involved transcribe the testimony, and copies are made available to all sides in the suit.
During the discovery phase of the Riedle action, Anderson, who had very little background in the Roman Catholic Church or the tenets of its canon law, slowly began to piece together a theory that Father Tom had begun sexually abusing teenage boys soon after the priest's ordination in 1958.
"We had reason to believe that the archdiocese knew about this guy and that it had happened before," Anderson said. "We didn't know about Winona yet. Then we started to do discovery and investigation and learned that he was a priest in the Diocese of Winona, and the history went back. And then we brought in the Diocese of Winona (as a defendant in the lawsuit) in August of 1985."
Those witnesses who have been subpoenaed to a deposition are required to answer questions unless their attorney advises them not to. In the beginning of the Riedle lawsuit it had been agreed that the matter would not be made public.
"We wanted to find out what was involved," Anderson said. "They didn't want to make this thing public. Because of that we were able to obtain some materials, do some discovery, that otherwise we might not have been able to do."
Archbishop Roach, Bishop Loras Watters of Winona, Bishop Robert Carlson and many other priests and nuns were asked about Father Tom. One by one they were questioned about what they knew, when they knew it and how they dealt with allegations about Father Tom's sexual misconduct when, and if, they became aware of them.
As the information grew in Anderson's office on the 10th floor of the Meritor Tower in St. Paul, the attorney became convinced that there was a pattern of abuse by Father Tom and a cover-up by his superiors that spanned the three decades of the priest's career.
Anderson's staff had begun uncovering more and more instances in which rumors had surfaced about the priest's sexual involvement with juvenile males—most often in recreational settings, most often as a result of the priest's position of authority or influence.
If people within the church knew, they had never contacted the police to make them aware of Father Tom's sexual misconduct. Yet almost wherever Father Tom went in his career, Anderson believed, he had left behind a trail of broken boys and bewildered parents.
Some of those who tried to understand Father Tom's "special problems," as he once called them, made efforts to get him into treatment, or to remove him from the geographical area of his temptation. But those who knew made little, if any effort to do the same for his victims, or to alert others to the hazards of allowing their sons to associate with Father Tom.
*
In 1986 Anderson and Mark Wendorf, his assistant, had enough information to construct something akin to a sexual-abuse resume of Father Tom.
According to Anderson's tally in the Diocese of Winona, Father Tom allegedly had been involved with nine boys while serving in parish assignments there. Anderson bases that total on signed affidavits from alleged victims he has contacted and the admissions of abuse in Father Tom's testimony.
The abuse alleged is said to have occurred at Father Tom's assignments at a parish in southwest Minnesota; Rochester Lourdes High School; St. John's Church in Caledonia, Minn., and on occasions while assigned to St. Francis Church/St. John's School in Rochester, Minn.
Father Tom does not admit to all of the allegations.
Anderson estimates that as many as two dozen priests, nuns, bishops and parish workers eventually learned of Father Tom's sexual problems. He said that at least 15 priests in the Winona Diocese knew in the 1970s of abuse by Adamson.
Some have made known the extent of their knowledge in depositions. But how much the various priests knew for a fact, rather than just through hearsay, is unclear.
Of the two bishops Father Tom served under in the Diocese of Winona, Bishop Edward A. Fitzgerald (1958 to 1969) is deceased (information in depositions indicates he had knowledge of Father Tom's problems), and Bishop Watters (1969 to 1974) claims unspecific knowledge of an unspecific problem that plagued Father Tom.
"The only thing I had," Wasters said in a deposition, "was vague references from people who were unwilling to sign statements or to come with me to confront Father Adamson...."
*
No one knows exactly when Father Tom began abusing youths, although biographical information gives clues to why he may have abused.
Father Tom, like many other sexual abusers, was himself a victim as a youth.
Thomas Paul Adamson was born in 1933. He grew up on a dairy farm in Byron, Minn., where his 11 brothers and sisters were close and devoted to each other and their parents. He was the oldest of the sons.
In a staunch Catholic family of that size, and in that time, it wasn't a surprise that one of the five Adamson boys would become a priest.
"We always played church, and Tom was always the priest," recalls a sibling, who asked to not be identified by either sex or place in the family. "We had marshmallows for the hosts."
The parents, Paul (now deceased) and Mildred Adamson, would not think of missing a Sunday in church. There were many times when the family would be packed up on a sleigh in deep snow to get to mass.
As a teen-ager, Tom Adamson was befriended by a hired hand from another farm. The 60-year-old man sexually seduced the 15-year-old Adamson, according to the priest's medical records, which are exhibits in his depositions.
"The relationship continued occasionally over the next two years" until the man moved away, the records indicate.
No one, not even the priest himself, perhaps, could judge how the abuse would affect his later life. Like many sexual-abuse victims, and like Greg Riedle, Tom Adamson hid the abuse.
Young Adamson was one of five boys who, upon graduation from Lourdes High School in Rochester, elected to become priests. In 1951 he entered Immaculate Heart of Mary, a seminary in Winona.
There, Father Tom struggled with the priesthood and celibacy issues.
"I was thinking about marriage. I was dating a girl I had met where I worked shortly after I entered the seminary, so that was a concern," Father Tom said. His other doubts questioned his ability to preach, teach and lead people. "I couldn't sing at all, that was a big practical problem for me a long time. Caused a lot of pain."
After seminary Father Tom furthered his spiritual education at Catholic University in Washington, D.C. There he was class president and captain of the basketball team.
Not long after ordination at his home parish in Rochester in 1958, Father Tom, according to his depositions, began engaging in sexual relationships with two adult males—one a priest and one a serviceman. According to his depositions he saw each man once or twice a year.
In 1961, while serving as an assistant principal, teacher and basketball coach at a school in southwestern Minnesota, Father Tom lured an eighth-grade boy into a sexual relationship that was carried on for more than 10 years—almost until that victim entered the priesthood.
As Father Tom's career progressed from assignment to assignment in the Winona Diocese, rumors about his misconduct began to filter back to his superiors—and that often provoked reassignment.
In 1964 Father Tom was admonished by Winona's Bishop Fitzgerald to control his sexual behavior, according to a psychiatric history of Adamson taken in Hartford, Conn.
After another alleged sexual indiscretion with a boy in Rochester in 1967, Father Tom was ordered by Bishop Fitzgerald to counsel with a Rochester psychiatrist, Dr. Francis Tyce, who was a member of Father Tom's congregation. After about 15 sessions over about three months, the priest was transferred once again to another part of the diocese.
In 1969 Bishop Loras Watters assumed leadership of the Diocese of Winona—a job that included dealing with Father Tom's troubles.
Watters, in his sworn statements, has maintained that he never knew what Father Tom's specific problems were until the Greg Riedle lawsuit was brought to his attention in 1984. But Father Tom, in his deposition, said Watters confronted him in 1973 after the bishop was told a rumor about sexual misconduct involving the priest and a Rochester youth.
"I think I told him that there was a basis for it (the rumors) and that I accepted the responsibility for the wrongness of it, whatever," Father Tom said, referring to a meeting with his bishop.
Watters had driven to Rochester, unannounced, to confront the priest, Father Tom said. "(Watters) said that I should do something, some kind of counseling, and that he would consult with others as to what I should do."
At a later meeting in 1973, it was agreed that Father Tom would again begin seeing Tyce, who at the time worked with the Rochester State Hospital. After Father Tom allegedly was involved in yet another sexual-abuse incident with a boy in the spring of 1974, Tyce recommended that the priest seek therapy in Hartford at the Institute of Living.
Father Tom reluctantly agreed. Just before leaving in June 1974 for his two-month stay at Hartford, he began seeing Father Kenneth Pierre, a priest and psychologist who headed the Consultation Services Center, an agency of the Archdiocese of St. Paul and Minneapolis.
Throughout his stay at the Institute of Living in Hartford in the summer of 1974, Father Tom corresponded with Bishop Watters, Father Pierre and others.
In a June 27, 1974, letter to Watters from inside the Institution. Father Tom remarked that "the spiritual void remains.... The tight security or lack of freedom wears on me.... The persons I live with remain a problem ...
"I know there can never be a recurrence of the problem I had this spring. I don't want to be in a place like this again—never! I also am keenly aware of the possibility of automatic suspension if there is a recurrence and that says a lot to me...."
Father Tom had been quite humbled by his experience in Hartford. During visits home to Minnesota he confided in a number of his close priest friends about his psychosexual problems, but never were unsuspecting parishioners informed.
"Tom told relatives he was going away to school whenever he went away for treatment," said one of Father Tom's siblings. "One sister said once that if someone said to her that Tom walked on water she could believe that rather than this."
After repeated pleas to be discharged from the Hartford facility. Father Tom got his wish in August 1974. Having been admitted with what his attending psychiatrist, Dr. John Curran, termed a "homosexual" problem, Father Tom was released with a status that Curran said was "slightly improved."
Curran recommended to Bishop Watters that Father Tom continue to seek therapy on an outpatient basis.
*
After returning to his pastorate in Rochester in August 1974, Father Tom began seeing Father Pierre, the psychologist in the Twin Cities.
"The experience in the East was painful in that it took so long and it was so regimented," Pierre wrote in his notes of Aug. 22, 1974. "....It looks like he will maintain his parish and that the Hartford experience was some kind of trade-off on this."
Following subsequent visits with Father Tom in September, October and November 1974, Pierre concluded that the priest "continues to do well."
Although December 1974 began with great promise for Father Tom—he was back in his Rochester parish and progressing in therapy—one of his first sexual indiscretions came back to haunt him.
One of Father Tom's abuse victims in southwest Minnesota had later been ordained into the priesthood. While serving in his first assignment in the Diocese of Winona, the young priest—who has since left the country and his religious calling—wound up in a chemical-abuse treatment center in Rochester.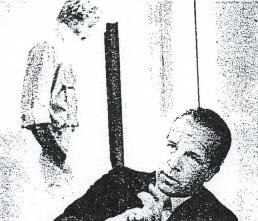 Greg Riedle stood behind Jeffrey Anderson, the Riedle's attorney since 1984, who quickly became a shoulder for the family to lean on.
There, according to one of his brothers, in December 1974 the priest confessed to therapists that, in 1961, Father Tom had sexually abused the then eighth-grade boy. According to Father Tom's depositions, that sexual relationship did not end until 1973—at which time the youth was a grown man ordained into the priesthood.
Greg Riedle's attorney, Anderson, had learned about Father Tom and that youth in 1988 while investigating the priest's past. During that quest Anderson came upon a brother of the ex-priest who had been abused as a boy.
The brother was deposed with the condition that his testimony be sealed from the public record. The same man would later agree to an interview for this story on the condition that no one in his family was identified. For that reason the man will be referred to as Dave, and the ex-priest as George.
In 1974 Dave was a teacher in the school Father Tom supervised in Rochester. When he found out about his brother and Father Tom he was so angry he wanted to harm Adamson physically.
A fellow teacher, Sister Tierney Trueman, recalled in her deposition that Dave came to the junior high school where they taught on a Saturday in late 1974.
"He was very angry, very angry. And he literally said to me, 'I am going to kill him.' And he was talking about Father Adamson," Trueman testified.
After she found out why he was so angry—Dave explained about how Father Tom had sexually abused George—she promised to drive to Winona the following day and inform Bishop Watters about the accusations. And she did.
"I'm here only because Dave is saying if that man (Father Tom) is not out of the parish within a week he'll be a dead man," she told the bishop.
According to her testimony, the bishop then said that Father Tom was one of his "finest men" and had received some of the finest treatment that could be given. But he added that Father Tom was unable to control himself.
Sister Trueman recalled that the bishop was "neither upset, neither angry, neither surprised" at the news, although he seemed "pained."
Later that week, Dave himself called Bishop Watters and gave him an ultimatum: Either remove Father Tom before Sunday or all of the family members were going to drive to Rochester, walk up to the podium during Father Tom's sermon and make public their knowledge of his abuse.
On the eve of that Sunday in late 1974, Father Tom resigned his duties at St. Francis parish in Rochester. He told parishioners he was going to the Twin Cities to pursue his education at the University of Minnesota.
Father Tom did go to the Twin Cities and enroll in classes at the University of Minnesota. Arrangements were made with the archdiocese to allow Father Tom to room and minister at a parish in St. Paul. Father Tom hoped the move to the archdiocese, beginning in January 1975, would be short-lived. But it would be 10 years before the priest would return to his home diocese.
*
The depositions make it clear Bishop John Roach, who was soon to become the archbishop of the Archdiocese of St. Paul and Minneapolis, knew Adamson was coming, that Watters had told Roach that Father Tom was "a victim of a situation in Winona," and that because of that situation, Father Tom was seeing Father Pierre—whom Roach knew to be a priest and psychologist.
But just what had Watters told Roach, or not told him about Father Tom?
Neither Roach nor Watters would agree to be interviewed for this story. However, in one of the archdiocese's summation papers related to lawsuits filed in Ramsey County District Court, it states that in 1976, "Archbishop Roach understood that allegations of homosexual conduct had been made against Adamson. He absolutely did not receive any indication that the homosexual nature of the conduct had to do with youth."
When questioned in his deposition, Father Tom said he assumed Roach knew something about his sexual molestation of youths.
Father Tom made that assumption because he had resigned from "one of the top parishes in the Diocese of Winona ... and it just seems, for the bright man that he (Roach) is, he would be saying, 'Why?'" Father Tom testified. "I just felt that he had to have some awareness that there were some problems, but he never discussed that with me at any time."
*
The troubled priest arrived in the Twin Cities and began attending the University of Minnesota, as planned. But there were no restrictions put on him, and the half-million Roman Catholics in the archdiocese had no inkling of the abuse incidents.
For the next year, until February 1976, Father Tom continued to see the priest psychologist, Pierre, regularly—and he regularly contacted his bishop about returning to the Winona Diocese.
Time after time, Watters denied the request—even on the occasion when he received a letter from Pierre that endorsed it.
On that occasion, Bishop Watters wrote: "While I do not question your evaluation regarding the progress Father Adamson has made, I must also add that I am convinced that he doesn't even begin to appreciate the numbers of people in at least five different communities across the entire diocese who have finally pieced together incidents occurring over a fifteen year span and who now openly raise questions about the credibility of all priests. Obviously I am writing to you in confidence. You would only have to struggle through the painful sessions I've had with heart-broken and bewildered parents who only (now) have come to discover the source of some of the problems of their sons."
It should be pointed out that, in his first deposition in 1986, Watters denied specific knowledge of Father Tom's sexual abuse of boys during that period and that, in reference to "painful sessions I've had with heart-broken and bewildered parents," he explained that the comment was made regarding an incident some 30 years earlier when Watters was a principal of a high school in Dubuque, Iowa.
In 1976 Father Tom stopped seeing Father Pierre. In June of that year, he was named associate pastor of St. Thomas Aquinas in St. Paul Park.
A year later, Greg Riedle became one of Father Tom's altar boys.
Tuesday: The allegations of other victims; the Riedle suit is settled out of court. [See the Tuesday article.]