Church in Crisis
Alleged Victims Say Incidents Altered Lives
Comprehensive look at lawsuits against archdiocese shows many similarities
This story was reported by Gregory A. Hall, Peter Smith, Andrew Wolfson and Deborah Yetter and was written by Wolfson.
The Courier-Journal
September 29, 2002

http://www.courierjournal.com/cjextra/2002projects/priestabuse/stories/

[This story has three parts, all on this page. Below the text, see:
• A list of 29 accused priests, deacons, and church workers, noting the parishes where the alleged abuse occurred. The names of the accused are linked to detailed profiles of their alleged victims, with descriptions of the abuse in the plaintiffs' own words and 75 photographs of survivors and priests.
• A statistical summary with links to tables that provide additional analysis of the numbers. One table lists the parishes at which accused priests worked, including parishes with multiple offenders.
See also a brief description of the special section and how it was created.]

It started, on average, when they were 11 years old, they say. Two claim they were first abused at age 5.
Two-thirds say that it happened more than once — that they were molested two or three or 10 times or more.
Eighty-five percent of them were boys.

And many of them — men and women alike — say it destroyed their faith in people, in their religion, even in God.
"At first I was mad at the priest," said Louis E. Smith, 33, a former altar boy who is suing the Roman Catholic Archdiocese of Louisville. "Then I was mad at God. If priests are His word on Earth, how could He let them do this?"
In the first comprehensive examination of the 185 lawsuits filed against the archdiocese since April, The Courier-Journal today takes a detailed look at the allegations and the people making them.
Using a database built on the lawsuits and interviews with 128 of the plaintiffs, the newspaper found that:
Nearly five times as many plaintiffs claim to have been molested in the 1960s and 1970s as the 1980s or 1990s. Only 20 plaintiffs allege they were victimized since 1982, when Archbishop Thomas C. Kelly was installed.
One-fourth of those interviewed said that they or their parents reported their alleged abuse to church or school authorities, although many of those reports can't be confirmed because the officials are dead or plaintiffs say they can't remember their names.
Well over half of those interviewed said they told nobody about the abuse when it allegedly happened — not their mother, father or best friend. And most of those say they kept it secret until they filed their lawsuits this year. Seven plaintiffs said they told a parent or other relative who didn't believe them.
Most of the plaintiffs said they were fondled. One woman said she was raped and 16 others say they were victims of rape or attempted rape or oral sex or sodomy.
Only eight said that someone other than themselves or the priest saw what happened, although lawyers who have prosecuted and defended such claims against the church say that is typical in this type of case.
Forty years, 35 parishes
The allegations span 40 years — from 1951 to 1991 — and 35 parishes.
Accused of misconduct are 25 priests and former priests — living and dead — as well as a deacon, a Franciscan brother, two parochial school teachers and a volunteer football coach.
Some of those accused have denied wrongdoing while most haven't responded to requests for interviews or could not be located.
The main defendant in all of the cases, however, is the Archdiocese of Louisville, which is accused of concealing abuse by sexual predators by failing to report it to police, prosecutors or other civil authorities. Only three lawsuits list a co-defendant.
The archdiocese has denied it covered up abuse and said the suits should be dismissed because the plaintiffs waited too long to file them. The archdiocese also said any wrongdoing that may have occurred is at least partly the fault of people other than archdiocesan officials or the plaintiffs.
The archdiocese declined to comment on several of the newspaper's findings, or whether they might help or hurt the Catholic Church in the litigation.
But the archdiocese's chancellor and chief administrative officer, Brian Reynolds, reiterated that it received few reports of abuse over the years — including under previous archbishops — and for that reason "the number of . . . lawsuits is both surprising and alarming."
Still, Reynolds acknowledged that "children often do not report abuse, perhaps due to fears or threats."
Among the angriest of plaintiffs are those who say they tried to report their abuser at the time.
"If they had dealt with this when I had the guts to report it, many other boys wouldn't have been molested," said Brian Weatherbee, who claims that he reported to a senior pastor that he'd been molested in 1981 by the Rev. Daniel C. Clark, who was transferred to three parishes in succession, where he is accused of abusing more boys.
The plaintiffs represent a broad cross section of the community and many walks of life.
They include 16 business owners and managers; three letter carriers; three physicians, a nurse and a medical technician; three incarcerated felons, one lawyer and another lawyer-to-be; a retired police chief, a retired police sergeant and a firefighter.
They also include a spiritual adviser, a yoga teacher and a history professor; three electricians, two mechanics and a pipefitter; two engineers and an architect; a car salesman, a laid-off stagehand, a professional sportsman and one man who makes fishing lures.
Forty of the plaintiffs who were interviewed, or 31 percent, said they were abused a single time.
Ninety-three said they were fondled, and 18 said they were kissed. Twenty-six alleged that they were victimized by more invasive sexual abuse or masturbation.
Five of the Louisville plaintiffs say that priests exposed themselves.
A single priest, the Rev. Louis E. Miller, is named as the abuser in 70 lawsuits — nearly one-third of those filed. He also faces criminal charges he sexually abused 15 children in Jefferson and eight children in Oldham counties.
"I think this crippled a lot of us mentally and emotionally," said Bruce Taylor, 39, a Corydon, Ind., businessman who alleges he was molested by the Miller in 1975 at St. Aloysius Catholic Church when he was a 13-year-old altar boy.
"It's time we quit being embarrassed and ashamed."
Many of the plaintiffs say they were exploited when they were emotionally vulnerable and desperately in need of comfort and consolation.
One man alleges he was molested by a chaplain when he was visiting his dying father in the hospital. Eleven allege they were abused by priests to whom they went for counseling — some of them after the death of a parent or grandparent, or after their family was riven by divorce.
One plaintiff alleges that after one priest sexually abused him, a second priest to whom he confessed allegedly asked him if he enjoyed it, which he said made him feel guilty. Another plaintiff alleges when he was 8 years old and sodomized by a stranger, he told a priest who then masturbated while taking his confession.
Three plaintiffs say they were abused by a Catholic chaplain when they were in a hospital for surgery, and two say they were abused by priests who were administering first aid to the youths for injuries.
Lures and threats
The newspaper's review found that priests and other church employees are alleged to have used a host of enticements to lure their victims — and threats to keep them quiet.
One priest allegedly promised his 9-year-old victim an ice cream float while another allegedly gave his victim toys for not telling.
Another allegedly promised a boy he would get him a Catholic high school scholarship if he went along and kept his mouth shut.
A plaintiff whose family was poor said the priest who allegedly molested him would give him $10 or $15 after each incident, while another plaintiff claims that he was rewarded with leftover communion wine and $5 or $10 from the church offering.
Another man said he was promised that he would pass a class in which he was struggling if he came to the teacher's house for tutoring.
Eight plaintiffs said that priests plied them with alcohol, marijuana or cigarettes, and four said they were abused by a priest who took them to drive-in movies.
Five plaintiffs said they were molested by a relative, who was a priest.
Some, like Ronald L. Snipp, 53, say the priest who allegedly abused them was the most important man in their lives. Snipp, who lives in Versailles, Ky., and alleges that he was molested by the Rev. Arthur L. Wood in 1960, described the priest as a surrogate father.
"I went everywhere with him — circuses, rodeos, vacations," Snipp said of Wood, who died in 1983. "He taught me to drive. My mother thought I was going to be a priest and so did I."
Snipp said his close relationship with Wood made what he allegedly did to the 12-year-old boy devastating. "It changed me. It made me totally untrusting of people."
Priests also allegedly intimidated children to keep them quiet about abuse. One woman says that when she was a sixth-grader and fondled by a priest in a church restroom, he told her that if she told anyone "her mother would no longer want her" and she would be "taken away."
Another girl, who as a 15-year-old taught a religious education class for younger children, said that after a priest allegedly forced his way into a restroom stall and fondled her, he told her that women's bodies were sinful and that she she needed to confess her sins.
A culture of secrecy
Most of the plaintiffs said they were too scared to tell their parents.
"There is no way in hell my parents would have believed it," said James Gregory Klemenz, an Oldham County electrician who alleges he was 13 or 14 and being trained as an altar boy when he was fondled by Miller at St. Aloysius. "They were very religious. . . . I might as well have have told them a Martian landed in my back yard."
Others said they were too intimidated.
H. Douglas Dukes Jr., 49, a sales manager who alleges that as a 12-year-old altar boy at St. Polycarp he was molested by Wood, said: "All he had to do was tell me not to tell my parents and I didn't. I trusted everything he told me. He could have told me the moon was made of green cheese, and I would have believed him."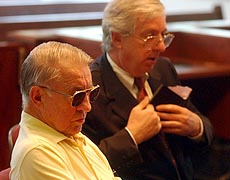 The Rev. Louis E. Miller, left, and his attorney, David Lambertus, appeared at Miller's arraignment in Oldham County on July 19. Miller has been charged with abusing eight children in Oldham and 15 in Jefferson County. He also has been named in 70 lawsuits. By Michael Hayman, The Courier-Journal.
Other plaintiffs said their alleged abusers insisted that they had done nothing wrong.
"I can remember telling him that this is not right," said Dr. J. Boswell Tabler, a psychiatrist who alleges he was 11 and 12 years old when he was fondled by Miller at Holy Spirit in 1960 and 1961. "He said, 'I am a priest. I wouldn't do anything that's not right.' How do you argue with that?"
James L. Boklage Sr., 49, who alleges that as a 13-year-old patient at SS Mary & Elizabeth Hospital he was molested by Miller, said he would have told on anyone except a priest.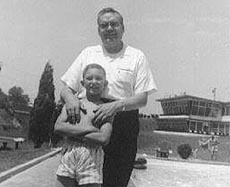 Ronal[d] S[n]ipp, a plaintiff, appears in a vacation photo with the Rev. Arthur L. Wood, who is named in 34 suits. Special to The Courier-Journal.
"Because it was a priest, that automatically told me I was the one that was wrong," he said.
Added Mark Bowman, 49, who alleged he was abused by Miller at the same hospital in 1964: "You didn't question priests. We're talking 40 years ago. There was no proof, no marks."
————————————————————————————————————————
''I think this crippled a lot of us mentally and emotionally. It's time we quit being embarrassed and ashamed.''
— Bruce Taylor, 39, a Corydon, Ind., businessman who alleges in a lawsuit that he was molested by the Rev. Louis E. Miller in 1975 at St. Aloysius Catholic Church when he was a 13-year-old altar boy
————————————————————————————————————————
Reporting abuse
Thirty-two of the 128 plaintiffs who granted interviews said that they or their parents reported their alleged abuse to a senior pastor, a nun, a parochial school teacher or principal, or to the archdiocese — either when the abuse occurred or in later years while the priest was still active.
For some, there is documentation to prove it.
For example, Monsignor Alfred Horrigan, the former president of what is now Bellarmine University, said in a recent deposition that the parents of a victim reported her being abused by the Rev. Kevin Cole, a teacher at Bellarmine in the early 1960s.
Horrigan, now 87, said in an interview that he didn't see a need to report Cole's alleged abuse of Joetta Stone Blair, who was 6 or 7 years old at the time, because Cole told him he was seeing a psychiatrist for his problem and Horrigan thought he would get the treatment he needed. Cole is accused in lawsuits of later abusing four other girls.
In another documented case, the archdiocese has acknowledged that Gregory C. Hall and his parents immediately reported his alleged abuse by the Rev. Thomas Creagh at St. Albert the Great in August 1982. The archdiocese said the family was given unspecified "assistance."
Hall said that Creagh and the archdiocese each paid the family $10,000 but that the church reneged on a pledge to move Creagh away from children; the archdiocese has said that was not part of the deal.
Lawyers who have litigated hundreds of cases against the Catholic Church say that most plaintiffs don't report abuse.
"Children suffer in shame and secrecy," said Jeff Anderson, a Minnesota lawyer who said he has represented more than 700 people with claims against the church.
Patrick Schiltz, a professor at St. Thomas School of Law in Minneapolis who defended Catholic dioceses in hundreds of cases in the early and mid-1990s, said the church "generally didn't hear about this stuff — the priests were very clever" at avoiding detection.
He and other lawyers also said it usually isn't vital to a case that plaintiffs prove that they reported their alleged abuse to the church.
"If a plaintiff sits on the witness stand and tells a credible story, juries will believe it," Schiltz said.
But proving that at least some plaintiffs blew the whistle could be critical in getting the Louisville cases to a jury, Schiltz and other lawyers say.
To avoid the statute of limitations that in Kentucky requires sex-abuse lawsuits to be filed within five years of the plaintiff's 18th birthday, they must prove the archdiocese knew about allegations against each accused priest and failed to report them to police or civil authorities.
Archbishop Kelly has said that he never knowingly put children at risk in reassigning a priest.
But plaintiffs say that priests like Miller and Clark were moved from parish to parish despite the complaints of students and parents.
The archdiocese has 123 parishes and missions and 182 diocesan priests who serve 196,910 Catholics, according to figures from church officials. Its territory covers 24 central Kentucky counties stretching from the Ohio River to the Tennessee border.
In an interview, William McMurry, who represents most of the plaintiffs, acknowledged that proving that the archdiocese knew and concealed abuse will be more difficult in cases in which only one or two plaintiffs accuse a priest or other church employee of misconduct. Fourteen are named by one or two plaintiffs.
For instance, Berenda Burns, 55, the lone plaintiff to accuse the Rev. James Hagan of misconduct, said she reported to the senior pastor of St. Leo the Great that Hagan had allegedly raped her when she was about 11 years old. But the pastor, the Rev. Vince Tompkins, died in 1983, according to the archdiocese.
Others may have trouble proving that they reported abuse because of memories frayed by age and the passage of time.
John Kaelin, for instance, who alleges that he was orally sodomized by the Rev. James Hargadon in 1974 on an overnight trip to Rough River Lake, said he told the bishop in the Dallas archdiocese about it when Kaelin, who lives in Waxahachie, Texas, was seeking to annul his first marriage about 12 years ago.
But the bishop, the Rev. Thomas Tschoebe, who is 86 and lives in a retirement home, said in a recent interview that his memory is failing and that he remembers nothing about Kaelin.
Defining the problem
An overwhelming number of plaintiffs, 157 — 85 percent — are men. Only 28 of the plaintiffs are women.
Authorities on sexual abuse in the Catholic Church say that imbalance is typical, although the reasons for it have triggered debate.
Some conservative Catholic leaders say it shows that there are too many gay men in the priesthood.
Cardinal Adam Maida of Detroit said earlier this year that the abuse crisis "is not truly a pedophilia-type problem, it's a homosexual-type problem." The chief spokesman for the Vatican said that gay men shouldn't be ordained. The Weekly Standard, a conservative journal, said "this crisis . . . is almost entirely about man-boy sex."
But psychiatric experts say the most authoritative studies show that homosexual men are no more likely to have sex with boys than heterosexuals are to have it with girls.
California psychotherapist and former priest A. W. Richard Sipe, who has researched and written extensively about sexual abuse of children and adolescents by priests, said priests have been more likely to molest boys because their own sexual development was delayed, not because of homosexuality.
Such priests behave like adolescent boys, who are comfortable with other boys and disdain girls, Sipe said.
The Survivors Network for those Abused by Priests says that half its roughly 4,300 members are women, and SNAP Executive Director David Clohessy said, "We have seen no evidence that homosexuality is a factor."
Six of the priests named in the Jefferson County lawsuits are alleged to have abused only girls and two are alleged to have abused both boys and girls.
Litigators, victim advocates and observers inside the church say that boys also were more likely to be victimized because priests had more access to them.
Until the 1990s, only boys were officially permitted to serve Mass, noted the Rev. Thomas Reese, editor of America, a national Catholic weekly. "There were no altar girls."
Although some dioceses and parishes — including some in Louisville — started in the mid-1980s, the Vatican didn't give the go-ahead to put girls on the altar until 1994.
At least 50 of the Louisville plaintiffs said they were altar boys when the alleged abuse occurred.
Reese and others said that in the past, parents were more likely to let a priest take their son on an out-of-town trip or spend the night in the rectory.
"If a priest said we are going to take the altar boys up to my cabin as a treat for the weekend, parents were likely to say yes," Reese said. "They were more cautious with girls."
A crisis in decline?
The newspaper's analysis shows that only one plaintiff said he was abused in the 1990s and 31 in the 1980s, compared with 86 in the 1960s and 58 in the 1970s. Fifteen allege they were abused in the 1950s. Some victims were counted more than once because their alleged abuse occurred in more than one decade.
The same kind of trend was found in the Boston area, where The Boston Globe found that most known incidents of abuse occurred before 1985.
Clohessy, of SNAP, said that it would be "absolute folly" to conclude the numbers show that fewer priests are molesting children.
He said children victimized now and in recent years aren't likely to come forward until 2010 or 2020 — until they undergo some kind of triggering event that makes them realize they were abused and can do something about it.
"The younger generation hasn't processed the abuse well enough to stand up and point the finger," McMurry said.
But others say it shows the Catholic Church is doing a better job in screening applicants for the seminary and instructing them on human sexuality and the challenges of celibacy.
"I think it indicates some progress," said Bill Ryan, a spokesman for the U.S. Conference of Catholic Bishops. "Bishops began to tackle this in the 1980s and 1990s."
Most of the priests accused of abuse were trained in the 1950s and 1960s and entered the seminary when they were adolescents who knew little about their own sexuality; the average age when priests are ordained is now 36, according to a study conducted by a Catholic University professor for the National Association of Priest Councils.
Even Anderson concedes the church "has done a slightly better job getting abusive priests out," although he said the decline probably has more to do with "parents not trusting their kids with priests because of all the litigation and exposure."
McMurry, the Louisville lawyer, said it's because the archdiocese under Kelly has "bought and paid for the silence of victims" in secret settlements, such as the one two years ago with Miller's niece, Mary C. Miller, that required her to keep the arrangement forever secret.
Miller said in her suit that she broke her silence about the agreement because, she alleged, Kelly "perjured" himself two years ago when he testified that he didn't recall any prior lawsuits against Rev. Louis E. Miller.
"The archdiocese has just buried the problem," McMurry said.
A loss of faith
Eighty-four of the 128 plaintiffs interviewed said they no longer consider themselves practicing Catholics. And 75 of those plaintiffs blamed it on their alleged abuse or the church's response to it.
"I cannot look at a priest saying Mass any more and feel comfortable," said Mark Stephen Garrett, 52, who alleges he was abused several times between 1960 and 1963 at St. Paul parish by the Rev. Daniel Emerine.
Ryan, the spokesman for the Catholic Conference, said: "It is heartbreaking and disturbing that so many lost their faith — especially under these circumstances. One can only hope that they recover their belief and trust."
Reynolds, the archdiocese's administrator, said "it is perfectly understandable that a person who was hurt by a priest or other representative of the church might make these choices."
Because "non-practicing" Catholics are defined differently from survey to survey, Reynolds said it is hard to compare the percentage of plaintiffs who describe themselves as no longer practicing with that of Catholics overall.
The Hartford Institute for Religion Research said in a study issued last year that weekly Mass attendance for all Catholics had dropped from 44 percent in 1987 to 37 percent in 1999.
"These cases are about innocence shattered — about the loss of the ability to trust others, to love and to feel loved, to have faith in the church and in God," Anderson said.
Kyle A. Burden, 33, who has accused Clark of fondling him when he was 11 years old, put it bluntly: "You could pretty much say that my religious conviction died in my mom's basement that day."
And Jeffrey F. Spalding, 41, a human resources manager who alleges he was molested by Wood in 1972 at St. Ignatius, said: "As an 11-year-old altar boy, my childhood innocence was taken from me." The "sexual abuse would forever change my life and the man I would become. As a teen-ager I was insecure, sad, confused and angry.
"At age 16, I abandoned the Catholic Church when I felt I had nothing to believe in. Relationships suffered and I felt no one understood me. Even today I . . . wonder if I will ever know . . . just how much this event has changed my life.
"The archdiocese must take responsibility. . . . Turning their backs on innocent children was inexcusable."
Profiles of the plaintiffs and details of their allegations

The plaintiffs are grouped by the priest or other person accused. Each listing is further grouped by the parish or other assignment of the accused. More info on this section »

Rev. Louis E. Miller
• Holy Spirit
• St. Aloysius
• St. Elizabeth of Hungary
• St. Athanasius
• SS. Mary & Elizabeth Hospital
• Miller family events
• Camp Tall Trees
Rev. Arthur L. Wood
• St. Elizabeth of Hungary
• St. Polycarp
• St. Ignatius
• St. Martin of Tours
• SS. Mary & Elizabeth Hospital
• Home of Wood relative
Rev. Daniel C. Clark
• St. Rita
• St. John Vianney
• St. Dominic (Springfield, KY)
Monsignor Robert A Bowling
• Holy Cross Parish
• St. Rita
• St. Therese Church of the Little Flower, Reno
Rev. Daniel Emerine
• St. Paul
Rev. Kevin Cole
• Bellarmine College
Rev. J. Irvin Mouser
• St. Helen
• St. Francis of Assisi
Rev. Thomas Creagh
• St. Albert the Great
• Our Lady of Lourdes
• Overnight trip
Rev. James Hargadon
• St. Polycarp
Rev. Robert Dollinger
• St. Thomas, Bardstown, KY
• St. Leo the Great
Brother Francis Dominic
• Our Lady of Consolation
Rev. John Elder
• St. John
• St. Barnabas
Bishop J. Kendrick Williams
• Church of Our Lady
• St. Catherine High School
• Holy Trinity
Rev. Joseph T. Herp
• St. Ann
• St. Elizabeth of Hungary
Rev. Edwin J. Scherzer
• St. Edward
• St. Therese
Rev. Herman J. Lammers
• St. Thomas-St. Vincent Orphanage
Bruce Ewing
• St. Vincent de Paul
Rev. James Hagan
• St. Leo the Great
Rev. Robert Gray
• St. Vincent de Paul
Rev. Joseph Neeson
• St. Denis
Rev. Thomas P. Casper / Rev.Lisus T. Giesler
• Cathedral of the Assumption
Rev. John Magel and Gary Kazmarek
• Our Mother of Sorrows
Theodore Meisner
• Congregation of the Resurrection
Rev. Joseph Stoltz
• St. Edward
James Griffith
• St. Raphael Boy Scout troop trips
Joseph B. Greene III
• Home / Father's farm
Louis Holzknecht Jr.
• Iroquois Park

[In the original article, there were separate pages for each parish in the above list. We have consolidated parishes in a single file for each priest.]
Abuse Cases: By the numbers
• Plaintiffs: 185
• Men: 157
• Women: 28
• Plaintiffs interviewed: 128
• Average age alleged abuse first occurred: 111/2 years
• When allegedly abused: (If alleged abuse spans two decades, plaintiff is counted in both)
1950s: 15
1960s: 90
1970s: 58
1980s: 31
1990s: 1
• Number who say they were abused once: 31
• Still practicing Catholics: 33
• No longer practing: 84
• No longer practicing because of alleged abuse: 75
• Say they told relatives or friends at the time: 24
• Say they told relatives but weren't believed: 7
• Say they told church, school officials: 32
• Say they didn't tell anyone until filing suit: 54
More Analysis
• How often alleged abuse happened
• Earliest age when alleged abuse occurred
• When alleged abuse occurred
• Assignments of alleged abusers

Previous Coverage
Look back at earlier coverage of abuse allegations against the archdiocese. [BishopAccountability.org is preparing links to other articles from the Courier-Journal.]