After Second Complaint, Bishop Removed Priest

Star-Telegram [Fort Worth TX]
November 29, 2006

http://www.dfw.com/mld/dfw/news/16121798.htm
[See related articles on the Fort Worth files, and the accused priests Hanlon, Hoover, Howlett, Reilly, and Renterķa. See also the documents on which this series is based, with links to assignment records and background information.]
[Note from BishopAccountability.org: We have provided links to the documents quoted and referenced in this article. Our additions are in square brackets. See here for the original article without links to the documents. See also all the released Magaldi documents in batches, and a list of links to selected Magaldi documents.]

The Rev. Philip Anthony Magaldi

Incardinated: Jan. 30, 1995

Assignments: St. Mary, Henrietta; St. John the Apostle, North Richland Hills [See also a more complete list of assignments.]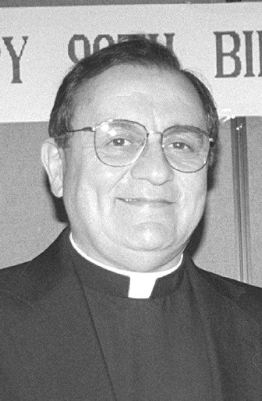 Philip Anthony Magaldi

Over the Rev. Philip Magaldi's flamboyant career [see Bishop Delaney's use of the same phrase in a 12/23/98 memo], he weathered perjury charges in New England and served time in a halfway house for embezzling $123,400 from his Rhode Island parish.

The diocese kept quiet about the first sexual abuse complaint against him in 1997. But a second, startlingly similar allegation -- and the threat of publicity -- about two years later forced Bishop Delaney to remove the priest from ministry.

Details of one allegation were not revealed until the documents were released Tuesday.

Even as Delaney came to believe that Magaldi was a possible danger to children, he considered returning him to limited duties or helping him find work in another diocese.

Magaldi's last assignment was as associate pastor at St. John the Apostle Catholic Church in North Richland Hills. Church officials there would later learn of additional claims of inappropriate behavior, including his visiting Web chat rooms "looking for minors" and possessing "pedophilic material." [See Thompson's 10/5/01 email.]

There is no record in the files released by the court that the bishop contacted police about the abuse allegations or the material reportedly found on Magaldi's computer.

Jerry Koller, a friend of Magaldi's who said he is the priest's caregiver, said Tuesday that Magaldi was too ill to give interviews. Koller said he believes that Magaldi was falsely accused.

The priest has maintained his innocence.

The first complaint

The first sexual misconduct complaint against Magaldi surfaced in January 1997 when a college student contacted Delaney [see Delaney's 1/3/97 memo] and later the Rev. Robert Wilson, the former chancellor of the diocese [see Wilson's 1/8/97 memo].

Magaldi befriended the man in summer 1995 after he had given his confession at a church, according to the files.

During the summer, Magaldi, then in his 60s, spent time with the man. Magaldi took him to dinner at expensive restaurants. The man said he was concerned that Magaldi never wore his clerical garb.

Magaldi introduced the man as his nephew and encouraged the minor to have beer or wine, according to the files.

The two went swimming at Magaldi's apartment complex, and the man felt that the priest was "getting too friendly," according to Delaney's notes.

At other times, Magaldi would grab the man's buttocks, which the priest explained by saying "we always did that in high school," according to the files [see 1/8/97 Chancery memo].

Magaldi then asked the student for a strange favor: The priest wanted the man to help administer four enemas that Magaldi said his doctor had prescribed.

Magaldi said he wanted to avoid embarrassment by having the man administer them instead of going to his mother. He offered him $25 each time he did it. The man told Magaldi that he didn't want to take part. But Magaldi insisted, and the man eventually agreed, the man told diocese officials.

The man "realized that what happened was unwholesome and is worried that PM [Magaldi] may be doing the same -- or worse -- to other young men," Delaney wrote in his notes. [See Delaney's 1/3/97 memo.]

Magaldi sent him $100 checks every six weeks, the files say.

In fall 1995, Magaldi encountered the man again and kissed him on the lips, the man told diocese officials. Magaldi later wrote him, "explaining away what he did and sending more money," according to Delaney's notes in the files. In a 1999 interview with a church official, Magaldi did not deny the incident but said "this was not a sexual thing." [See the relevant excerpt from this interview, which was conducted on 12/30/98 by an investigator in the Providence diocese. See also the full interview transcript: Parts 1, 2, 3 , and 4.] He also said the kiss was misinterpreted and was on the cheek, not the lips, "as Italians do." [See 1/8/97 Chancery memo for this quote.] Church officials met with Magaldi, who appeared anxious and animated during his interview, the records show. "He had assumed that there would be a major lawsuit involving large sums of settlement money and was told by Father Wilson that this did not appear to be the case." [See 1/8/97 Chancery memo.]

Magaldi denied all wrongdoing.

Magaldi said he befriended the man because he saw him as a potential "vocation." If he ordered wine at dinner, he didn't encourage the student to drink, he told the officials.

Magaldi admitted paying the man to administer enemas.

An unidentified person wrote that Magaldi was "completely without insight regarding his actions and certainly lacking in sound judgment. He assumes no responsibility and sees nothing questionable in his actions." [See 1/8/97 Chancery memo for Magaldi's version.]

Wilson noted in a January 1997 report that a committee "believes that PM [Magaldi] is guilty of sexual exploitation." [See Wilson's 1/12/97 executive summary.]

Records show that Magaldi remained at St. John the Apostle under the supervision of another priest for at least eight months.

The records show that Wilson told Magaldi's accuser that the priest "would not be in contact with youth in the parish, and had been taken off the altar server duty." [See Wilson's 2/13/97 memo. See also Delaney's earlier 1/17/97 memo describing his conversation with Magaldi announcing these arrangements; Magaldi complained and met with Delaney.]

The second complaint

Magaldi was still working as an associate pastor at the church in December 1998 when Fort Worth officials were contacted by the Diocese of Providence, Rhode Island, about a sex abuse complaint. [Bishop Mulvee wrote a 12/4/98 letter to Bishop Delaney, enclosing a 12/3/98 memo describing the allegation summarized below. The Worcester accuser subsequently filed a legal complaint.]

The new allegation would sound all too familiar to Delaney.

A man told Providence officials that when he was 13 or 14 in Worcester, Mass., Magaldi stopped to help him with a flat bicycle tire.

Magaldi offered to give him a ride home but instead took him to a hotel. There, the man said, he was raped.

As with the 1997 complaint, the man alleged that Magaldi "made me give him an enema" and gave him money in exchange.

"He ah, had this thing with enemas. Use to call it holy water," the man said, according to the files.

He also accused Magaldi of raping him and paying him money after as many as 18 incidents of abuse over the course of several years.

When a diocese sexual misconduct committee interviewed Magaldi on Dec. 19, 1998, about the allegations, the priest said that the devil was at work and that he had no way to defend himself. [See the committee's interview transcript, PDF p. 1.]

Magaldi said he didn't know the man.

"I have never performed oral sex on anybody," he told the committee. "I have never raped anybody, God forbid." [See the transcript, PDF p. 1.]

Delaney's actions

Delaney was worried. The similarity between the 1997 and 1998 allegations was striking. He had defended Magaldi when the priest's embezzlement conviction had been brought to light in the media. And he hadn't removed Magaldi after the 1997 allegation, though it had been in the back of his mind.

Now he was forced to act. If not, he told committee members, "There is no way that -- that I can defend myself before God or before the people of the diocese or before the world." [For this quote, see the interview transcript, PDF p. 10.]

But Magaldi wasn't removed from active ministry for four more months.
[BA.org note: Magaldi was, however, sent to Providence to talk with the diocesan investigator there on 12/30/98 (see the full transcript of that interview 1, 2, 3 , and 4) and to take a polygraph test. Then he was sent for an evaluation beginning 1/3/99. The evaluation facility's name is redacted in the committee's 12/19/98 interview transcript (PDF pp. 13, 16-18) and in a 12/23/98 memo by Delaney to the facility. Perhaps it was the Institute of Living, which is in Hartford CT. See also the interesting attachment to Delaney's 12/23/98 memo, containing a description by Delaney of Magaldi's involvement in the von Bulow trial and his embezzlement conviction.]
In the meantime, Delaney met with Magaldi and later wrote that if the allegations were true, the priest "could be a danger to young people in his ministry," according to a Feb. 19, 1999, note in the confidential files.
[BA.org note: See Delaney's 2/19/99 note for that quote and the following one. This important memo also reveals that the evaluation facility recommended Magaldi "return for extended therapy," and that Delaney postponed a decision on the recommendation until he had the polygraph results. Those results are also discussed in the memo, as is the news that the accuser has "retained an attorney."]
Still, Delaney told Magaldi that "I could try to assist him to find a place in ministry in another diocese, or that he could retire."

In March, shortly before Magaldi was removed, Delaney witnessed firsthand what he described as an inappropriate gesture: Magaldi held his cheek against an altar boy's and tied the boy's cincture. [See Delaney's 3/11/99 memo describing this gesture.] Then, in April, Delaney learned of reports that Magaldi was allowing a 13- or 14-year-old boy to stay with him during the day. [See Schumacher's 4/7/99 email to Delaney.]
In mid-April [1999], Delaney removed Magaldi from ministry.
[BA.org note: See Delaney's 4/16/99 memo referring to the 4/9/99 threat of a lawsuit and describing the committee's approval of the decision to retire Magaldi; see also Delaney's 4/19/99 memo describing a meeting that Magaldi had with sympathetic parishioners about his retirement. In a 4/29/99 follow-up letter to the diocesan lawyer, the Worcester accuser's attorney revealed that he had learned about the earlier 1997 Fort Worth allegation. The importance of this revelation is indicated by double exclamation points in the margin of the diocesan copy of the letter. In a 5/21/99 letter to Magaldi, Delaney confirmed Magaldi's 4/25/99 retirement and restrictions. But in a 4/29/99 memo, Delaney reports that the Fort Worth accuser had called him, saying that he'd heard Magaldi's retirement was temporary. Delaney replied that it was permanent. The accuser offered to go public "if it were needed to bolster the case for keeping PM out of ministry. I told him I didn't think that would be necessary." Yet when the Worcester accuser filed a federal suit in July 1999, the Fort Worth diocese issued a press release on 7/22/99, stating that "if Fr. Magaldi is exonerated [in the Worcester case], his status will be reevaluated."

A 4/18/00 email from Schumacher to Delaney states that Magaldi's faculties "had been taken away for a second time, just within the past week." This indicates that sometime between April 1999 and April 2000, Magaldi's faculties had indeed been restored. Perhaps they were restored as a result of Magaldi's 3/21/00 request, enclosing the notice that the Worcester accuser's suit had been dismissed, albeit without prejudice. Then why were Magaldi's faculties again removed within the month? A handwritten note apparently in Wilson's hand on the copy of the notice might be relevant: "3-23-00 J. Crumley [diocesan attorney] called to emphasize the 'without prejudice'." Also, the Worcester accuser refiled his suit in April 2000.]
The files show that Magaldi passed one polygraph test but failed another.
[BA.org note: Magaldi failed his first test on 1/2/99, and then passed a 2/21/99 test arranged by his own lawyer. The results of the failed test and a second opinion on the first test seem to have been withheld from this document release (perhaps they are in the pp. 602 to 612 block of withheld pages). But the results of the test that Magaldi passed were released. The results of the Worcester accuser's 4/3/99 polygraph are included twice (1 2). The results of Magaldi's tests are described in Delaney's 2/24/99 memo and his earlier 2/19/99 memo.]
By the end of 2000, Delaney was willing to discuss returning Magaldi to limited duties. [The Worcester accuser died 10/9/00 and his refiled suit was dismissed 10/20/00, as discussed in a 12/8/00 article in the Star-Telegram.] But because of an article in the Star-Telegram and another in The Dallas Morning News, Delaney wrote that "a great deal of publicity was being generated about whether he was to be allowed to function again or not."

"... I explained to PM (I regret, with some heat) that under the circumstances, my granting him even limited faculties would imply that all the innuendos and allegations meant nothing to me and that I endorsed him as a competent minister, and that I could not do that." [See Delaney's 12/15/00 memo, which states that he had met with Magaldi on the previous day. Indeed, "the purpose of the meeting had originally been to discuss granting him limited faculties." But the publicity changed all that. Delaney received a 1/1/01 letter from a friend of the now deceased Worcester accuser, vouching for him and his account.]

Other allegations of inappropriate conduct by Magaldi continued to surface, including that he kissed a 17-year-old boy on both cheeks in public and gave him a lengthy embrace. The boy's grandfather had recently died. [See Gremmels' 1/13/01 memo, item 2.]

Magaldi also asked staff members at one church for the phone numbers of four teenage boys whom he said he wanted to take to a Texas Rangers game in thanks for serving at a funeral Mass. [See Gremmels' 1/13/01 memo, item 3.]


Lobbying the Vatican

By 2001, Magaldi was lobbying the Vatican to allow him to return to ministry. [See the Vatican's 4/7/01 response.] Delaney put his foot down. He wrote to the Vatican, outlining what he knew about the abuse allegations and recommending that Magaldi never be allowed to minister again. [See Delaney's 5/18/01 letter.]

"I cannot in conscience entrust to him public ministry in the church," Delaney wrote. "Over and over again, he has proved that he cannot be trusted in his dealings with young boys, and what causes me even more concern, he seems totally oblivious to the reality that his conduct is in any way improper."

A short time later, Delaney learned of a new incident involving "material on Phil's computer and on his desk that showed he was in chat rooms looking for minors," according to an e-mail.

The e-mail, sent by another priest, said a friend of Magaldi's made the discovery. "She didn't say that he had any photos, but that he had pedophilic material," the e-mail stated. [See Thompson's email.]
[BA.org note: Magaldi appealed Delaney's decision to the Vatican, which on 3/16/02 raised the issue again with Delaney, who replied on 4/11/02. In a 1/11/03 letter, Magaldi asked the Fort Worth diocese for a copy of his personnel file, on the advice of Msgr. William Varvaro, his canon lawyer.]
This year, Magaldi's attorney filed court documents showing that Magaldi resides in an assisted-living center, is legally blind and cannot walk without assistance.

In August, Bishop Kevin W. Vann announced that Magaldi had been publicly performing priestly duties at the nursing center. On Aug. 10, Vann forbade Magaldi from presenting himself as a priest or conducting any services.