Fr. Dennis Fountain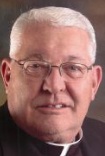 Dean of Students at St. Catherine's Indian School. Indicted 1/87 on more than 170 counts of sexual abuse (most charges from 1 of 3 accusers). Indictments dismissed because a DA was alleged to have tampered with Grand Jury. Reindicted 9/87 on other charges. Apparently found not guilty because he became pastor of St. Helena Parish in Hobbs, NM (Las Cruces Diocese). A 4/25/10 church bulletin requested prayers for him as he was ill; he was no longer shown as pastor. Died 12/29/13. On Las Cruces diocese's list 11/8/18. Noted to have worked in Las Cruces diocese 1992-08. Also, report made in 2009 of an alleged incident in 1960. On Gallup diocese's list 12/10/18.
---
Return to main database page. See abbreviations and posting policy. Send corrections.
Our Database of Publicly Accused does not state or imply that individuals facing allegations are guilty of a crime or liable for civil claims. The reports contained in the database are merely allegations. The U.S. legal system presumes that a person accused of or charged with a crime is innocent until proven guilty. Similarly, individuals who may be defendants in civil actions are presumed not to be liable for such claims unless a plaintiff proves otherwise. Admissions of guilt or liability are not typically a part of civil or private settlements. For more information, see our posting policy.