Fr. Charles M. Kavanagh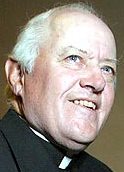 Removed in 2002. Accused of improper relationship with a minor male, including inappropriate touching. Denied allegation. Vatican ordered a church trial in 2006. In 9/06 plaintiff produced letter written to him by Kavanagh in 12/84 which appeared to substantiate the abuse. Two Church trials held. Laicization announced in 12/10 after appeal denied. Kavanagh filed suit in 3/11 against accuser. In 9/12, he sued the NY Archdiocese for libel, stating that his accuser had recanted and apologized. On archdiocese's list 4/26/19.
---
Return to main database page. See abbreviations and posting policy. Send corrections.
Our Database of Publicly Accused does not state or imply that individuals facing allegations are guilty of a crime or liable for civil claims. The reports contained in the database are merely allegations. The U.S. legal system presumes that a person accused of or charged with a crime is innocent until proven guilty. Similarly, individuals who may be defendants in civil actions are presumed not to be liable for such claims unless a plaintiff proves otherwise. Admissions of guilt or liability are not typically a part of civil or private settlements. For more information, see our posting policy.